Gibbon Was Locked Inside Of A Tiny Cage For 2 Long Years
"He kept on hurting himself, showing that he didn't have any motivation to live."
The gibbon had spent two years inside a tiny, metal cage, and he was going crazy. He pulled out his fur, bit himself and rocked his body back and forth.
If he stayed there any longer, he would have died.
The gibbon, now named Daru, was being illegally kept as a "pet" by a man living in a village in Peninsular Malaysia. But this man didn't have any idea how to take care of Daru — as a wild gibbon, Daru should have really been living in the forest instead of in captivity.
"He was kept inside a small cage under a banana tree and surrounded by dogs," Mariani Ramli, founder of Gibbon Protection Society Malaysia (GPSM), told The Dodo. "He had no clean water, and he was only fed once or twice a week. His fur stuck together like dreadlocks because of the plant sap dripping inside of the cage."
When Daru was fed, he was given junk food and ice cream, according to Ramli. But sometimes he refused to eat anything, which left him skinny and malnourished.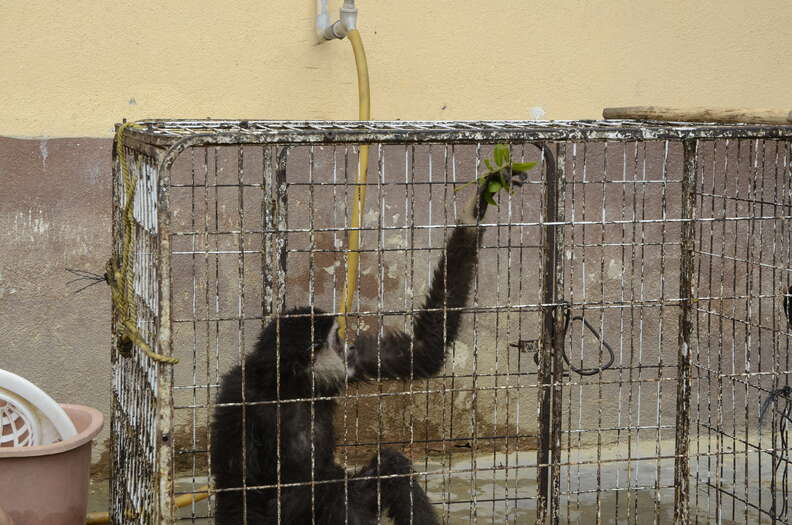 To make matters worse, local kids came to tease Daru, poking sticks at him through the wire of his cage, Ramli explained. When the owner occasionally let Daru out of the cage, Daru would run after the kids and bite them, which led the owner to stop letting Daru out at all.
In 2014, someone alerted Ramli that the owner wanted to surrender Daru, so Ramli drove four hours to the owner's property. But when she saw Daru, she worried she wouldn't be able to help him.
"He kept on hurting himself, showing that he didn't have any motivation to live," Ramli said. "He didn't have an appetite, and he was very aggressive towards humans."
At the same time, Ramli couldn't just give up on him, so she took Daru to the small gibbon rehabilitation center that she runs from her home, and started working to gain his trust.
None of this was easy. Daru had gone through so much trauma that he was sometimes impossible to handle. At one point, Daru bit Ramli on the eye, which almost caused her to go blind — but even this didn't deter Ramli from helping Daru.
Ramli's persistence paid off. Daru started eating the fruits and vegetables that Ramli provided, and he gained weight and most of his fur grew back. His stereotypical behaviors (repetitive patterns animals develop to cope with stress), like rocking and biting himself, also decreased.
"I am amazed by his progress," Ramli said. "The most inspiring thing was when he stopped hurting himself, because it broke my heart every time I saw him biting and pulling his own hair."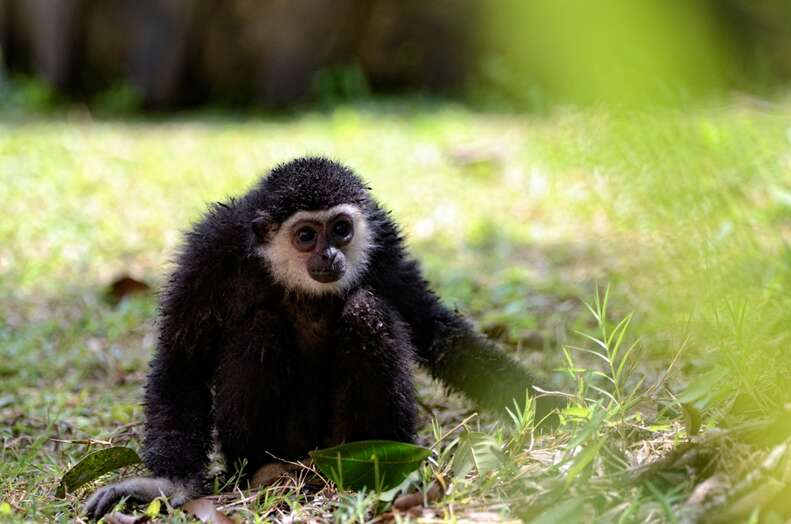 "His improvement has been slower than others," she added. "But there's progress. He started socializing with other gibbons … and even started singing. I can see he has enthusiasm to live again."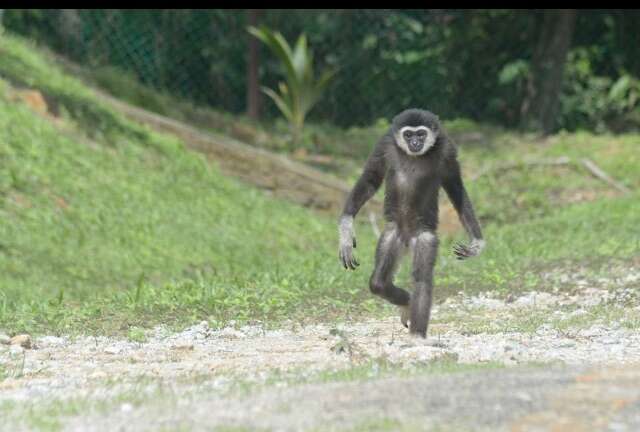 Daru is 7 years old now and, so far, he still doesn't have all of the skills to return to the wild. But Ramli hasn't lost hope, and it's her ultimate goal to get Daru back to the forest where he belongs.
"He is still young, and he deserves every chance," Ramli said. "I will never lose hope on him. I will keep trying."
To help Daru get back to the forest where he belongs, you can make a donation to GPSM through the PayPal link on the organization's
Facebook page
.