Gibbon Won't Leave The Side Of Her New Rescued Baby 'Sister'
"She is always sweet with all animals at the hospital."
Jub-Jib the gibbon hasn't been able to take her eyes off of Pearl, a baby macaque who recently arrived at a rescue center and hospital run by Wildlife Friends Foundation Thailand (WFFT). From the moment Pearl arrived, Jub-Jib has followed her and her caretaker everywhere they go.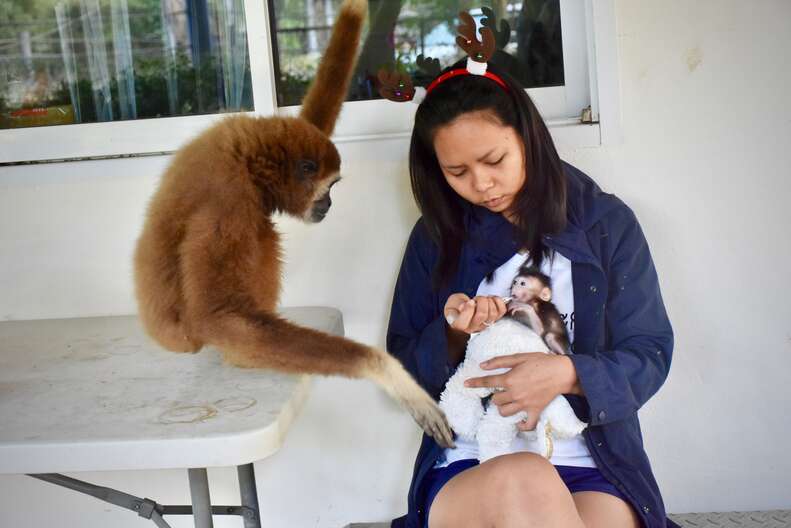 "She [Jub-Jib] is always sweet with all animals at the hospital," Fiona Burness, public relations and social media manager at WFFT, told The Dodo. "She is very friendly and curious [about] everything around her."
Jub-Jib, who is now 16 years old, came to live at the rescue center and hospital last year. Fifteen years before that, Jub-Jib lived in the forest with her mom — but she lost her mom in a very traumatizing way.
"Just over 15 years ago Jub-Jib was living with her family high in the tree canopy in Thailand's biggest national park, Kaeng Krachan, which is part of one of the biggest intact stretches of tropical evergreen forest in mainland Southeast Asia," WFFT said last year. "This area creates a natural border between Thailand and Myanmar. We are told that during a battle between armed forces from Thailand and Burma [Myanmar] her mother was shot and killed while Jub-Jib was clinging onto her."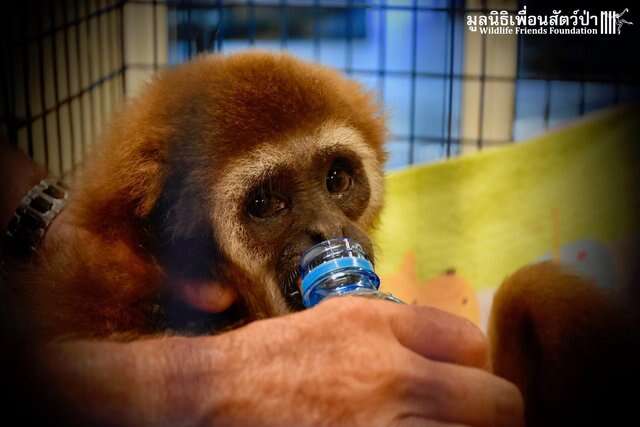 When her mother fell from the tree and tumbled to the ground, Jub-Jib fell with her, which left Jub-Jib with a bad head injury. But this was just the beginning.
Instead of going to a licensed sanctuary, the soldiers gave Jub-Jib to a local couple who'd previously had a pet gibbon — and for the next 15 years, the couple kept Jub-Jib inside their house, feeding her human foods and making her wear a diaper.
But the couple didn't give Jub-Jib the care she needed. By the time WFFT rescued her last year, Jub-Jib was emaciated, sickly and dazed. In fact, the team at WFFT deemed Jub-Jib's rescue "one of the most harrowing cases of animal cruelty" they'd ever seen.
"The alarm bells started to ring as her owners said they had given her some 'off the market' strong sleeping tablets to help her relax for the journey to WFFT," a spokesperson for WFFT wrote on Facebook last year. "They then informed us that once the side effects from this drug had worn off, she would seem like a 'normal gibbon,' climbing and walking around. This could not be further from the truth .... She moved out of the cage like an old geriatric lady. A gibbon of 15 years should be in her prime, strong, confident and happy, not looking like she is at death's door."
Since her rescue, the team at WFFT has helped Jub-Jib grow strong and healthy, although she will probably never be able to be released back into the wild. Instead, she's become a long-term resident at the WFFT rescue center, and she keeps herself busy by checking out all of the other animals at the center, including the dogs and cats and other gibbons.
Like Jub-Jib, Pearl had a rough start in life. While no one really knows what happened to Pearl's mom, wildlife traffickers probably killed her in order to take Pearl, who is only a few weeks old, into captivity and sell her as a pet.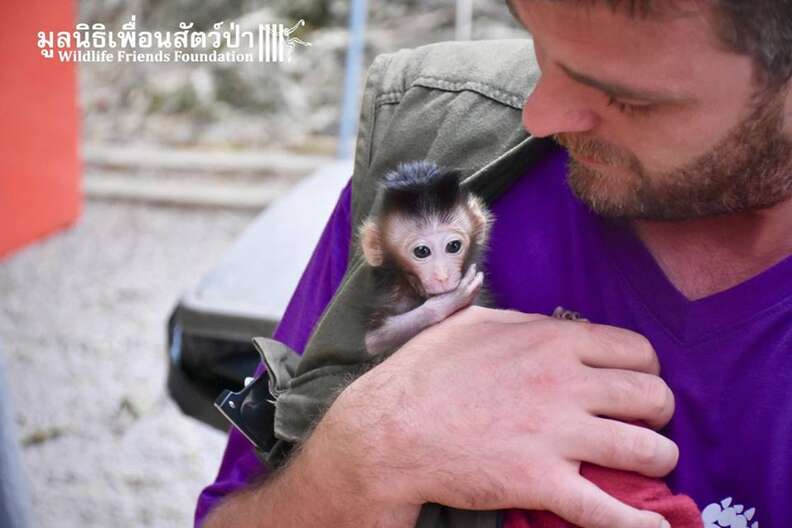 Eventually, Pearl ended up at a night market in Pattaya, Thailand, and last month, a man bought her for 900 Baht (about $28). The man took Pearl home and fed her mashed-up banana to keep her alive, but after 10 days, he decided to surrender her to WFFT, along with a slow loris he was also keeping as a pet.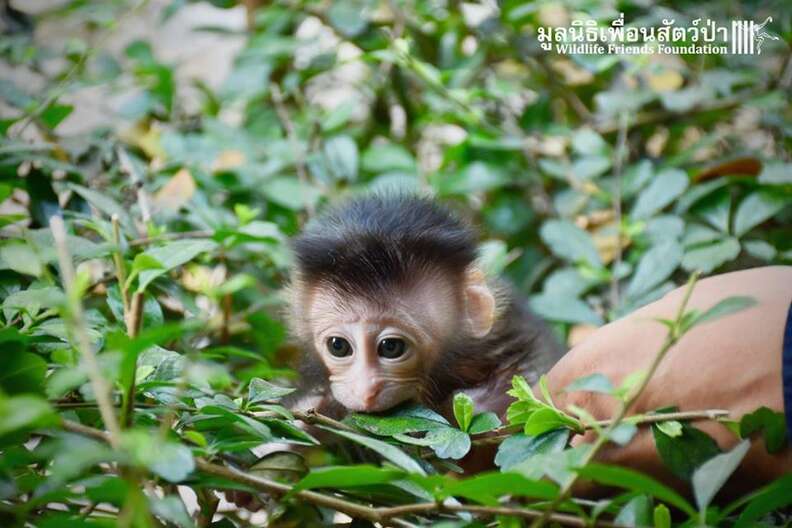 Pearl is in good hands now, but she still misses her mom.
"For the moment, Pearl still cries from the loss and lack of her mother's care," a spokesperson for WFFT wrote on Facebook. "She is holding teddies like she should have done with her mom. She wants to be warm, to feel safe, loved."
But at least she has some comfort in her new adopted sister, Jub-Jib. Since Pearl's arrival, the gibbon has been hanging around caretakers whenever they care for baby Pearl.
Photos show her waiting by a caretaker's feet as the woman cuddles Pearl, and staring into Pearl's eyes as she's fed with a syringe.
Of course, Jub-Jib's interest might not be entirely selfless — one photo shows her trying to steal a taste of baby Pearl's meal. "Wherever food is, Jub-Jib is sure to follow," WFFT wrote on Facebook.
But WFFT is confident that, after befriending so many other animals at the sanctuary, Jub-Jib just wants to make a new friend — and that on some level, the older ape understands what the baby is going through.
Another photo shows Pearl nestled into her caretaker's lab, while Jub-Jib gently reaches out to place her hand on both of them.
"She is very sweet with baby Pearl," Tom Taylor, general manager at WFFT, told The Dodo.