Rescued Ape Does The Cutest Dance When Running To Freedom
He was SO excited 💙
It was the moment every wildlife rescuer yearns for.
After crossing a river to get to an island, a caretaker slowly pushes a transport cage onto a grassy shore. With a swift motion, the cage door swings open — and the white-handed gibbon inside goes running out to freedom.
The ape is so excited that he waves his arms and hands up in the air as he runs, making way to his brand new home in the jungle. He looks just like he's dancing.
This was the touching sight rescuers with Wildlife Friends Foundation Thailand (WFFT) saw last week while releasing a family of four rescued gibbons onto their very own private island near the rescue center.
The overjoyed gibbon in the video is a 19-year-old male named Dome. He was rescued from life as a pet in 2009, and has since been rehabilitated at WFFT's center to prepare him to return to a wild environment.
At the center he met his mate, Bam, who also used to be a pet. They had two babies together, and all four family members were released onto the island together.
Now they can live freely on the protected island — with extra meals delivered across the river daily to make sure they're flourishing as the get used to living on their own.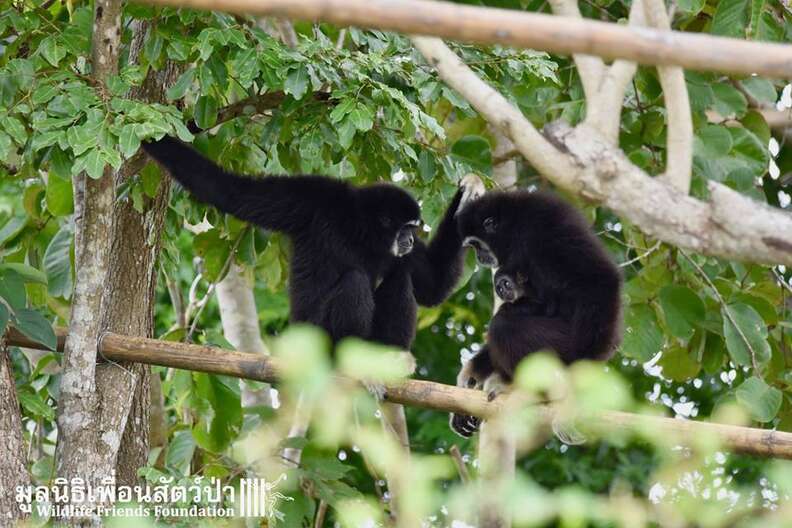 Due to habitat loss, hunting and the illegal pet trade, white-handed gibbons are one of the most endangered species of primates in the world. Luckily, this little family will always be safe on their island, which is just one of the many semi-wild habitats WFFT operates for rescued animals.
"Our enrichment team supplements the treetops with large barrels for shelter as well as bamboo and ropes to create an elaborate jungle gym," rescuers said. "For this particular island, elephant volunteers spent several days clearing the moat of weeds and debris. Because gibbons are afraid of water and unable to swim, it is important that the moat remain clear so they do not mistakenly try to walk across."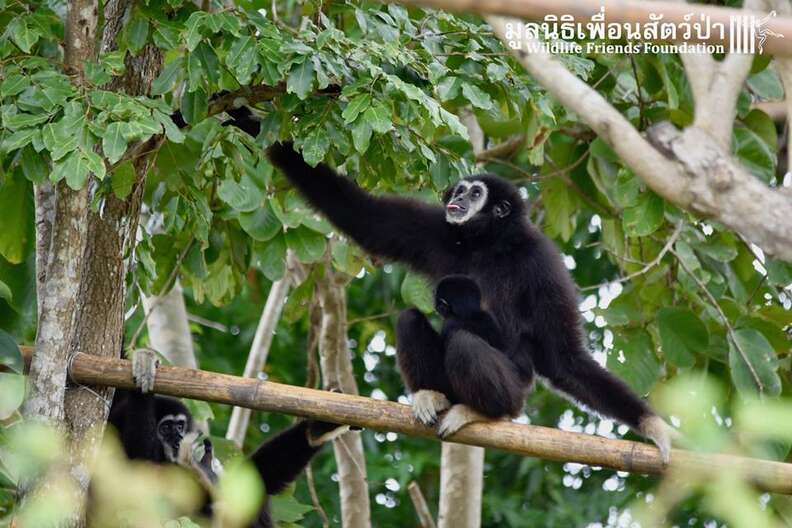 This family of four is so happy in their new home — and it's especially sweet for the kids, who will grow up in the forest where they belong.