Dash Cam Video Appears To Show Dog-Sized Spider Ambushing A Cop
He never saw it coming 😂
It's fair to say this cop never saw it coming.
While making a routine traffic stop recently, the unnamed police officer in Texas was ambushed from behind by an enormous arachnid — a massive spider, roughly the size of dog.
Or that's how it looked, at least.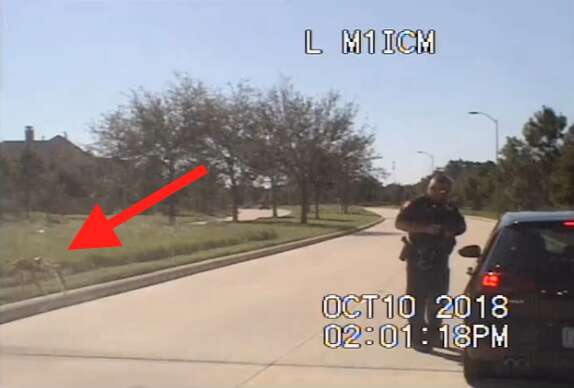 Alarming dash cam footage released this week by the Fulshear Police Department shows the moment the eight-legged behemoth appears to emerge from grass on the roadside before creeping in the unwitting cop's direction — stopping to scratch an itch along the way.
But of course, it isn't quite what it seems.
Here's the video:
In reality, the "giant" spider was truly tiny. This was a case of forced perspective coming into play, wherein the spider's location relative to the camera made him look much bigger than he actually is.
"Who needs Hollywood special effects?" the police department wrote online. "This little guy was positioned perfectly on the windshield of the patrol car and gave our clerk, who was reviewing the video, quite the 'Halloween scare.'"
Take a bow, little spider!