Garbage Truck Driver Had No Idea He Had A Passenger Along For The Ride
Can you imagine driving behind this 😱
Well, chances are this hungry fella wasn't expecting his breakfast would be to-go — or that he'd get carried right along with it.
But that's exactly what happened.
On Wednesday morning, sheriff's deputies in North Carolina received a call from a concerned motorist who'd spotted something unusual barreling down Highway 17 in Bertie County. It was a run-of-the-mill garbage truck, only this one was laden with more than merely trash.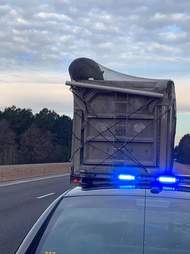 Windsor/Bertie County Chamber of Commerce
Riding atop all that apparently tasty waste was a big, burly passenger.
It was a bear who thought he'd hit the jackpot.
Windsor/Bertie County Chamber of Commerce
Fortunately, authorities were able to intercept the vehicle, whereupon they learned that the driver was completely unaware that he'd even had a hop-on.
According to WTKR News, it is believed that the bear had managed to climb aboard in search of an easy meal during the driver's last stop — only to wind up stuck behind a net that gets unfurled to prevent trash from flying out during the journey to the dump. That's where they were headed.
Rather than risk setting the bear loose along the busy roadway, deputies advised the driver to simply carry on to his destination with the hairy passenger aboard, but the bear apparently had other plans. He managed to hop out of the truck and escape into the woods before the driver got there.
The bear, it seems, will never know the free bounty of discarded human food that awaited him had he stuck on a little longer. But, of course, it's probably better that way.