High School Teachers Find Little Fox Stuck In Trash Can
"This wasn't going to be an easy rescue and I had to find a solution fast."
When teachers and staff arrived at Saracens High School in North West London last Friday morning, they found someone unexpected hanging out on the grounds — and it seemed he was waiting around for someone to help him.
A young fox had somehow gotten his head through the lid of a trash can, and was completely stuck, unable to pull himself back through it again. He looked incredibly confused as people gathered around to see if they could help him, and after realizing just how stuck he really was, someone quickly contacted the RSPCA.
"He'd managed to put his head through the hole in the lid of the bin, but then couldn't get out," Mariam Adwan, an animal collection officer with the RSPCA, said in a press release. "He was really scared, poor thing."
Adwan was hoping that she'd somehow be able to just pull the fox out of the lid without too much fuss — but she soon realized that wasn't going to be possible.
"I managed to calm him down and checked whether I could gently ease him out, but his cheeks seemed to be the sticking point," Adwan said. "This wasn't going to be an easy rescue and I had to find a solution fast."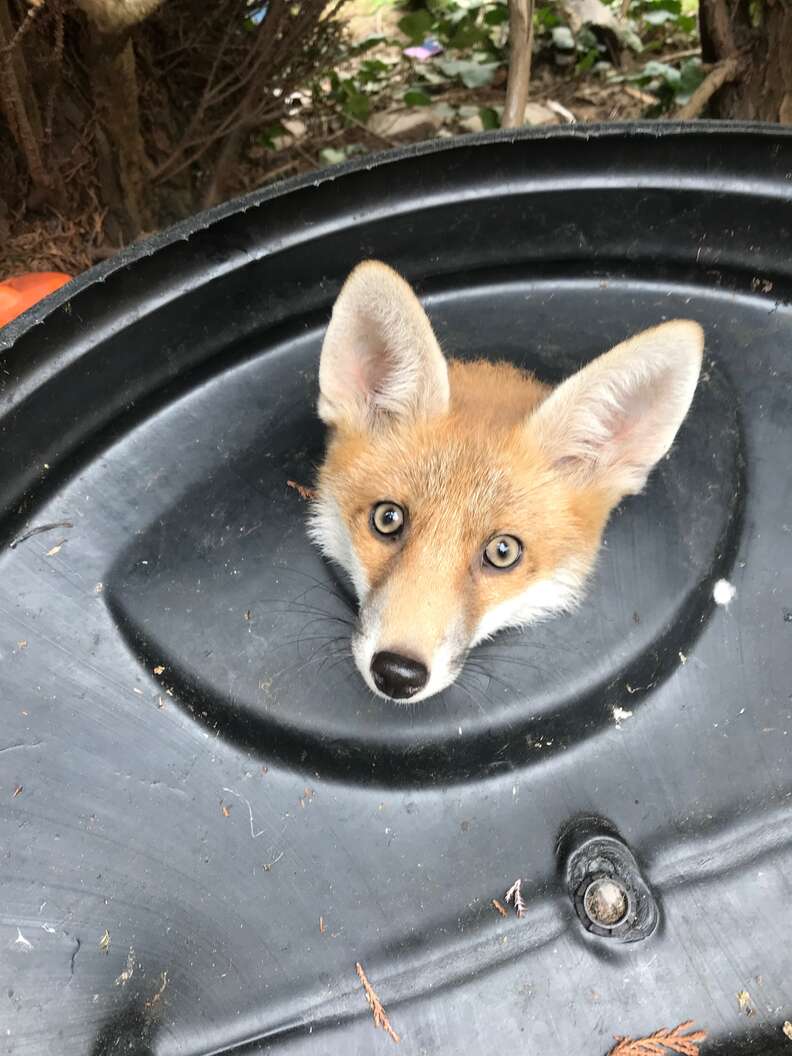 Adwan decided the only way to free the fox would be to cut him out of the lid. Using one of her hands to protect the fox from the blade, she took a hacksaw and cut a T-shaped slit in the lid, enabling her to finally just slide the fox right out.
Wanting to ensure that he was completely unharmed from his whole ordeal, Adwan took the little fox straight to the vet, and was delighted to learn that he was totally OK. Once he was given a clean bill of health, Adwan took him back near the school and released him back to where he belongs.
"The school was sure he was part of a fox family that lives on the school grounds, so I was able to release him close to his home," Adwan said. "It was clear he knew exactly where he was because he headed straight for the den and I hope is now reunited with his family."