Another Dolphin Just Died At This Infamous Park In The Desert
They're HUNDREDS of miles from the ocean.
Another bottle nosed dolphin has died at Dolphinaris Arizona, now the fourth dolphin to die there in less than two years — and the second in just two months.

The controversial aquarium, which is located in the deserts of Scottsdale, Arizona, announced on Friday that a 22-year-old dolphin named Kai was euthanized after experiencing trouble eating, swimming and breathing for two weeks.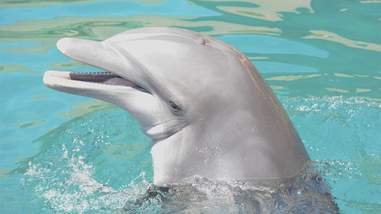 Kai, the 22-year-old dolphin who died yesterday at Dolphinaris Arizona

| Facebook/Dolphinaris Arizona
"We recognize losing four dolphins over the last year and a half is abnormal," Dolphinaris general manager Christian Schaeffer said in a statement. "We will be taking proactive measures to increase our collaborative efforts to further ensure our dolphins' well-being and high quality of life."
Animal advocates, however, aren't so sure — especially given the aquarium's growing track record of deaths. Since Dolphinaris opened in 2016, half of its original dolphins have died.
All four dolphins who have now died at Dolphinaris

| Empty The Tanks
Compared to their life expectancies in the wild of 30 to 50 years, all four dolphins died relatively young. Just one month before Kai's death, Khloe, a 10-year-old dolphin, died reportedly due to complications from a parasite. Last May, 10-year-old Alia died from a bacterial infection, while last September, Bodie died from muscle disease at 7 years old.
Advocates from the local group Dolphin Free AZ and Ric O'Barry's Dolphin Project have taken every opportunity to speak out against the marine park — and now, many worry for the fate of the surviving dolphins there.
One of the dolphins at the marine park posing for a picture

| Facebook/Dolphinaris Arizona
"With four out of eight dolphins dying inside of 16 months, the situation has reached critical mass," Lincoln O'Barry, of Dolphin Project, said online. "For the safety of the public and the remaining dolphins, all activities should cease at Dolphinaris Arizona until an independent investigation takes place."