Rescued Circus Lion Can't Stop Cradling His Brand-New Swing
"It was so rewarding to see his inner kitten coming out."
Sasha's former life could be described in one word — miserable. She and two other lions, Nena and Kimba, had spent 10 years locked up in tiny wire cages, only being let out to perform for Circo Navarro, the Guatemalan circus company that owned them. But after each performance, the lions were shoved back into their barren cages.
Sasha, Nena and Kimba, who may all be siblings, had their claws removed to make it easier for trainers to handle them. This is an extremely painful procedure that basically amputates their toes at the first knuckle and causes permanent damage. Not only were they declawed, but the lions had to endure endless, brutal training sessions to perform circus tricks.
But things were about to change for Sasha, Nena and Kimba. Last year, Guatemala officially banned the practice of using live animals in circuses, which meant that Circo Navarro was now operating illegally. And in June, the team at Animal Defenders International (ADI) negotiated the release of Sasha, Nena and Kimba, as well as two other lions, Tarzan and Tanya, who were owned by a different circus company in Guatemala.
With the lions safely in their care, the ADI team got busy building them special enclosures at a temporary rescue center in Guatemala. While waiting for their new homes, the lions were placed in large crates filled with hay and toys. This setup wasn't ideal, but the lions still seemed to love the crates, which were much bigger and more comfortable than the small, barren cages they were accustomed to.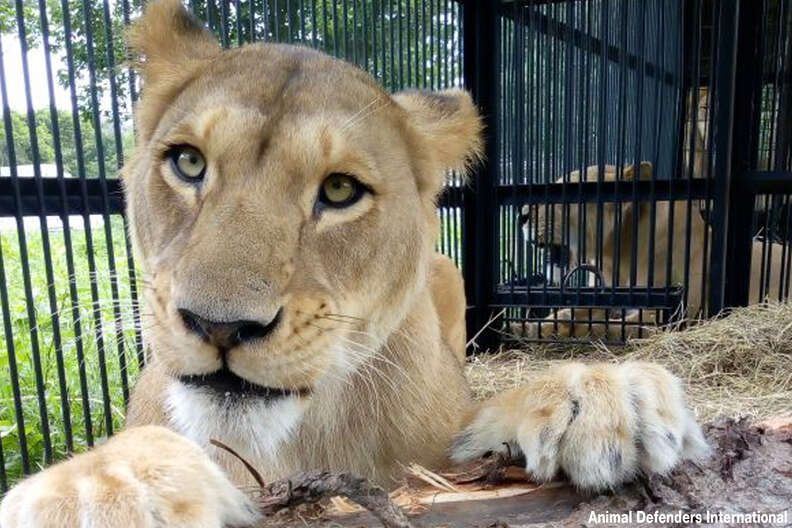 But earlier this month, the lions finally got to move into large, grassy enclosures.
Sasha was the first one to step inside her new home. She'd never touched grass before, but when she took her first step, she started running with joy. She also discovered a tire toy, which she started pawing and chewing.
The other lions followed suit. Kimba dove into his new enclosure, playing with everything he found, including a watering can, logs, haystacks and a tire swing. And Sasha and Tanya were able to express natural behaviors by facing off through a fence.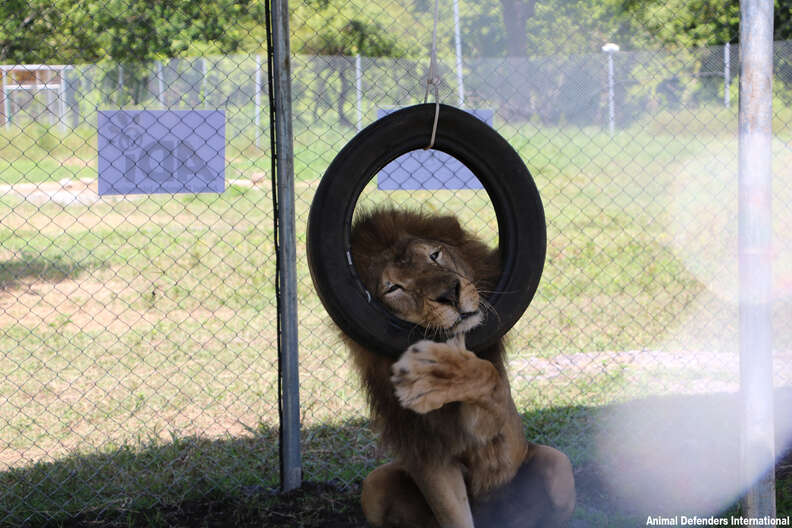 "Having removed the lions from their bare circus cages, it has been and continues to be a truly incredible experience to see these animals transform before our very eyes," Jan Creamer, president of ADI, told The Dodo. "Enjoying the feeling of grass beneath their paws, of hanging freely from a tire swing, or flopping down onto a bed of hay — simple pleasures previously denied them — the true characters of the lions are shining through."
Out of all the lions, Tarzan was the most cautious as he explored his new enclosure.
"It is wonderful to see all the animals growing in confidence and strength, but especially so [with] Tarzan," Tim Phillips, vice president of ADI, told The Dodo. "The slowest and most cautious of the lions, his beloved Tanya [is] protective of him, [and] the tough life Tarzan has had in the circus is clear to see. When he stepped on grass for the first time he marched around, taking it all in, but would not play with anything. The next day, he started to play with a tire and it was so rewarding to see his inner kitten coming out."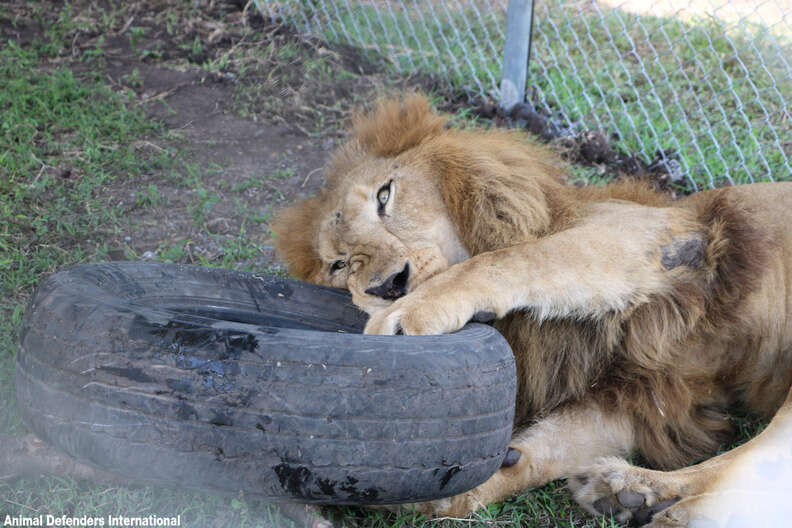 While the rescued lions are clearly happy at the rescue center, this isn't their final destination — they'll eventually be moved to a huge sanctuary in South Africa where they'll have endless space to run and play. It will take a few months for the lions to get the necessary health checks and documentation so they can move there, but the ADI team is working to get them there as quickly as possible.
"With their circus days behind them, it's time to let the good times roll and we can't wait to take them home to our sanctuary in Africa," Creamer said.
The lions aren't the only animals the ADI team have rescued from illegal circuses in Guatemala — they also saved nine tigers, who will be moved to permanent homes at the U.S. sanctuaries, Big Cat Rescue and Tigers for Tomorrow. In the future, the ADI team also plan to rescue 18 more tigers, two more lions, two pumas, a camel, two spider monkeys and a porcupine.
To help rescue more circus animals in Guatemala, and to get Sasha, Tarzan and the other lions to their forever home in South Africa, you can
make a donation to ADI
.