Adorably Adventurous Manatee Spotted Venturing Ashore For A Snack
"I never seen them come out of the water like that."
As gentle giants with seemingly insatiable appetites, manatees love nothing more than munching on the buffet of aquatic plants at home in the shallow waterways of Florida. 
But apparently, for those more culinarily adventurous manatees, the grass is sometimes a little tastier on the other side of the surface.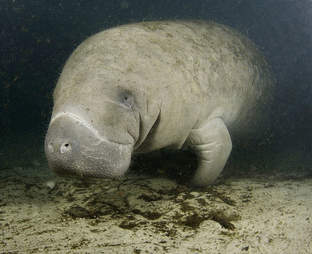 Wikimedia
Dan Scovern lives near a wildlife preserve along the St. Lucie River, in Port St. Lucie. There, he's no stranger to seeing manatees moseying through canals en route to their next meal.
But nothing could have prepared him for this.
The other day, Scovern was walking near the waterline when he spotted a manatee who'd decided to venture ashore for a snack — wiggling her pudgy body out of the water to feast on a salad of tasty sweet grass.
"I never seen them come out of the water like that. That's why I decided to film it," Scovern told The Dodo. "It was a great experience. I was mesmerized."
Here's that moment on video:
Though this manatee behavior may be new to many, biologists say it's actually not uncommon. In fact, it even has a name: pec walking. And given manatees' epic appetites, that sort of adventurousness in search of food can go a long way.
"If it's green, they'll eat it, whether it's grass on the shoreline or mangrove leaves hanging over the water," biologist Tom Reinert said in a post. "Manatees eat about 10 percent of their body weight a day, so for a typical 1,000-pound manatee, that's a lot of vegetation and they'll take it where they can get it."