Something Strange Was Found Hanging From This Tree
It's crazy how often this happens.
It was a crisp October day when a man in Warwick, Rhode Island, spotted something odd hanging 20 feet in the air above him.
Something feathered was suspended under the tree canopy, almost motionless.

Closer inspection revealed that the cluster of feathers was a barred owl — he was alive, presumably very scared and tangled up in discarded fishing line.
The bird could have died if the man hadn't seen him. He contacted the wildlife clinic of the Wildlife Rehabilitators Association of Rhode Island (WRARI), and a whole team of people, including firemen, went to help save this frightened owl's life.
All of this could have been prevented if a fisherman hadn't left his fishing line behind.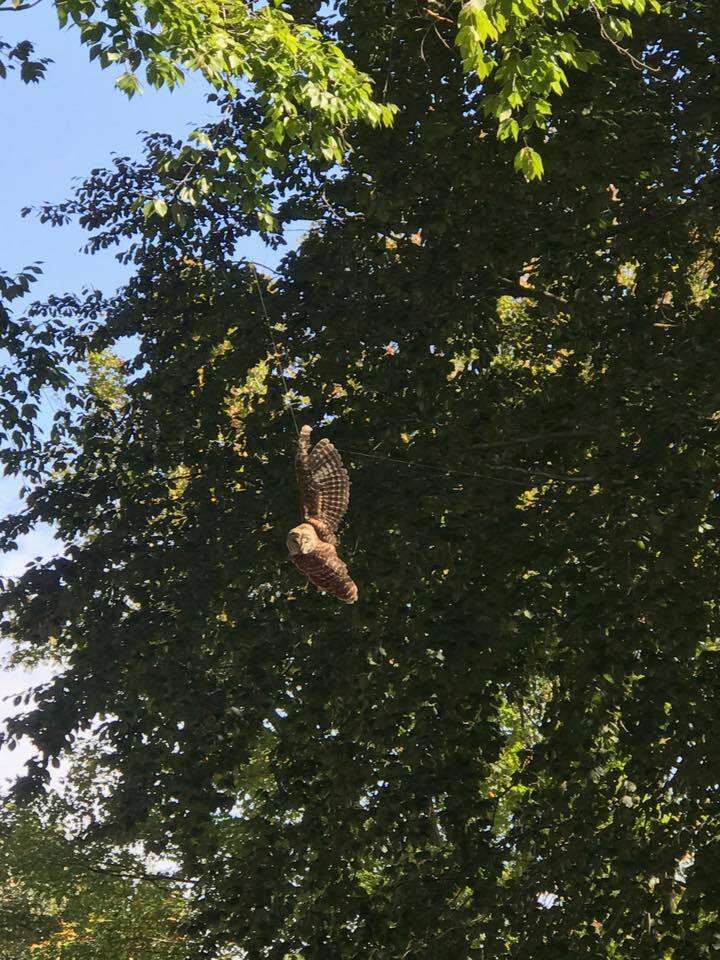 "Fishing line is a major environmental problem," Arianna Mouradjian, board member and volunteer at WRARI, told The Dodo. "And we unfortunately see a significant number of patients as a result of injuries sustained from fishing line."
Since these photos were taken, dozens more animals of all different kinds have become entangled in the region — and countless more across the country. Each year, WRARI sees dozens of birds and other animals impacted by this kind of litter.
"Robins, crows, blue jays, eiders, geese, ducks, cormorants, gulls, mergansers, painted turtles, snapping turtles, spotted turtles and snakes, just to name a few," Mouradjian said. "And we only get the lucky ones that make it to us. Many die of starvation and exposure as a result of fishing line entanglement and injuries."
Thankfully, rescuers arrived in time for the barred owl. "It is unknown how long the bird had been hanging there but given that they are nocturnal, it's likely that he'd been there for some time," WRARI wrote on its Facebook page. "The fire department responded right away, got a ladder up to the owl and was able to cut him loose and bring him back down to earth."
The owl was given a blanket for comfort and transported in a crate to the wildlife clinic, where he could be examined for injuries.
"Upon examination it appeared that, amazingly, he suffered no significant injuries, just a little feather damage," WRARI wrote. The owl made a complete recovery and was soon released back into the wild.
You can help save wild animals from fishing line by spreading the word about what can happen. You can also
make a donation to WRARI
.