Kind Firefighters Save Great Horned Owl From California Wildfire
"[It] seemed to kind of know that they were there to help it."
By Sunday, the worst of the Maria Fire blazes had died down, but the Ventura County firefighters' work was far from over. 
While patrolling for dangerous trees weakened by the flames, firefighters stumbled upon someone in need of help. The ash-covered great horned owl's bright yellow eyes stopped them in their tracks.
"They came across an owl in a burnt-out portion of a drainage ditch," Mike Desforges, public information officer with the Ventura County Fire Department, told The Dodo. "They watched it for a few minutes and they thought it didn't look right."
Facebook/Ventura County Fire Department
The owl was on the ground and seemingly confused. Despite the bird's large size and sharp talons, the firefighters didn't hesitate. They took off their yellow "brush coats" and swaddled the injured bird in the fabric.
The injured owl seemed to finally relax as he was lifted out of the ditch.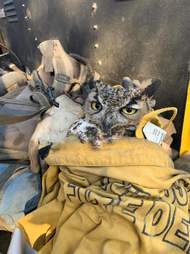 Ventura County Fire Department
"Not too many people handle an owl of that size, so they were concerned with it maybe being aggressive or injuring one of them," Desforges said. "They were surprised that it was so docile and seemed to kind of know that they were there to help it."
Once the bird was secured, the rescuers called their chief, who put them in touch with the director of the Camarillo Wildlife Rehabilitation Center.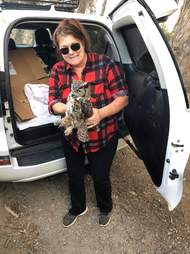 Ventura County Fire Department
An examination at the rehabilitation center found that the owl was suffering from smoke inhalation. After monitoring the owl for 48 hours, he was moved to an outside enclosure where he will continue to heal and start flying again.
"I think his prognosis is excellent thanks to the firefighters," Nicky Nowrooz, director of the rehabilitation center, said in a video published on Facebook. "I think they got him just in time ... and he will be able to be released."
Photos of the great horned owl, named Ram by the firefighters, have since gone viral across social media. The uplifting rescue story has touched thousands of people still reeling from the destructive California wildfires. But the firefighters find all the attention pretty funny.
"The firefighters were all kind of laughing because they saved a bunch of homes and did really great work," Desforges said, "but this is the thing that has taken off."