Firefighters Save Baby Deer With Her Very Own Tiny Oxygen Mask
She was so grateful for the help ❤️️
When a massive fire started to spread this week in the Hatfield Moors near Doncaster, England, three different fire stations came together to help battle the blaze. As they were working hard to put out the fires, they suddenly came across a tiny baby deer, all alone and clearly struggling.
She was curled up in some shrubs, not sure what to do, so the firefighters quickly brought her over to safety. The poor little deer had inhaled a lot of smoke, though, and she soon collapsed and appeared to stop breathing. Knowing she needed help, the firefighters sprang into action and slipped an animal oxygen mask over her nose.
"We introduced animal oxygen masks in 2017 and these kits where donated from Smokey Paws Charity," Ros Barbour, communications supervisor at Humberside Fire and Rescue Service, told The Dodo. "This was the first time our crews have used a mask on a deer. The masks have been used on dogs and cats at fires in people's homes."
After a while, the baby deer regained consciousness, and everyone on the scene was so thrilled that they were able to save her life.
"The deer was very receptive to the mask and didn't appear to be confused," Barbour said.
Once she was breathing again, the firefighters contacted the RSPCA to come and collect the orphaned baby deer so she could get the long-term care she needed.
"The fire was huge and the crews did an incredible job getting this terrified little kid to safety and helping her when she was struggling to breathe," Daniel Bradshaw, an inspector with the RSPCA, said in a press release. "I'm certain they brought her back to life and without their quick-thinking actions she may well have perished."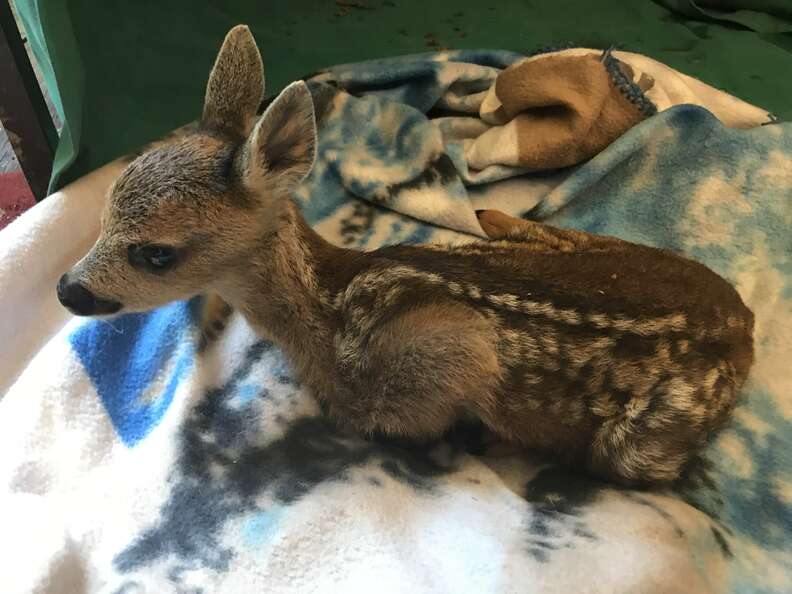 Bradshaw brought the baby deer to a local wildlife expert for emergency overnight care before she could be moved to the RSPCA's Stapeley Grange Wildlife Center, where she'll stay until she's old enough to be released back into the wild.
"She now seems to be doing much better, is quite bright and alert which is wonderful," Bradshaw said.