Firefighters Notice Something Strange Wandering Around Near Station
"They really felt like the fox was trying to get their help."
Putting the lid back on a jar before tossing it in the trash could save an animal's life — just ask one lucky fox, appropriately named "Miracle."
Earlier this month, firefighters with the Pasco County Fire Department in Florida saw firsthand why this simple act is so important when an unusual visitor showed up on their doorstep asking for help.
Firefighter Joseph Skanks was working out in the bay of Pasco Fire Rescue Station 26 when he caught a glimpse of a very young fox with a plastic tub stuck around his head.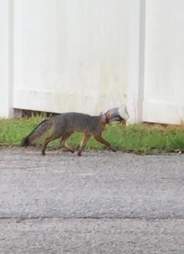 Facebook/Pasco County Fire Rescue
Skanks followed the fox, but when he tried to get closer, the animal scurried off into the bushes behind the station. It wasn't unusual to see foxes loitering around the tree line behind the station — but Skanks had never seen one in such a dire predicament.
"About five to 10 years ago, the station was really in the middle of nowhere," Corey Dierdorff, public information officer for the Fire Rescue Department, told The Dodo. "Over the years, there has been a lot of development, and growth is really booming in the area, so it's not uncommon to see animals out there all the time. They see eagles every once and a while, and raccoons, foxes and deer right behind the station and around the neighborhood."
With their habitat shrinking, the area's wildlife is coming into contact with all sorts of strange new items, including refuse such as old mayonnaise and peanut butter jars.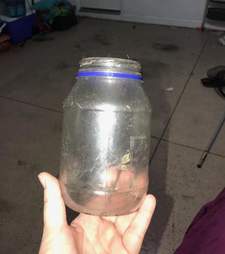 Facebook/Owl's Nest Sanctuary for Wildlife
When the fox appeared a second time just outside the station, Skanks decided that he needed to bring in reinforcements.
"He went and grabbed a couple of guys, and said, 'You won't believe what's going on outside. There's a fox over here with a mayonnaise jar on [his] head,'" Dierdorff said. "So they go out and try to catch him by hand, and he scurries off into the woods."
And so began a frustrating game of hide-and-seek.
Facebook/Pasco County Fire Rescue
When the firefighters saw the fox for the third time, they knew they needed help — and fast.
"The guys said they really felt like the fox was trying to get their help," Dierdorff added. "The way the fox would come out and walk around the back of the bay and the dumpster, putting himself on show, as if to say, 'Hey, I'm in trouble.'"
That's when they called a local rescue and rehab organization, Owl's Nest Sanctuary for Wildlife, for assistance in trapping the scared young animal. And, by working together, they were finally able to catch the fox.
Facebook/Pasco County Fire Rescue
Though the fox had easily slipped his little head into the jar, getting it off took patience and some steady hands.
"They were lightly pulling the jar to make sure they wouldn't hurt the fox," Dierdorff explained. "When his head popped out everyone was excited."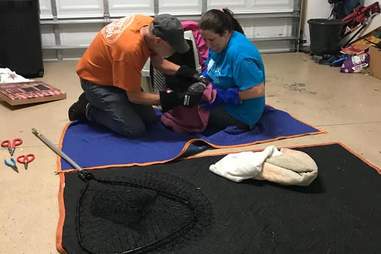 Facebook/Owl's Nest Sanctuary for Wildlife
From the state of the fox, rescue workers guessed that he had been trapped in the mayonnaise jar for an entire week.
After surviving for so long, the name Miracle seemed perfect.
Facebook/Owl's Nest Sanctuary for Wildlife
The fox was given some fluids and food, and once he was alert, the rescue workers released him to his waiting family behind the station.
For the firefighters, the time and energy they spent rescuing the fox was all worth it.
"Every life is valuable to us, and we're going to do whatever we can to save any life whether it be a person or an animal," Dierdorff explained. "We're constantly pulling ducks out of storm drains, helping horses who may be stuck or livestock who has gotten out and we still run cat-in-the-tree calls. So any type of animal, any type of life, is really important to us and we take it very seriously."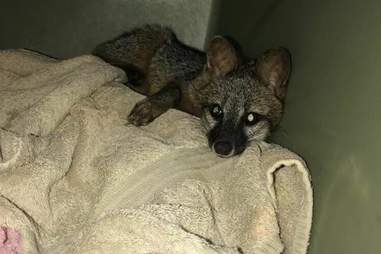 Facebook/Pasco County Fire Rescue
"I know it was very fulfilling to the guys to help this animal out," Dierdorff added, "and that they'd do the same in the future."
The little fox is now happily back with his mom, and hopefully keeping clear of dumpsters.