Airport Security Finds Craziest Thing Hidden Inside Bag Of Hair Curlers
So many were trapped in there 😱
When a man passed through airport customs carrying a duffel bag packed full of hair rollers last week, security officers at New York's John F. Kennedy International Airport were naturally suspicious.
But things got even stranger once the officers noticed who was stashed away inside the bag: a total of 70 live finches.
U. S. Customs and Border Protection
The passenger had just arrived in the U.S. on a flight from Georgetown, Guyana — where he had likely stolen the birds from the wild in order to sell them into the black market in the U.S. In the past two years, over 200 other finches have been seized in New York under similar circumstances, according to the Washington Post.
Unfortunately, cramped transport methods like this are common in the illegal pet trade, where smugglers often try to sneak through airport security undetected.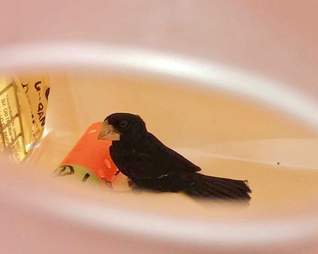 U. S. Customs and Border Protection
Countless animals die off during transports like these each year — and many more die before that, due to the trapping methods used by poachers. Recently, wildlife officials in Florida busted an illegal songbird trafficking operation which used methods like glue traps and large nets to capture the birds from their homes in the wild.
Many animals sustain injuries or even die from the forceful capture and inadequate living conditions they face while in the traffickers' hands.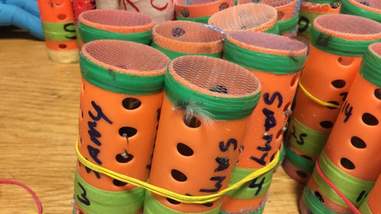 U. S. Customs and Border Protection
"The bottom line is these activities boil down to money," David Pharo, resident agent in charge for the U.S. Fish and Wildlife Service (FWS) Office of Law Enforcement, said in a statement. "They're making money from illegally trapping and trafficking these [birds]. These people are having real impacts on the resources [in the wild]."
Luckily, most of these finches arrived in New York unscathed — and they are currently under quarantine with the United States Department of Agriculture Veterinary Services.
U. S. Customs and Border Protection
The passenger, on the other hand, isn't getting off so easy; he was detained, barred from entering the United States and slapped with heavy fines for his crime.