Paris Authorities Find Strange 'Pet' In Backseat Of Parked Lamborghini
He was just 2 months old and part of his tail was missing.
Paris authorities were conducting a search of vehicles along one of the City of Lights' most famous and bustling avenues, the Champs-Élysées, when they noticed something strange in a luxury rental car.
30 Millions d'Amis
There was a small cat on the back seat of the Lamborghini — and no ordinary cat: A lion cub, just 2 months old, was very far from any place appropriate for a wild animal like him.
A severed tail and weak demeanor suggested the little cub's rough start in life.
Presumably the little cub, who is named Poutine but nicknamed Dadou, was being kept as an exotic pet before being discovered. Coming through the exotic wildlife trade — one of the largest and most complex illegal trafficking networks in the world — it is likely impossible to trace where he came from and how he ended up on one of Europe's most famous boulevards.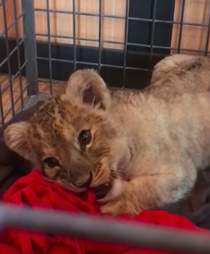 30 Millions d'Amis
Thankfully, authorities arranged for Poutine to be transferred to a place more fitting for him where he can recover from his ordeal.
The animal welfare organization 30 Millions d'Amis arranged for Poutine to be transferred to an animal refuge, Tonga Terre d'Accueil, where he'll soon meet several other lion cubs who have firsthand experiences of what he's been through. Poutine is actually the fourth cub the French animal refuge has admitted in just one month.
"We hope to quickly group this lion with the little lioness," Tonga Terre d'Accueil wrote on Facebook last week. The lioness was recently seized in a Marseille garage, close in age to Poutine but in much worse shape. Luckily, she has started showing signs of improvement, and could be strong enough to meet Poutine soon.
Despite dehydration and his amputated little tail, Poutine is doing well.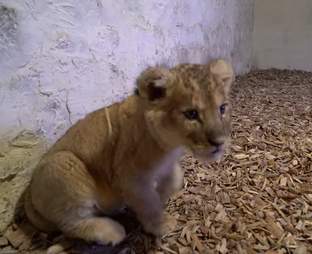 30 Millions d'Amis
The driver was taken into custody, and investigations are ongoing into the four lion cubs seized across France in the last month.
Rescuers hope that a wrong can eventually be made right by transferring all the cubs to a sanctuary in South Africa once they're strong enough for the trip. But that will depend on how the little cubs fare over the next several months and on the refuge having the resources to get them there.
30 Millions d'Amis
Earlier this year, a lion named King, who was found in an apartment on the outskirts of Paris in 2017, was transferred to a sanctuary in South Africa where he's free to be a lion again — not someone's pet.
"It is staggering that, in 2018, lion cubs are still finding their way into the pet trade in Europe," Chris Draper, head of animal welfare and captivity for Born Free Foundation, said earlier this year.
At the time of King's seizure, Draper and other conservationists were concerned that King's story was just "the tip of the iceberg." Given the recent cubs who have surfaced in the oddest places, it is starting to seem like they were right.