What just hatched out of an egg on a nature preserve in California has people very excited.
That's because this little chick's species was almost totally wiped out until people came together in a massive effort to help save them.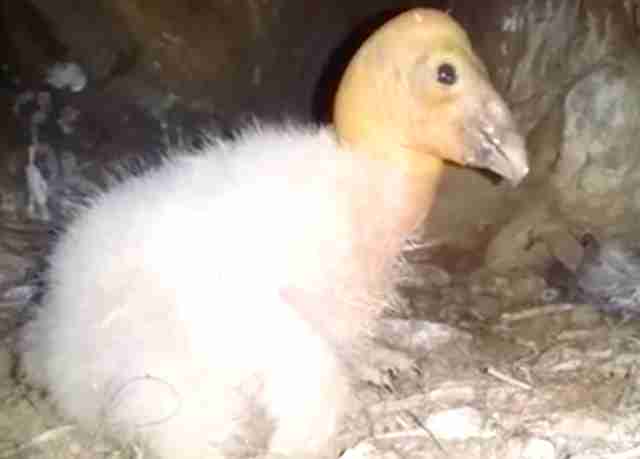 Very recently, the California condor almost went extinct; the population was down to just 22 individuals in 1981. Because the population was so dangerously low, scientists took some eggs from wild condor nests in 1983 to hatch them in captivity and ensure their survival.
Then, through captive breeding, people were able to sufficiently increase the population of this fascinating-looking bird to let them fly free in the wild again.
Now several protected sites on natural preserves are home to the condor — and the first chick at one of these preserves just hatched.
"Wind Wolves Preserve is excited to share the first California condor chick on the Preserve!" the preserve wrote on Facebook on Friday. "New parents #369 (male) and #483 (female) appear to be doing an excellent job, and a healthy chick, about a week old, was observed on May 2nd ... We have high hopes that over the next five months, the chick will grow, develop, and fledge (leave the nest)."
Even though condors are making a comeback — there are currently over 227 condors in the wild today — they still face the same threats that nearly led to their extinction. "Shooting and accidental poisoning continue to be the principal threats to condors," the International Union for Conservation of Nature (IUCN) wrote.
When hunters use ammunition containing lead, the condors can accidentally ingest scraps that can poison them. There are efforts to ban lead ammunition, especially near where the condors are now living in the wild, but this can be difficult to enforce everywhere. Even though it's theoretically preventable, lead poisoning from ammunition still kills so many birds, including bald eagles. And a recent study shows that over 90 percent of condors released in Arizona test positive for lead. In 2010, three critically endangered condors were found dead because of lead poisoning.
Hopefully the hatching of this new condor chick will help people understand just how essential it is to keep habitats safe — the actual existence of this species, and so many others, depends on it.