Baby Monkey Left In Box Was So Weak He Couldn't Even Stay Awake
He was clinging to his stuffed animal <span class="emoji-outer emoji-sizer"><span class="emoji-inner" style="background: url(chrome-extension://immhpnclomdloikkpcefncmfgjbkojmh/emoji-data/sheet_apple_64.png);background-position:6.25% 62.50000000000001%;background-size:4900%" data-codepoints="2764"></span></span>
When the rescue team found the baby monkey, he was weak, skinny and barely alive. He lay quietly inside a stained cardboard box, clinging to an old stuffed animal.
The team at Laos Wildlife Rescue Centre (LWRC) learned about the 6-month-old monkey, whom they named Rattles, a few days ago.
"We received a Facebook message from the 'owner' who was concerned about his health, as his condition deteriorated to the point where he is so weak, he is going through stages of 'fainting' behaviour," Eve Mansfield, manager at LWRC, told The Dodo. "Happily the 'owner' was keen to hand him over to Laos Wildlife Rescue Centre so he could receive the critical treatment he needs."
The moment they had the address, the rescue team hit the road, driving over 30 hours to rescue Rattles.
As it turned out, Rattles was a red-shanked douc langur, an endangered species. Yet in Laos and Vietnam, red-shanked douc langurs receive very little protection, and they're regularly hunted for their meat and body parts, which are used in traditional medicine. And, sadly, babies like Rattles are often caught and sold in the pet trade.
While the rescue team may never know exactly what happened to Rattles, they got as much information as they could from the man, who explained that he was the second person to "own" Rattles.
"His mother was sadly shot in a tree and eaten as bushmeat, and he was taken by his first owner as a pet," Mansfield said. "We were told that in this process, Rattles fell out of a tall tree and hit the ground. The second owner bought him from the first owner because the first owner had grown bored of him and was planning to sell him as bushmeat. The second owner saved him from this fate, though still sadly kept him as a pet for a month and a half."
The man said that he'd bought Rattles for 200,000 kip, which is about $24 USD.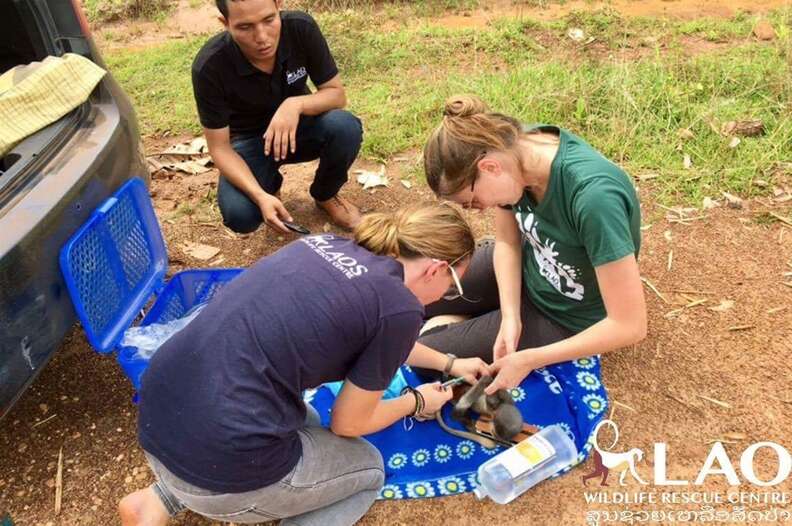 Even if this second owner intended to help Rattles, he didn't know how to care for him properly. Langurs survive on a high-fiber diet, eating things like leaves, buds, flowers, bark, unripe fruits and plant shoots, according to Mansfield. Yet the owner had been feeding Rattles fruits and sweetened milk, which would have wreaked havoc on the baby monkey's stomach.
"This is most likely one of the reasons why Rattles is in such a critical condition," Mansfield said. "He would have most definitely died if we didn't go to him and give him that second chance."
Before traveling back to the rescue center, a vet gave Rattles fluids and medication, and wrapped him up in a warm blanket.
They also gave Rattles some food — probably his first nutritious meal in a very long time.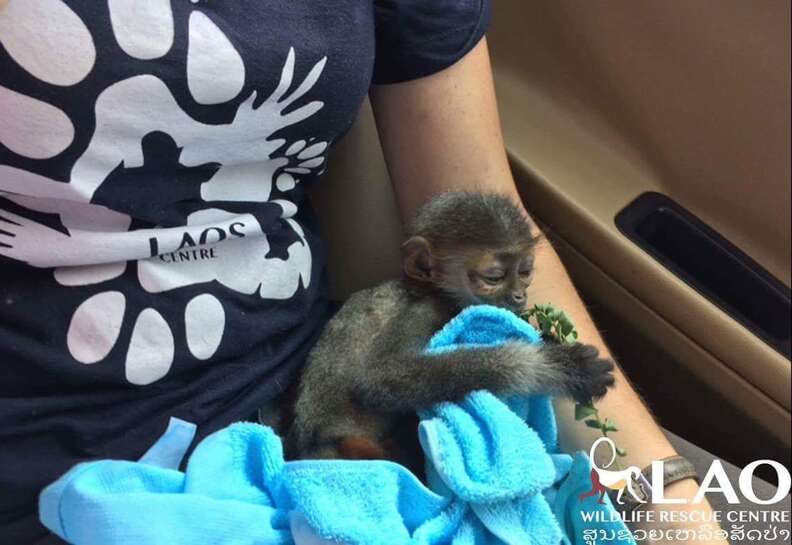 "We offered him small branches with leaves, which he enjoyed chewing on," Mansfield said. "It was really great to see."
At the moment, Rattles remains in critical condition, but the team is doing everything it can to help him recover so Rattles can return to the forest someday.
"All we can do is try and repair the damage that others have inflicted as a result of the illegal wildlife trade," Mansfield said. "If we can rear him successfully and rehabilitate him responsibly, there is a possibility for a life back in the wild for him."