The U.S. Just Reversed A Major Ban On Elephant Tusks And Other 'Trophies'
Poor elephants — this is terrible news.
Update: After an outpouring of public concern for the welfare of elephants, President Trump tweeted on November 18 that he would put the decision to lift the ban on trophy imports on hold until reviewing the conservation facts.
The U.S. government plans to reverse a 2014 ban that was passed to help save elephants from extinction, according to Safari Club International (SCI), a hunters' rights organization, which announced the news this week. ABC News then confirmed it with the U.S. Fish and Wildlife Service (USFWS).
Elephants are listed as an endangered species under the Endangered Species Act (ESA), which makes importing trophies impossible. But there is a loophole: Importing trophies is legal if there is reason to believe that hunting and killing endangered animals can help boost conservation. Zimbabwe — which is currently in the grips of a political crisis and is where Walter Palmer shot and killed Cecil the lion in an illegal hunt — and Zambia both claim that wealthy trophy hunters from the U.S. could aid local conservation efforts. Lifting the ban would encourage hunters to come and kill the animals so many people around the world are rallying to save.
A wild mother elephant and her calf in Zimbabwe

| Shutterstock
"Let's be clear: Elephants are on the list of threatened species; the global community has rallied to stem the ivory trade; and now, the U.S. government is giving American trophy hunters the green light to kill them," Wayne Pacelle, president and CEO of the Humane Society of the United States (HSUS), said. "What kind of message does it send to say to the world that poor Africans who are struggling to survive cannot kill elephants in order to use or sell their parts to make a living, but that it's just fine for rich Americans to slay the beasts for their tusks to keep as trophies?"
Elephants are dying off so quickly, it's possible they'll be extinct in the wild in the next few decades. The elephant population of Zimbabwe has dropped by 6 percent since 2001, and according to Pacelle, poaching is on the rise in the regions where trophy hunters will be allowed to kill elephants. In Zambia, the elephant population has plummeted from 200,000 to 21,000, according to a census done last year.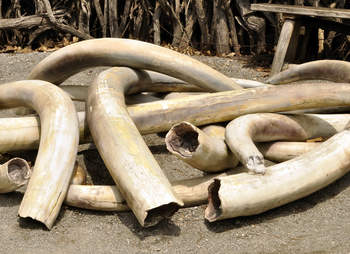 Shutterstock
"Trophy hunting causes prolonged, immense suffering for elephants and fuels demand for wild animal products, opening the door for further exploitation," Elizabeth Hogan, U.S. wildlife campaign manager for World Animal Protection, told The Dodo. "We urge the Trump administration to reconsider."