Elephant Who Spent Decades Giving Rides Has Best Response To Freedom
She waited 40 years for this moment 🐘
For the past 40 years, Priyanka the elephant has spent her days giving people rides through the city streets of India with a heavy seat strapped to her back.
With constant pressure on her spine and no shelter from the sun, Priyanka walked and walked every day with an aching back and feet burnt from the hot asphalt roads.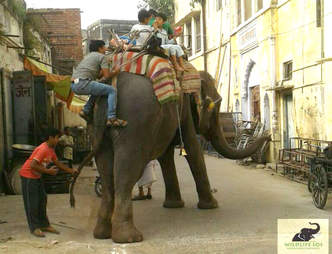 Wildlife SOS
The 44-year-old elephant was also regularly rented out for parades, which forced her to march long distances among noisy spectators. As she walked along the routes, people would often startle her with loud music and firecrackers or even try to climb onto her as she passed.
Like many elephants taken from the wild to be used for entertainment, Priyanka never knew what it was like to be part of an elephant family — until now.
Wildlife SOS India learned of Priyanka's plight over a year ago and has tracked her movements ever since — knowing that it was only a matter of time before the team could bring her to safety from her owner, who was keeping her illegally. The organization planned her rescue over the course of months, and the chance to save her finally presented itself last week.
Wildlife SOS
"We immediately mobilized a rescue team to assist the local Forest Department in the area to conduct a daring seizure operation along with the local police department," the rescue wrote in an update. "But even perfect opportunities can easily go wrong, and we had to keep everything on the down low for the safety of Priyanka and the amazing team that had gone out to rescue her."
The team successfully seized Priyanka, though her previous owner tried to have the elephant returned to him — despite not having any valid ownership documents. But a few days later, with paperwork and permissions finalized, Priyanka was clear to go to her new home at Wildlife SOS' Elephant Conservation and Care Center.
Wildlife SOS
As soon as she stepped down from the transport truck, Priyanka immediately took off running to explore her new surroundings. With plenty of open space to roam, and other new elephants to meet, she couldn't stop sniffing the air to gather all the information she could about her new neighbors.
After the initial excitement, she settled down with a big bale of sugarcane to snack on and some reassuring touches from her caretakers.
Wildlife SOS
While it will take time to integrate her into the rescued herd, it wasn't long before Priyanka was making friends through a fence that separated her from the other elephants.
"She has definitely taken a liking to our little dumpling, Laxmi," Arinita Sandilya, spokesperson for Wildlife SOS, told The Dodo, referring to a 22-year-old female elephant who lives at the center. Like Priyanka, Laxmi was rescued from a life of labor — she was forced to stand outside of a temple and beg for money by her former owner. Passersby constantly fed the begging elephant fast food, and by the time rescuers got to her, she had gotten so obese that she could hardly support her weight.
While Priyanka begins forming bonds with the other rescue elephants, vets will be treating her for a long list of health conditions. After years of neglect, she was left severely malnourished and has corneal opacity in both her eyes, which will likely cause eventual blindness.
The nutritional deficiencies have caused her hind legs to bend inwards, and she also suffers from arthritis and damaged feet from years of walking on pavement. She also has fungal infections in her ears and trunk. Over the next few weeks, she'll receive treatment for her medical issues and get a little extra TLC to ease her aching joints.
"Since it is winter, the keepers are making an extra effort to keep her warm, rubbing her down with warm oil and giving her a relaxing massage," Sandilya said. "We're determined to shower on her all the kindness and care she needs."
Priyanka getting a warm oil treatment

| Wildlife SOS
According to Wildlife SOS, there are several ongoing charges against the elephant's former owner and law enforcement is investigating the situation. India is home some of the largest populations of wild Asian elephants, and, despite their endangered classification, many face cruel fates at the hands of illegal traffickers and owners who use them in the tourism industry.
Elephants forced to give people rides face a multitude of cruelties aside from just the physical wear and tear. Before a young elephant can be trusted to not knock people off of her back, she is forced into a training method called "crushing" — which involves tying her up and beating her into submission to break her spirit. Sharp bullhooks, also used in circuses, are often used to keep control over the elephants.

But over the past seven years, Wildlife SOS has rescued 27 elephants like Priyanka from neglectful situations where they were kept captive for entertainment or tourism, usually in crowded cities or slums, and has given them a new chance at a natural life. And the organization doesn't plan to stop anytime soon.  
"Wildlife SOS is working actively with Uttar Pradesh Forest Department to crack down on illegal wildlife trafficking," Kartick Satyanarayan, CEO of Wildlife SOS, said in a press release. "That includes people indulging in illegal possession and trading of India's heritage animal — elephants that are protected under the law."
To help Wildlife SOS care for Priyanka and save more elephants like her, you can
make a donation
.