'Pet' Monkey Is Dropped Off At Rescue Eating Ice Cream Cone
"It was ridiculous, and we were very surprised."
When Nui the monkey arrived at the rescue center, she was eating a chocolate ice cream cone that her former owner bought for her at a local 7-Eleven. But ice cream is hardly an appropriate food for a monkey, and the rescue center workers were shocked to see this.
"It was ridiculous, and we were very surprised," Tom Taylor, assistant director for Wildlife Friends Foundation Thailand (WFFT), told The Dodo. "Safe to say she will no longer be eating food like this."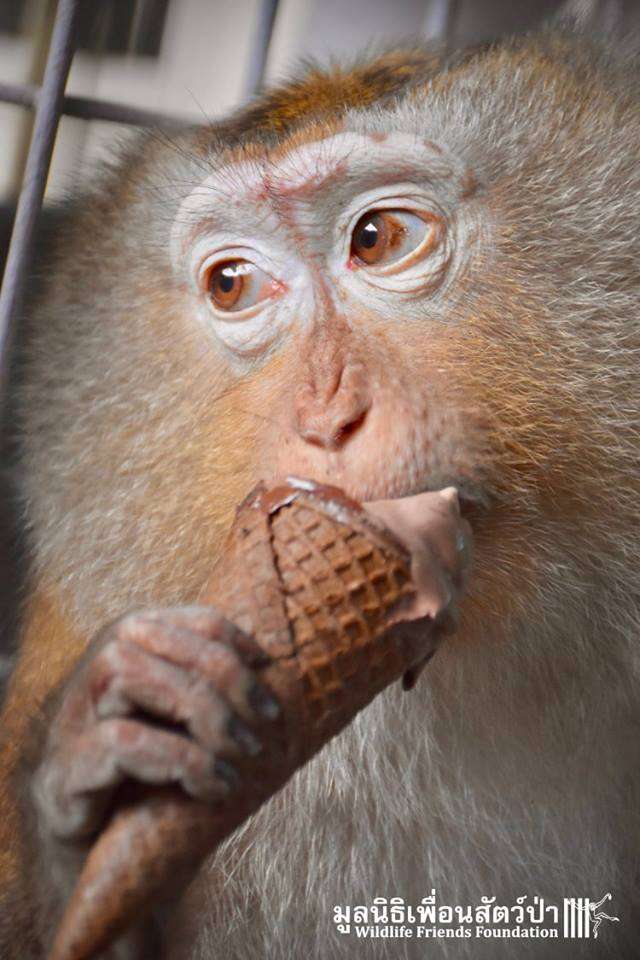 Though Nui spent most of her life as a pet, she's actually a wild northern pig-tailed macaque who used to live in the forest in Thailand. But when Nui was just a baby, wildlife traffickers killed her family and sold Nui into the pet trade. Nui eventually landed in the hands of her former owner, who kept her as a "pet" for the last 19 years.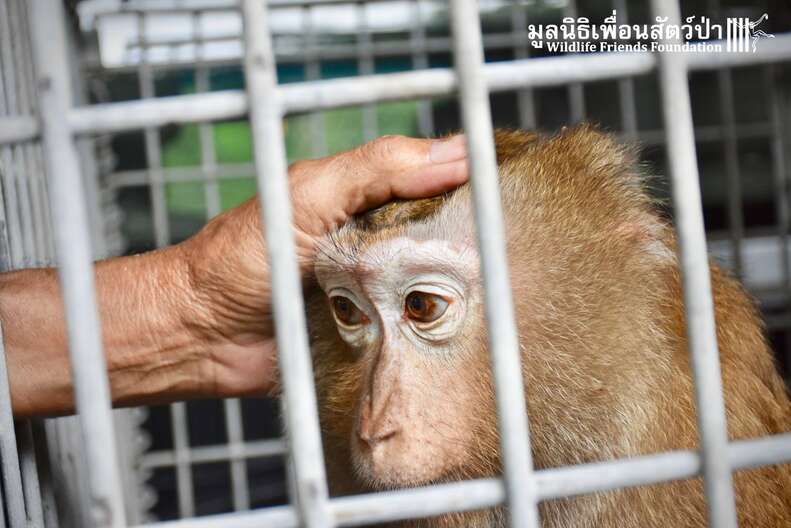 Nui's owner claimed to treat her like a family member, but he kept the macaque in an old, rusty cage made out of chicken wire. He occasionally took her outside using a rope tied around her abdomen.
"This was so she could be handled," Taylor said. "This [the rope] may have eventually been embedded within her skin — we see this a lot with macaques on chains or ropes."
Thankfully, Nui doesn't have any injuries from the rope. The more serious issue was that she'd been kept in a cage for so many years — the WFFT team described Nui's life as "solitary confinement" in a Facebook post.
"It was a lonely life, devoid of any contact with other of her own species," Taylor said.
Earlier this month, Nui's life finally took a turn for the better. Her former owner made plans to move to another country, and he reached out to the WFFT team to arrange for them to take Nui into their care.
Nui is an elderly macaque — her species' life span is around 26 years — but she's in fairly good health, according to Taylor. However, she doesn't seem to know anything about being a wild monkey, so the WFFT team is doing everything it can to help her learn.
"She is getting lots of love and attention," Taylor said. "She will be socialized with her own species again and live in a natural field habitat."
To help rescue macaques like Nui, as well as gibbons, elephants, slow lorises and other wild animals in Thailand, you can
make a donation to WFFT
.