'The Rock' Posed With A Captive Beluga — And Animal Lovers Aren't Happy
😭😭😭
Dwayne "The Rock" Johnson, long known as one of the nicest guys in Hollywood, disappointed some fans this week when he posed with a captive beluga at the Georgia Aquarium. The beluga is standing halfway out of the water, while Johnson grins and reaches out to the animal with a friendly fist pump.
"Found my next co-star. Just look at this beautiful animal with staggering intelligence. And the Beluga Whale is awesome too," he wrote jokingly on Instagram. "Seriously, in awe of these creatures."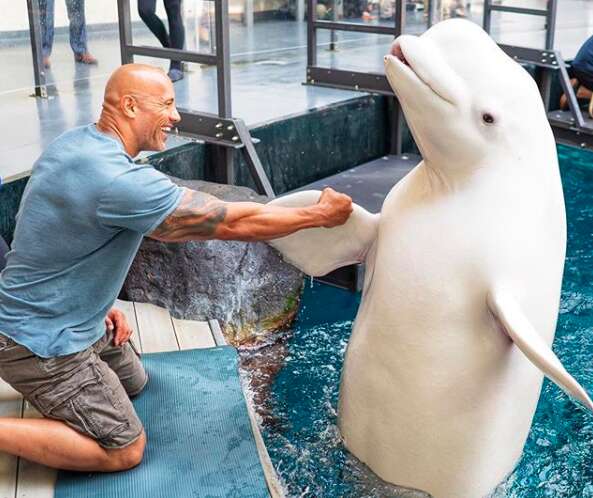 It's great that Johnson recognized the whale's intelligence, but some of his 112 million Instagram followers were disappointed he was supporting marine mammals in captivity. Along with the beluga image, Johnson posted photos of himself with captive seals and whale sharks. Naomi Rose, a marine mammal scientist at the Animal Welfare Institute (AWI), said that criticizing Johnson may not be the right approach — instead, his fans should spread the word about animals in captivity.
"To me, whenever a big celebrity or any celebrity does this kind of thing … I don't think it's the right response to just attack them, and [to say], 'I'm not going to be your fan anymore,'" Rose told The Dodo. "I think that they're just unaware, and the whole point of my job is to educate the public."
Belugas, in particular, have a very tough time in captivity. In the wild, belugas are social animals who travel long distances in small bonded groups, and captive living situations can't replicate their natural environments. As a result, belugas become very stressed in captivity, and often die prematurely.
"In the wild, beluga whales can live up 60 years or more," Heather Rally, a marine mammal veterinarian who currently works with the PETA Foundation, told The Dodo in June. "But in captivity, there are relatively few adults who live beyond the 20- to 25-year range."
"Basically, the Georgia Aquarium is a bad place," Rose said. "Of all the places Dwayne could have gone to to give a fist pump to a beluga, that was the wrong place to go."
However, Rose is hopeful that Johnson will have a change of heart, similar to what happened after the singer Pink posted a photo of herself swimming with dolphins at Sea World on Australia's Gold Coast (which is not affiliated with the American SeaWorld parks but faces similar welfare issues).
"Pink is now, as far as I'm aware, is pretty much anti-captivity because of the reaction she got when she was swimming with captive dolphins," Rose said. "She recently supported some pro-whale, pro-dolphin initiative."
One of the best things you can do to help belugas and other marine animals living in captivity is to not buy a ticket to marine parks or other facilities that keep these animals. You can also support animal welfare investigations by
making a donation to AWI
.