Dolphins Keep Mysteriously Dying At This Arizona Marine Park
"Dolphins don't belong in the desert."
In the past 16 months, three dolphins have mysteriously died at Dolphinaris Arizona, a controversial dolphinarium that opened in Scottsdale, Arizona, in 2016 — and people are getting very worried about the remaining five dolphins at the facility.
Bodie was the first dolphin who passed away in September 2017, followed by Alia in May 2018. And now Khloe, a dolphin regularly used in the facility's swim-with-the-dolphins experiences and featured in promotional material, died in late December 2018. All three animals apparently died of infections, although the details surrounding their deaths remain vague and secretive.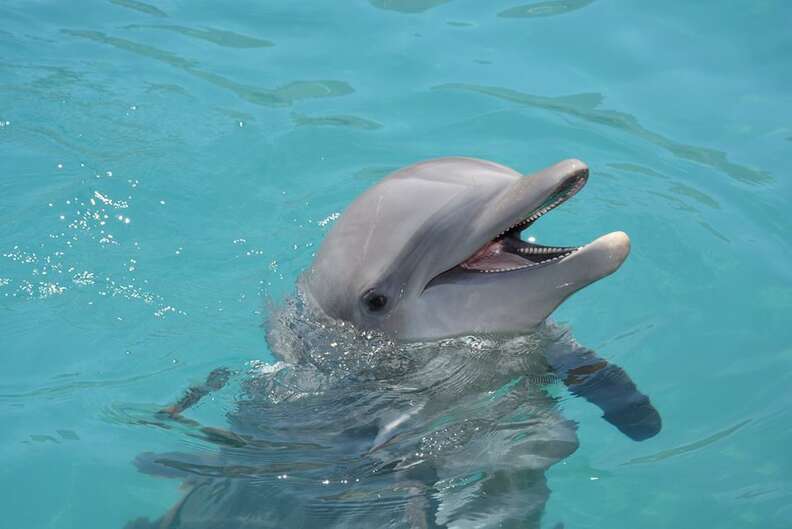 "Dolphins Don't Belong In The Desert"

On its website, Dolphinaris Arizona describes itself as "one of the world's leading providers of dolphin experiences" that "exceeds federal and international standards of animal care and habitat." Yet dolphin experts don't agree with this statement.
A prime concern is the facility's location in the desert, which Naomi Rose, marine mammal scientist at the Animal Welfare Institute (AWI), believes has a detrimental effect on the dolphins' health.
"Dolphins don't belong in the desert, and I have serious concerns about the possibility of them being exposed to fungal agents that are common in this desert area," Rose told The Dodo. "The necropsy reports for these animals most definitely should be released publicly, but they won't be (they are not required to be by law). Unless Dolphinaris has something to hide, they should be transparent about this situation, given the publicly expressed concerns about exposure to desert-associated fungal agents."
Another issue is the hot Arizonian sun, which could cause great discomfort — and further health issues.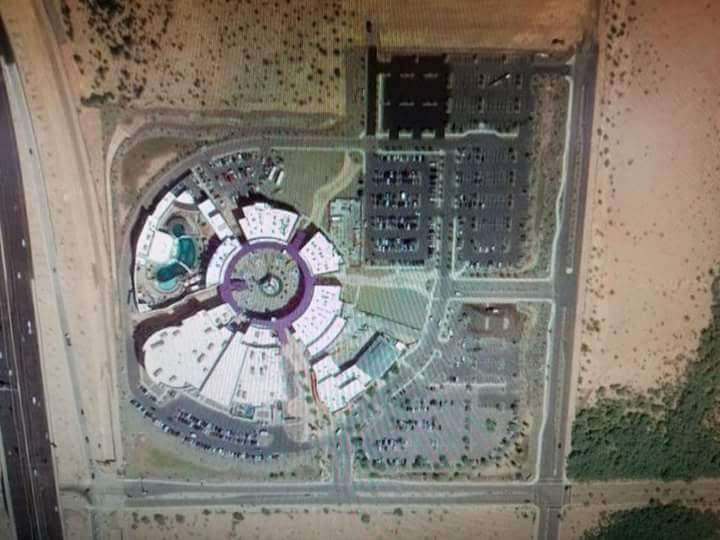 "The relentless exposure to UV radiation is not normal for them," Rose said. "Desert sun is particularly harsh. These tanks have no shade and they are very shallow, meaning the water itself does not filter out much of the UV radiation, even when the dolphins are below the surface."
"It is not normal or natural for dolphins to be exposed to UV radiation in this way," Rose added. "Where they are found in tropical climes, or even off the coast of desert areas, they can ... spend more than 70 percent of their time at depths where the worst of sunlight is filtered out."
The dolphins at Dolphinaris Arizona, however, only have 10 feet of water to swim in, which doesn't allow them to escape the sun, Rose explained.
Stressful And Unsanitary Conditions

Other factors are creating stressful living conditions for the dolphins, too.
Laurice Dee, who runs the Advocates Against Dolphin Captivity in Arizona Facebook page, explained that the dolphins have four concrete pools — three outdoor and one indoor — but they're quite small, so the dolphins don't have much space to dive or swim around. This would probably create boredom and frustration.
"When the dolphins were not performing, they'd swim in endless circles in their pools," Dee told The Dodo.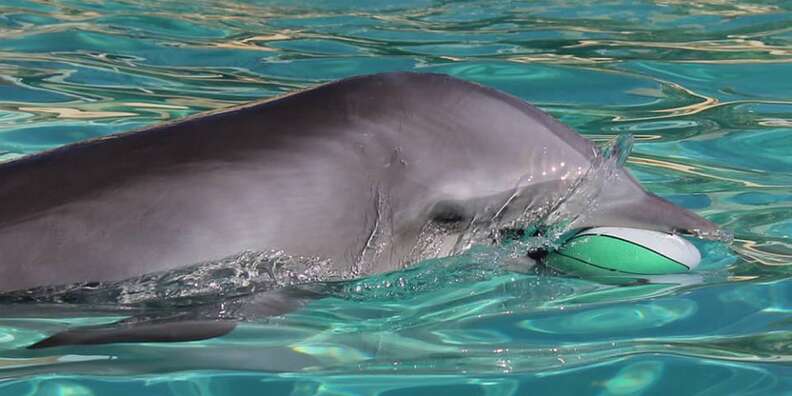 Dolphins are also highly social creatures. In the wild, they live in family pods, and they rely on each other for survival and companionship. Yet the dolphins at Dolphinaris Arizona are gated off from each other when they're not performing, preventing them from interacting, according to Dee.
"Every time the trainers opened the gates, the dolphins would storm out from one pool to the next and swim around fast," Dee said. "Dolphinaris Arizona added bridges over the gates in early 2017 after one of the dolphins was seen jumping from one pool to the next — the bridges are there to keep the dolphins in the pools."
Dee has visited the facility herself on several occasions, and she observed that the dolphins always seemed hungry, and would constantly stick their heads above water to search for food.
"The dolphins would get all excited every time the trainers came in with coolers full of fish," Dee said.
Then there's the issue of sanitation. Anyone who visits Dolphinaris Arizona can pay to swim with the dolphins or even act as their "trainer" — but these human-dolphin interactions could spread illness.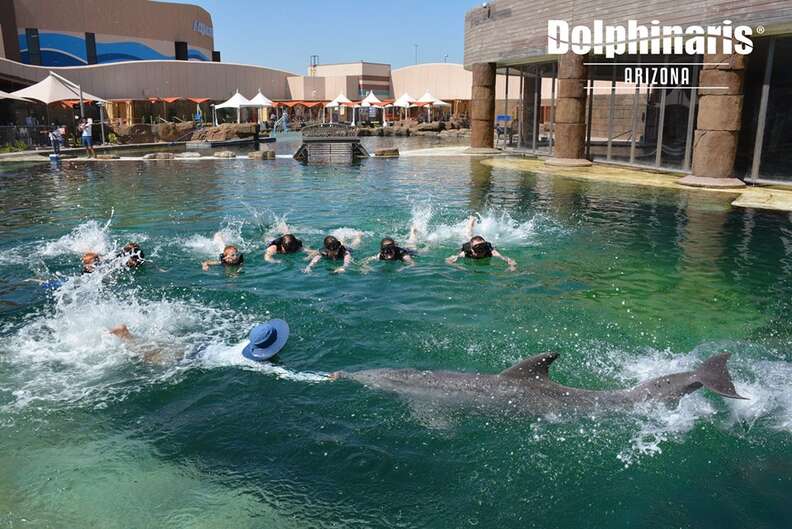 "Three dolphins dying in less than three years is not normal, even for a swim-with-dolphin attraction," Rose said. "I do think the sanitary standards for these programs aren't rigorous enough. People with any illness — even a sniffle — shouldn't be allowed to participate, but most places don't have this kind of exacting standard. I don't know if Dolphinaris does specifically, but it's unlikely they do."
"Tourists don't even necessarily have to take a shower before entering the pool," Rose added. "Again, I don't know what Dolphinaris specifically requires, but showering is not a typical requirement."
Patricia Cady, cofounder of Dolphin Free AZ, believes that captivity in general would play a role in the deterioration of the dolphins' health.
"As we know, dolphins never fare well in captivity," Cady told The Dodo. "Whether they were born in captivity or not, they are still wild animals who have needs that can never be replicated in a captive environment. Captive dolphins can become listless, depressed. This takes a toll on any living being's immune system, preventing the body's ability to fight off pathogens that a healthy immune system could fight."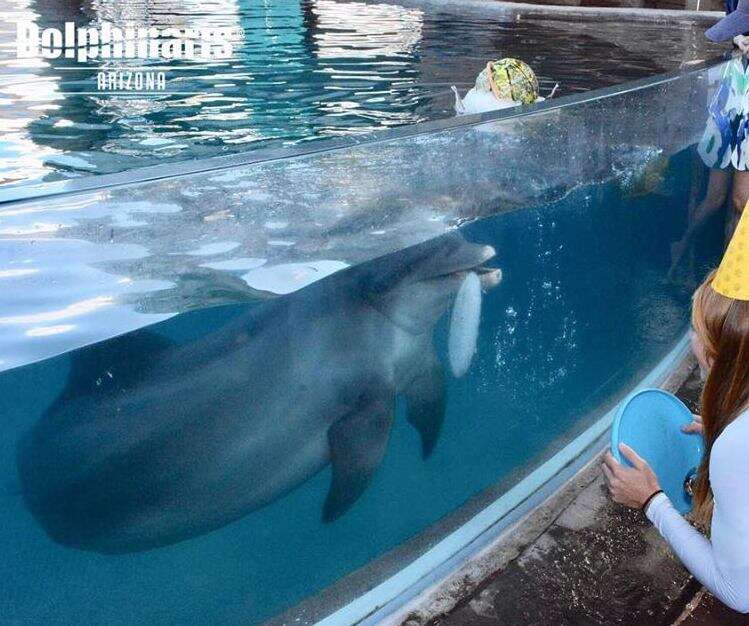 Three Deaths In 16 Months

When Bodie, a 7-year-old dolphin originally from Six Flags in Vallejo, California, died in September 2017, Dolphinaris Arizona claimed he died of a rare muscle disease. But two months later, the National Oceanic and Atmospheric Administration (NOAA) released a report saying Bodie actually died of a fungal infection.
"I truly think that Bodie came down with valley fever [a type of fungal infection], which can be deadly to marine mammals, even if Dolphinaris Arizona told the public that he suffered a rare muscle disorder," Dee said. "Many of us didn't believe this due to lack of transparency from the company."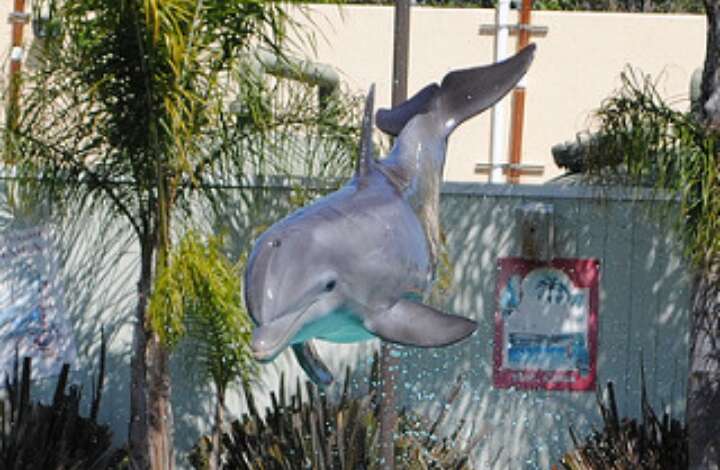 As for Alia, she died from septicemia, a bacterial infection that rapidly spreads through the body. However, the park has released very few details about Alia's death, which has left Dee with many questions.
"Exactly what caused Alia to pass away of septicemia?" Dee asks. "How did Alia acquire the infection? From where did the infection enter Alia's body?"
"I [submitted Freedom of Information Act Requests to] APHIS [Animal and Plant Health Inspection Service] and NOAA a few times for Bodie and Alia's necropsy reports," Dee added. "Unfortunately, I was not able to obtain the info. I was told to ask Dolphinaris Arizona for the reports. I wouldn't trust that the company would release them to the public."
Khloe's recent death raises just as many concerns.
Following Khloe's death, Dolphinaris Arizona released a statement saying that the 10-year-old dolphin had a "chronic illness due to a parasite called Sarcocystis," and that she battled it for six years.
"This infection usually causes severe central nervous system and muscle disease, as well as weakens the immune system to other pathogens," the park said. "Her condition has been managed with exceptional veterinary care for nearly six years as we called on dolphin experts globally to determine treatments that extended her life."
Yet Dee finds this hard to believe, especially since Alia and Khloe were born four months apart at SeaWorld in Florida, and spent their entire lives together, often sharing the same pools. They were even transferred to Six Flags in California and then Dolphinaris Arizona at the same time.
"The question is, 'How could Khloe possibly pick up this type of infection … whereas Alia didn't?'" Dee said. "I couldn't seem to find any info as to when and where Khloe picked up the infection."
"My biggest concern is that Dolphinaris Arizona might be shifting the blame by saying that Khloe was already 'ill' with the infection when she came to Arizona and that the company did everything possible to prolong her life by caring for her the best way possible," Dee added.
If Khloe was indeed sick, Dee wonders why the park ever purchased her and made her perform.
"What we truly need is health records on these dolphins," Dee said. "But how can we obtain them? No one would give out the info to the public."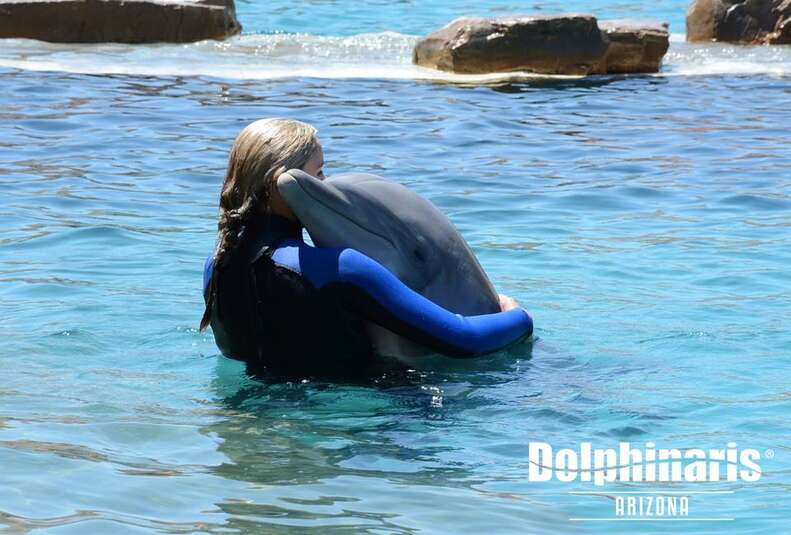 USDA Inspections, But No Violations

On several occasions, inspectors from the United States Department of Agriculture's (USDA) APHIS have visited Dolphinaris Arizona after receiving complaints, including a complaint from Dee herself, which she filed in 2017. But each time, the facility has received no violations.
"This doesn't make any sense to me at all, in light of all the problems at the facility," Dee said. "I really think that Dolphinaris Arizona must have told APHIS to keep the info confidential."
However, Cady points out that current laws regarding the exhibition of cetaceans are very unclear.
"The Animal Welfare Act laws by which all licensed exhibitors of cetaceans must adhere to are quite vague in many respects," Cady said. "This could be one reason why there have been no violations [cited by the USDA]."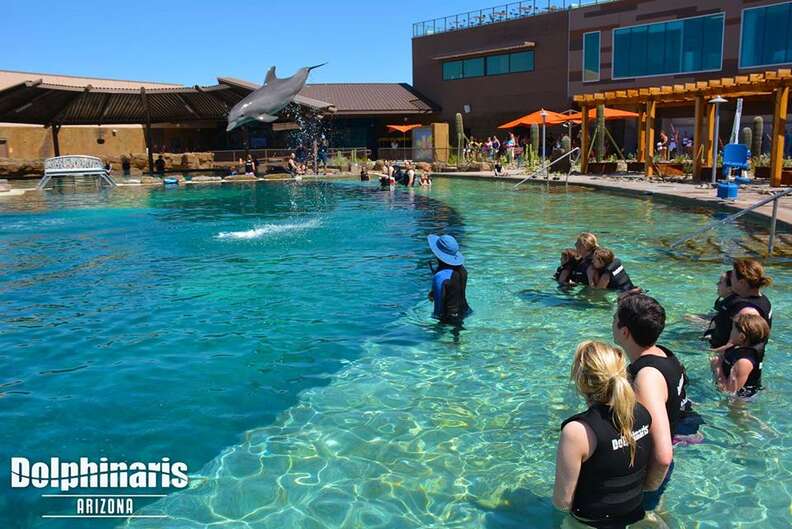 Following the deaths of Bodie, Alia and Khloe, Dee has deep fears for the remaining five dolphins. She's particularly concerned about Kai Nalu and Noelani, who both lost their vision while being transferred from Dolphin Quest in Hawaii to Dolphinaris Arizona, according to Dee. However, both dolphins are still forced to perform and interact with guests.
"I mentioned about Kai Nalu and Noelani in my APHIS complaint in March 2017," Dee said. "I expressed my concerns about both of them losing their vision during the transport from Hawaii to Arizona. I asked for an investigation into Dolphinaris Arizona to find out what was going on that caused problems, including that of Kai Nalu and Noelani. I was told that APHIS sent somebody out to do the inspection and that everything, including the dolphins, turned out to be fine. How could that be?"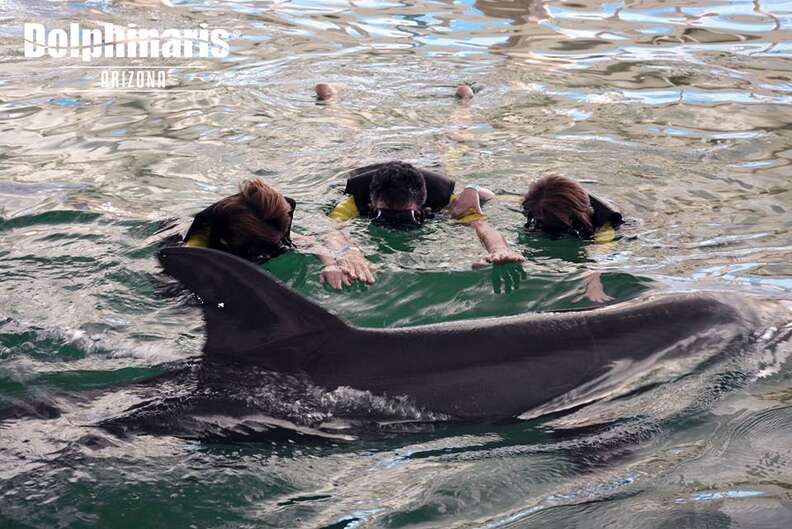 Hope For The Dolphins' Release

The best thing for the dolphins would be for the dolphins to be retired, and moved to a more appropriate facility, according to Ric O'Barry, founder of the Ric O'Barry Dolphin Project.
"The third death of a dolphin is truly unfortunate and should serve as definitive proof that dolphins do not thrive in captive conditions — especially the desert," O'Barry told The Dodo. "We hope that Dolphinaris and all other captive facilities will take note and begin developing plans for retirement for all captive marine mammals immediately."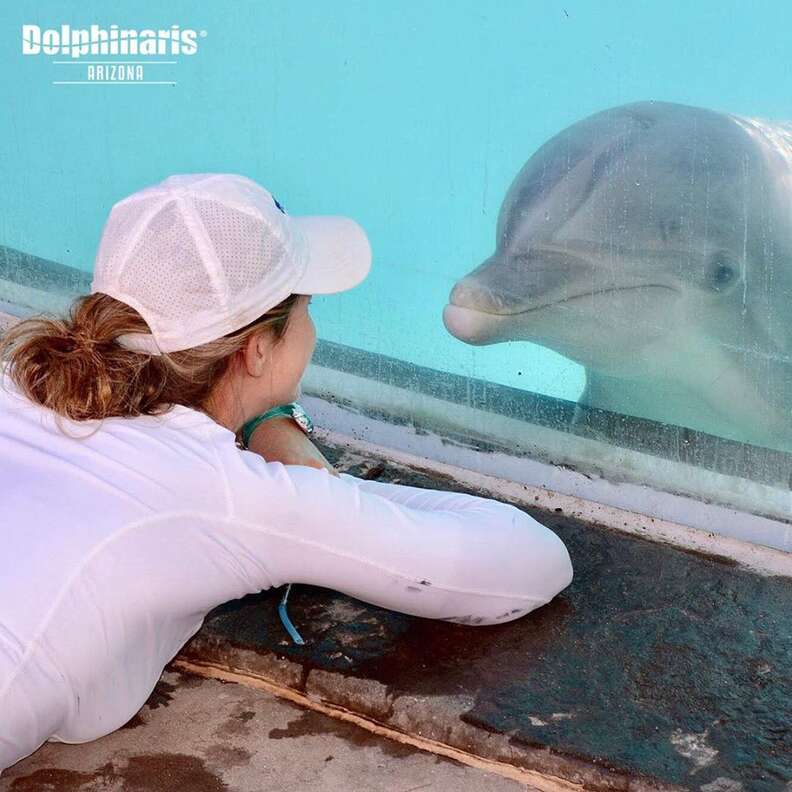 Both Dee and Cady hope that Dolphinaris Arizona will cease business and send their dolphins to a seaside sanctuary — while such a facility does not yet exist, there are several in development.
"Discussion for providing a place to retire captive dolphins, such as a seaside sanctuary, is critical," Cady said. "While Dolphin Free AZ is calling on captive facilities like Dolphinaris Arizona to send captive dolphins to a seaside sanctuary, the reality is, there is not one yet ready. But this shouldn't stop our request. When the public is crying out for true seaside sanctuaries, those that do not exploit dolphins in any way, we believe our demands will continue to be heard and folks will come forward with help in building such ... sanctuaries."
"We would very much like to see Dolphinaris Arizona close its doors for good and the dolphins be sent to a proper seaside sanctuary," Dee said. "The National Aquarium of Baltimore in Maryland is preparing its captive dolphins for life in a seaside sanctuary. The dolphins will be placed in one in Florida in 2020."
The Dodo contacted Dolphinaris Arizona, but a spokesperson for the facility refused to comment on the frequent dolphin deaths at the facility, or to answer any questions regarding the care the attraction currently provides to its dolphins.
When asked whether the facility would ever release the dolphins to a sanctuary, the spokesperson said, "There is no government-regulated sanctuary that exists. Also, our records are online and show we have met all regulations and standards."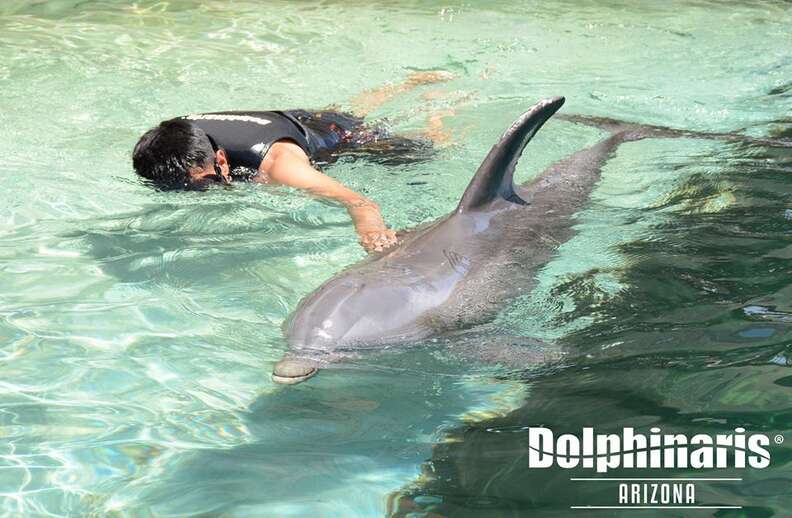 Ways To Help The Arizona Dolphins

While Cady has felt saddened and frustrated with Dolphinaris Arizona, particularly after Khloe's death, she's channelling her emotions into actions.
"My initial sadness and shock quickly turned to anger," Cady said. "And that anger has further ignited a deeper level of commitment, a commitment that I didn't think could go any deeper, to get those dolphins out of that facility."
Dee, too, has been working tirelessly to spread awareness about the dolphins in Dolphinaris Arizona, and to encourage other people to become advocates for these animals.
"People can take action by doing the following — participate in protests to encourage the public to boycott Dolphinaris Arizona; spread awareness through social media about the disastrous effects of exploitation on the health and well-being of the dolphins at Dolphinaris Arizona, and the reasons why the dolphins should not be in the desert; [and] educate the masses [of] the pitfalls of dolphin captivity," Dee said.