Dolphin Tangled In Fishing Line Swims To Shore To Get Help
"It was super emotional. I still get goosebumps when I think about it."
Folks out enjoying a day on this stretch of the Spanish coast last week likely never thought they'd end up saving a life — but that's exactly what they did.
Inés Oliva Pérez was among a group of sunbathers on El Buzo beach, in El Puerto de Santa María, when she spotted a young dolphin stranding herself in the surf. Other people there noticed it too, and a small crowd began to gather at the waterline. But as the dolphin washed ashore, their curiosity about her surprise appearance soon turned to concern for her well-being; suddenly, it made sense why she might have approached them.
The dolphin's mouth was tangled in fishing line, which she had no way of removing on her own.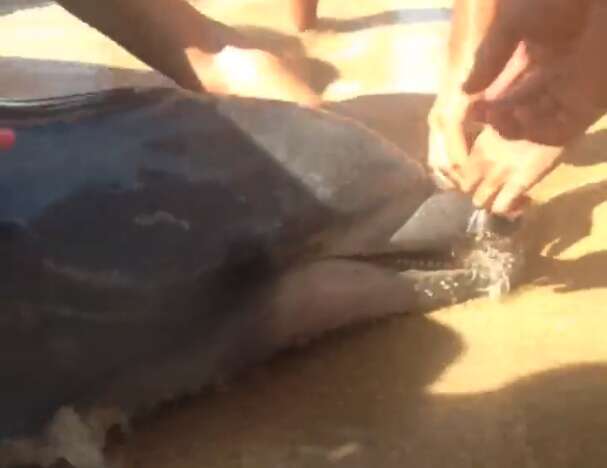 "It seemed she came to ask for help," Pérez later wrote online.
Fortunately, the dolphin found the right people to offer her that assistance. As Pérez looked on, several beachgoers worked together to steady the distressed animal against the crashing waves long enough for the improperly discarded fishing gear to be cut from around her muzzle. They then carried the dolphin back out to sea, and watched as she swam away — now free from that life-threatening entanglement.
Pérez shared this footage of the dramatic rescue.
The crowd of beachgoers was clearly relieved — but they weren't the only ones.
As the rescued dolphin swam away, Pérez could see two other larger dolphins circling in the distance, as if they had been waiting for her return. Even as she joined them, they seemed to linger for few moments longer. In that act, Pérez perceived a sense of gratitude for what had been done to help her.
"It was super emotional," she told El País. "I still get goosebumps when I think about it."