Elephant Herd Runs To Greet New Rescued Baby
They stuck their trunks through the fence to make him feel welcome.
This orphaned elephant had lost everything — but he just found the best possible family at Elephant Nature Park (ENP).
Dok Geaw was orphaned at only 4 months old after his mother, a logging elephant, was injured during his birth. Before she could recover, she was immediately forced back into the logging industry, where she died from the strain.
Concerned for his health, elephant rescuer Khun Kanjana Silpa-Archa at the Thai Elephant Conservation Center paired Dok Geaw with Sing Kon, an elephant who would nurse him in lieu of his mother. But when Sing Kon became pregnant, it was no longer safe for her to be Dok Geaw's nanny, and he was alone again.
Khun Kanjana knew what Dok Geaw really needed was a family, and so she arranged to bring him to ENP.
Despite his rough start in life, the nearly 2-year-old elephant received a warm welcome from the rest of the herd, who ran to greet him as soon as he was brought in.
"Thanks to the Thai Elephant Conservation Center Lampang (TECC) for the best care of the little boy," Lek Chailert, founder of ENP, wrote on its website. "From now we will do our best to care for him. Welcome Dok Geaw to our herd."
After an enthusiastic greeting, Dok Geaw is adjusting to life at the park. According to ENP's Facebook page, he is still getting comfortable with the rest of the herd, choosing between different groups who have "offered" to adopt him. Recent pictures show him horsing around with another young elephant and playing in a sand pile.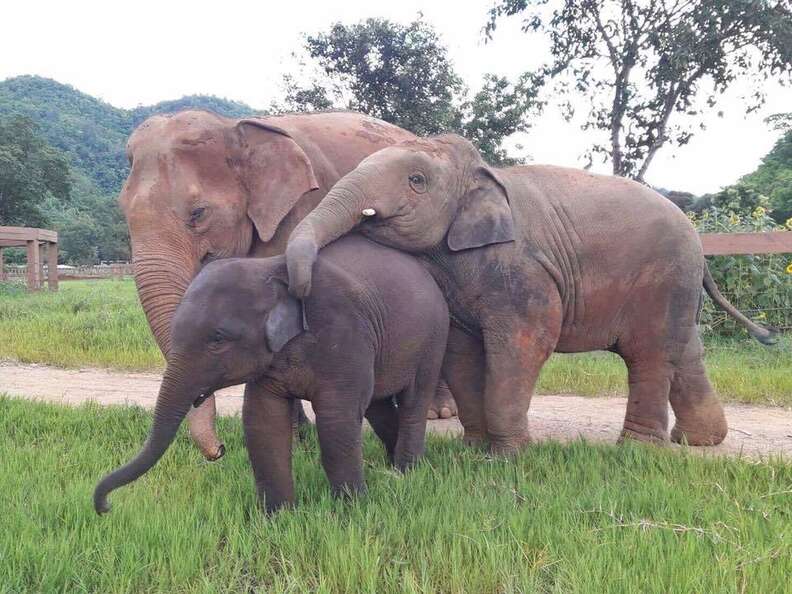 But now, ENP's newest rescued calf is safe from that fate. Welcome home, Dok Geaw!