Dog Finds An Animal Who's Trapped In Her Yard And Gets Help
She kept running back and forth until her mom understood and followed her 🐶💪
Lorna Back was hanging out at home on Monday when her dog Rosie ran inside from playing in the backyard, wagging her tail excitedly as if she was trying to tell her mom something. Rosie kept running back and forth and looking at her mom expectantly, so finally her mom followed her — and discovered that Rosie had found a hedgehog who was desperately in need of help. 
RSPCA
The hedgehog Rosie had found was stuck down a drain in the family's backyard. He had fallen in headfirst, so it was impossible for him to get out on his own. Back could see that the hedgehog clearly needed help, and she contacted the RSPCA for assistance. 
"The hedgehog, which we have now named Spike, was well and truly stuck," Herchy Boal, an inspector with the RSPCA, said in a press release.
RSPCA
Boal assessed the situation quickly when she arrived and then tried to free Spike from his predicament by reaching down into the hole with protective gloves and trying to pull him out. Unfortunately, Spike was incredibly scared and stressed, which made rescuing him even more challenging.
"The hole was very small so I managed to get my hand down, but every time I did, Spike naturally curled into a ball to protect himself," Boal said. "I then couldn't free him as he became too large to fit through the hole. I was worried because I knew there was water down the drain and could hear him gurgling. I didn't want him to drown so I was trying to keep his face away from the water."
RSPCA
Boal tried everything she could think of to free Spike, and even tried using a jump rope to lift him up a bit and make him easier to grab. Finally, after 45 minutes of trying, Spike became too tired to be scared anymore and started to relax, uncurling himself, and Boal was able to lift him out of the hole to safety.
"It was a relief and it was all thanks to Rosie that he was found in the first place," Boal said.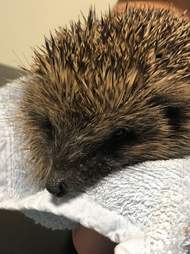 RSPCA
Spike was quickly taken to the RSPCA's Birmingham Animal Hospital to get checked over and make sure he hadn't sustained any injuries. Thankfully, he appeared to be in fairly good health, and should be able to be released back into the wild within a few days. If Rosie hadn't found Spike when she did, the hedgehog's plight may have had a very different outcome, and everyone is so grateful to the little dog for making sure he got the help he needed.
"When the hedgehog was out, Rosie ran round the garden like a puppy. She seemed very pleased with herself," Back said in a press release. "We made sure she got a big fuss and some doggy treats for her efforts."