Baby Orangutan Who Was Shot By Hunters Is All Grown Up Now
It's the best success story ❤ ❤ ❤
When Didik was a baby, he went through something awful — a poacher shot and killed his mom, and also lodged a bullet in Didik's shoulder. The baby orangutan ended up on the forest floor, alone and defenseless, which enabled the poacher to capture him and sell him as a pet in West Borneo in Indonesia.
Keeping orangutans as pets is illegal in Indonesia, and Didik's new owner didn't know how to care for him. As a result, Didik became weak and sick — and the bullet wound on his shoulder was never treated.
IAR
The owner ended up abandoning Didik in a shop. Not long after that, he was picked up by the local forestry department, which got in touch with International Animal Rescue (IAR). Then Didik went to IAR's rehabilitation center, where he has remained ever since.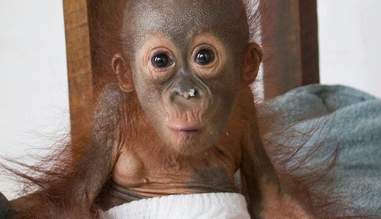 IAR
Didik was sad and depressed at first, which is understandable after what he went through. But with each passing day, he got better and better. The IAR team also managed to remove the bullet from Didik's shoulder, and his wound healed nicely.
Now, more than two years later, Didik is a completely different orangutan.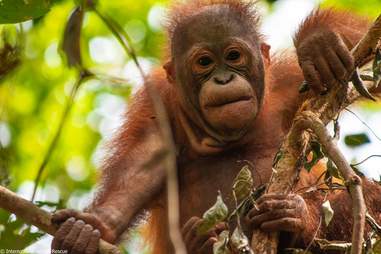 IAR
"Happily, Didik seems to have put the horrors of his past behind him and is growing into a happy, confident young orangutan," Lis Key, PR and communications manager for IAR, told The Dodo. "Didik is developing all the skills he will need to return to the forest one day. He moves confidently through the trees, playing with the other young orangutans and foraging for food. He is also learning to build a nest to sleep in each night."
IAR
The IAR team is delighted by Didik's progress, but they're not overly surprised by how well he's doing.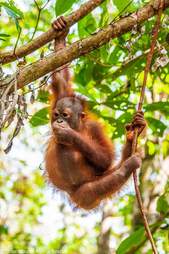 IAR
"The treatment and care the orangutans receive in our center has been tried and tested for some years now and has saved the lives of animals in an even worse state than little Didik," Key added. "Baby orangutans traumatized by the loss of their mothers and their time in captivity as people's pets ... whose chances of survival looked slim are now happily climbing in the trees and growing in strength and confidence every day. Didik is certainly doing very well but happily he is one of many to be making great progress."
IAR
Didik, who is now 3 years old, will remain at the IAR center for several more years. "In the wild, he would stay with his mother until the age of 6 or 7 years old, so he still has much to learn about being an orangutan before he can be considered for release," Key said.
But eventually, Didik will be returned to the forest — where he belongs.