Cyclist Finds Lost Baby Raccoon And Carries Him To Safety In Backpack
"I couldn't leave him out there."
Retired police sergeant Dave Ferrell was riding along a bike trail in Florida last week when his ears were struck by the cries of a baby animal in distress.
And he knew he had to help.
Wikipedia
There, huddled all alone in the middle of the path in front of Ferrell, was a young raccoon screaming out for his mother.
"He was in bad shape laying in the bike trail, flies all over him," Ferrell later wrote on Facebook. "He wasn't long for this world."
Ferrell searched the area in hopes of finding the baby's mom, but she was nowhere to be seen. So, fearing that the little guy would soon perish without intervention, he then loaded up the little raccoon into his backpack and pedaled him to safety.
"I couldn't leave him out there," Ferrell wrote.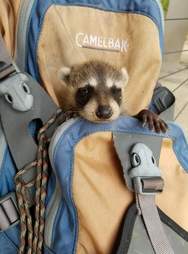 Dave Ferrell/City of Tallahassee Police Department
After making his way back to the trailhead, Ferrell was met by an officer from the Tallahassee Police Department to complete the journey to get the raccoon the help he needed. Throughout the rescue, the frightened baby seemed to sense his rescuer's good intentions.
"He really relaxed and enjoyed the ride in that CamelBak," Ferrell wrote. "He just kind of chilled out back there!"
Before long, the raccoon was placed under the care of Emily Shaw at St. Francis Wildlife Rescue.
St. Francis Wildlife Rescue
The raccoon was covered in fly egg parasites, which were all meticulously removed. It's clear that a grim fate had awaited him there on the trail — and that he'd been rescued just in time.
Now the raccoon has a fresh chance at a full life.
St. Francis Wildlife Rescue
"He is doing fantastic!" Shaw told The Dodo, adding that there's no doubt about whom to thank for that:
"He almost certainly would have died if [Ferrell] had not found him."