Wildlife Officer Says He'll Save Baby Coyote — Then Does The Cruelest Thing
"It was really dehydrated and curled up in a little ball, scared to death."
When Jake McChesney returned from work one day earlier this month, he found his dog, Sonny, sniffing a tiny animal hiding behind a potted plant in the kitchen. At first, McChesney thought he was a puppy. But upon taking a closer look, he realized he was a very young coyote.
"He was just a little furry thing," McChesney told The Dodo. "I got a german shepherd puppy when he was 8 weeks old, and he was about that size. But coyotes only get 50 or 60 pounds on them, so I'm thinking he was about 3 months old."
McChesney, who lives in Kennewick, Washington, didn't know how the coyote got into his house in the first place.
The coyote hiding behind the pot plant in McChesney's kitchen

| Jake McChesney
"I'm in the middle of central Kennewick," McChesney said. "I'm not in a woodsy area at all. My backyard is enclosed, and the only access into my house is a slider that I leave open about 6 inches for my dog to go running in and out to get water and go to the bathroom outside."
Sonny kept sniffing the coyote — McChesney guessed he was trying to play with him — but the coyote didn't respond to the dog. "The coyote ... was so petrified, and he just wouldn't move," McChesney said.
Wanting to do the right thing, McChesney tried to get in touch with the local humane society, but unfortunately they were closed that day. So he called the Wasshington Department of Fish and Wildlife (WDFW) and asked for their help.
"They said they typically don't handle the coyotes," McChesney said. "And I said, 'OK. Well, what am I supposed to do?' And they said, 'Can you just shoo it outside?' I said, 'Sure, but he's in the neighborhood. He's going to get hit by a car or go into someone else's house. This is not a coyote area. This will just be someone else's problem.'"
The WDFW official even suggested that McChesney shoot the coyote, but McChesney balked at the thought.
"That wasn't even close to an option," McChesney said. "I wouldn't even consider that."
With the help of the Kennewick Police Department, McChesney finally got in touch with Don Caraway, a state-authorized wildlife control officer, who arrived at McChesney's home with a metal cage.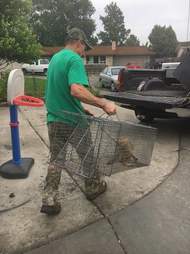 Caraway carrying the coyote out of McChesney's home

| Kennewick Police Department
"I asked [the trapper], 'What are your intentions? What are you going to do?'" McChesney said. "And he said, 'I'm going to take it out into the wild and release it. The mom can always find their cubs because they yip for them at night.'"
McChesney believed that the coyote would be safely released — and this was the story reported in the local media at the time.
"I thought he was big enough to get by," McChesney said. "I knew he at least had a chance."
But sadly, the coyote puppy never did get a chance. Despite his promises, Caraway never released the coyote, which McChesney learned after receiving a Facebook message from a woman named Sydney Pelletier.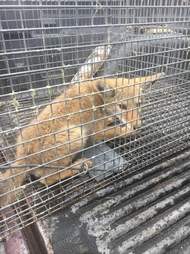 The baby coyote after being captured by Caraway

| Kennewick Police Department
Pelletier became involved with the situation when her father invited her to look at a coyote puppy on his friend's property on Tuesday — the dad's friend turned out to be Caraway.
"I thought it was going to be something cute," Pelletier, who used to work as a veterinary technician, told The Dodo. "I went there with my friend Carrie and when we got there, it [the coyote] was just in a shed, still in the trap. No food or water. It was really dehydrated and curled up in a little ball, scared to death."
When Caraway "joked" that he was going to drown and skin the coyote, Pelletier and her friend were horrified, and they made arrangements to take the coyote to a wildlife rehabilitation center and sanctuary.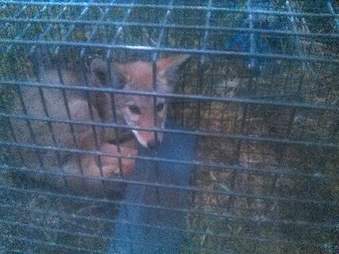 Sydney Pelletier
"It was just a small baby," Pelletier said. "This little puppy was so scared and so tiny, and I felt like it needed a chance to go to the rescue and be rehabilitated."
The next morning, Pelletier and her friend got ready to pick up the coyote and drive him to the sanctuary. But when Pelletier tried get in touch with Caraway and her father, neither of them responded. Eventually, Pelletier contacted WDFW, and an officer went to visit Caraway's property to enquire about the coyote puppy.
But it was too late — the coyote puppy was already dead. Caraway had drowned and buried him.
At this point, Pelletier had gotten in touch with McChesney through Facebook, and McChesney was furious when he found out the truth.
Sydney Pelletier
"There were options for this coyote," McChesney said. "He didn't have to die, and it's very sad that he did. I was straight-up lied to [by] this guy, and he had no problem at all."
While neither federal nor Washington state law technically prohibits a wildlife control officer from drowning an animal, Prashant Khetan, chief executive officer of Born Free USA, told The Dodo that the act is incredibly cruel.
"It is completely inhumane, and anyone who tells you to the contrary doesn't know what they're talking about," Khetan said.
However, WDFW still has certain policies in place — and WDFW specifies on its website that wildlife control officers should only euthanize animals using "humane methods." It also says that officers should avoid "inhumane and unacceptable methods" like "live burial, freezing a live animal or drowning an animal (the exception is a legal killing set sometimes used by trappers)."
Sydney Pelletier
John Griffin, senior director of urban wildlife programs at the Humane Society of the United States (HSUS), explained that the American Veterinary Medical Association (AVMA) identifies accepted methods for euthanasia, such as carbon monoxide or carbon dioxide being supplied to a chamber, or shooting an animal in the head with a firearm, but it also states that "drowning is not a means of euthanasia and is inhumane."
"In this situation, it is clear that the rules were violated," Griffin told The Dodo. "Further, the WCO [wildlife control officer] told all parties that the coyote pup would be released, something that he did not do even though he was under contract by the state — another possible violation of his WCO permit conditions."
"This coyote pup needed to be reunited with his mom who likely had a den close by," Griffin added. "A simple assessment could have been done to see where that den might be and get this pup reunited."
Sydney Pelletier
Caraway's license could be revoked if he is found to have violated state procedures. However, WDFW refused to comment any further on the incident, citing an "open investigation."
As for Pelletier, her relationship with her father has suffered since she tried to help the coyote puppy — but she has no regrets.
"I think that I did right thing," Pelletier said. "I have a big heart for animals."
To help get justice for this little coyote, you can
contact the WDFW
and ask that the officer be held accountable.