People See Coyote With Strangest Thing On Her Head — And Instantly Know She's In Trouble
"She was starving."
For almost two weeks, worried residents in Cool, California, watched as a coyote navigated their yards wearing a rather strange object on her head: a large plastic jar.
The coyote, a young female, was spotted in late January with the jar around her head, leaving only a tiny gap near her neck that allowed her to breathe.
Homeowners helped Gold Country Wildlife Rescue keep tabs on her. But while it was clear she was growing weaker and weaker every day since she was unable to eat, the coyote still managed to keep out of rescuers' grasps.
"Toward the end, we were relying a lot on sightings," Sallysue Stein, founder of Gold Country Wildlife Rescue, told The Dodo. "We were trying everything to get her."
Rescuers set traps, staked out the woods with a net gun and patrolled areas where she'd been spotted — and after 10 days, they finally managed to catch her.
"She hadn't been able to eat for at least 10 days," Stein explained. "But there was no way of knowing how long she had been stuck in there before people spotted her. She was starving."
Unfortunately, cases like this aren't uncommon. Many people throw out jars or plastic containers with food still on them, which leads curious animals to stick their heads in — and often, get stuck.
If they aren't spotted in time, it can be a death sentence.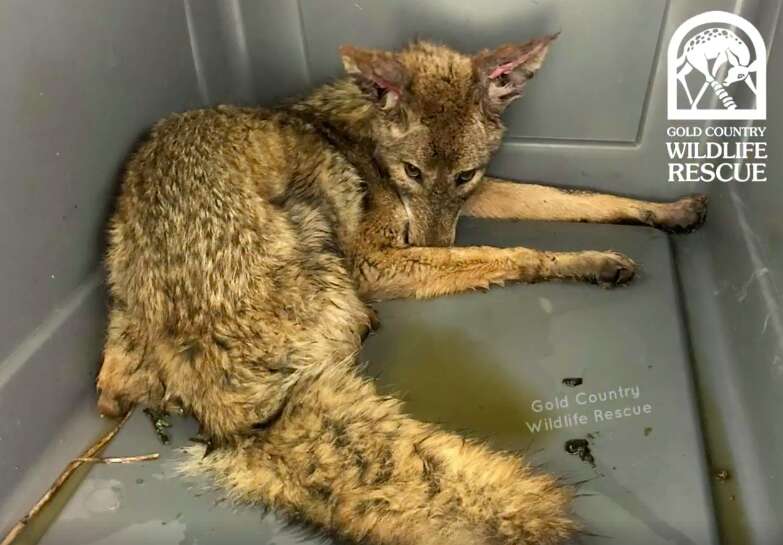 Fortunately, this coyote was found just in time — thanks to all the homeowners and rescuers who cared about getting her help. She's currently in recovery at the rescue's facility, where she's receiving fluids and multiple small meals per day to help her regain strength and weight. She also tested positive for a tick-borne disease, so she'll be on medicine for the next two weeks.
"In the past week we've had her, she's progressed from having a few tablespoons per day to much larger meals," Stein said.
As licensed wildlife rehabilitators, Stein and her team have minimal direct contact with the coyote to ensure she doesn't become used to humans. She is being fed and administered medicine through a visual barrier, and is monitored through a camera placed within her quarantine kennel.
And since she's feeling better now, the coyote isn't afraid to show off her feistiness to her rescuers.
"In our care, there's no danger of her becoming habituated," Stein explained. "We joke that if it seems that the animal hates us, then we're doing a good job. She's a wild animal and that should be her normal response to us."
Since the coyote is still very thin, Stein expects she'll be ready to be returned to the wild within four weeks. But until then, weight gain is the main goal.
"We can't return her until she's gained a considerable amount of weight," Stein said. "In the wild, animals aren't always successful hunters — so we need to know for sure that if she misses a meal or two out there, she won't be set back."
While it's good news that the coyote is safe now, Stein said the best way to stop other animals from getting into these situations is to dispose of your trash in a secure bin. When dealing with jars with lids, she suggests putting the lid back on or washing out the container prior to throwing away to deter curious animals from putting their noses inside in search of food.
"What's so sad about this situation is that this is the direct result of humans and our trash," Stein said. "We need to emphasize the results of not taking care of our trash."
To support the coyote's medical costs, you can
make a donation
to Gold Country Wildlife Rescue.
If you ever find an animal stuck in trash, contact a licensed wildlife rehabilitator in your area immediately.