Circus Lion Locked In Rusty Cage For 10 Years Finally Gets Her First Toy
"There was a look of wide-eyed awe and excitement on her face and then she began to roll around and play."
For the past 10 years, all Nena the lion has known have been loud circus performances and the inside of a barren, rusty cage.
Born in 2008 at a Guatemalan circus called Circo Navarro, Nena spent her days as a tiny cub being brutally trained to do tricks, and even had her claws amputated to make it safer for trainers to handle her — permanently damaging her paws in the process.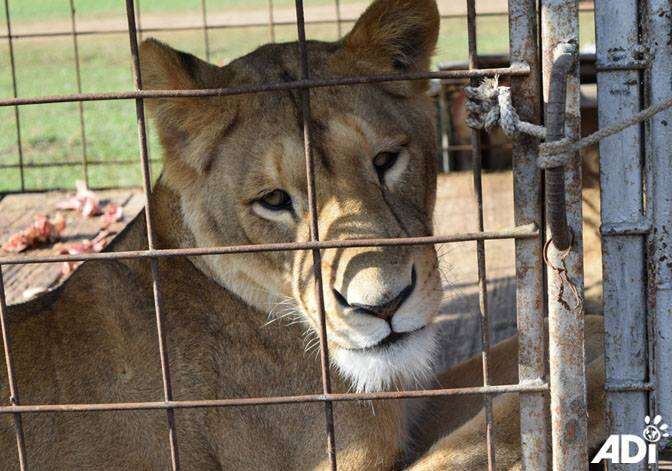 Year after year, she was forced to perform in shows before being locked back into her wire prison. There, she would lay indefinitely next to another lion, Kimba, and near another caged female, Sasha. It's possible they were her younger siblings — but they shared the same despondent life.
Since last April, when Guatemala officially banned the use of live animals in circuses, the three lions had been locked away in their cages with an uncertain fate until the ban came into effect last month.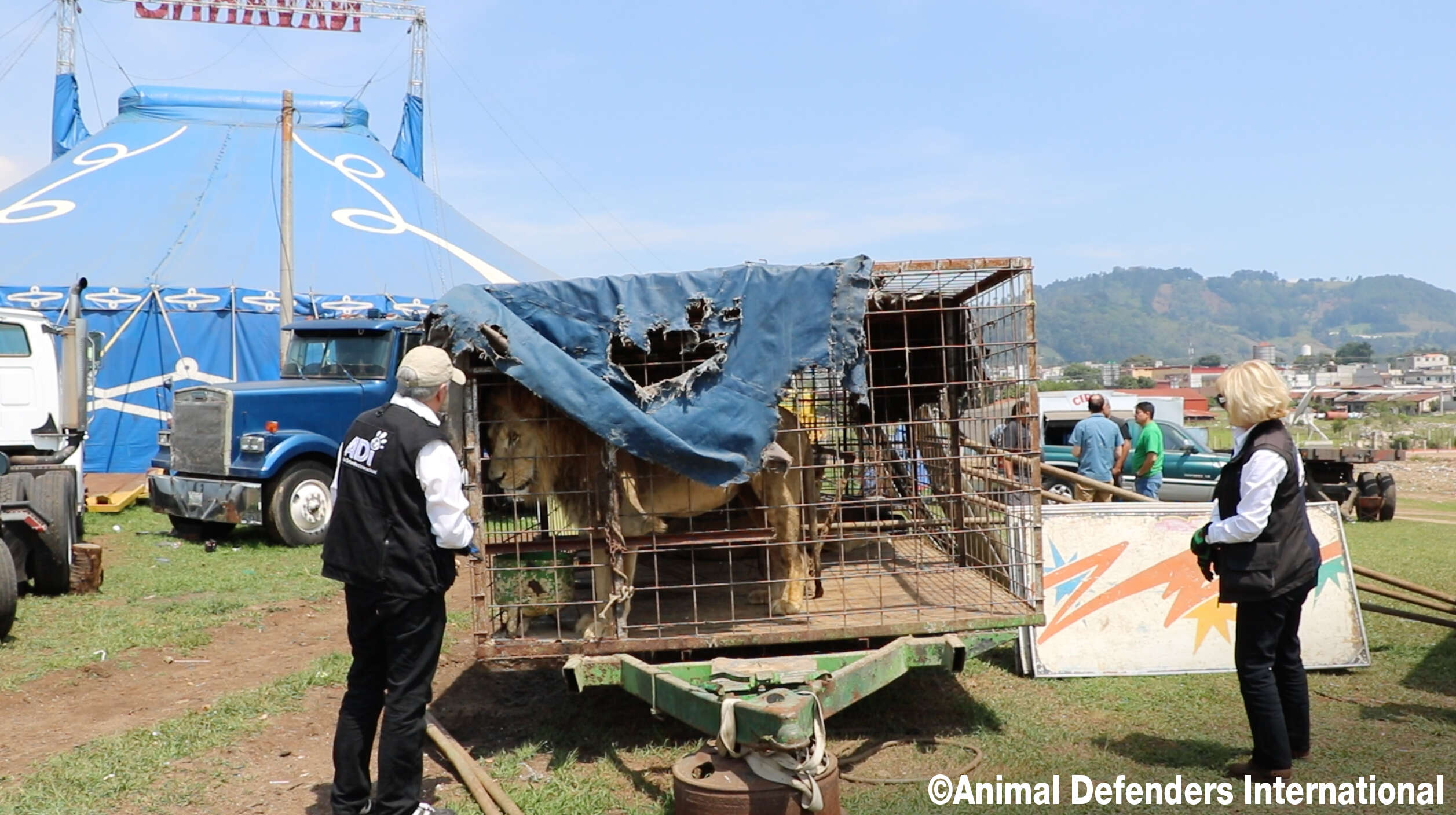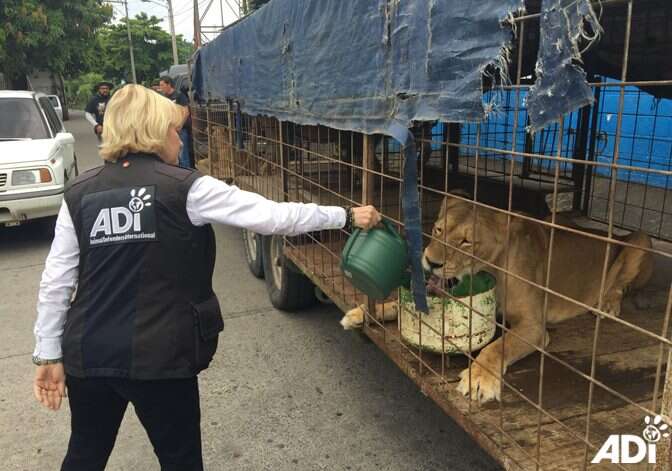 The moment has been especially sweet for Nena, who, after all this time, still has light in her eyes.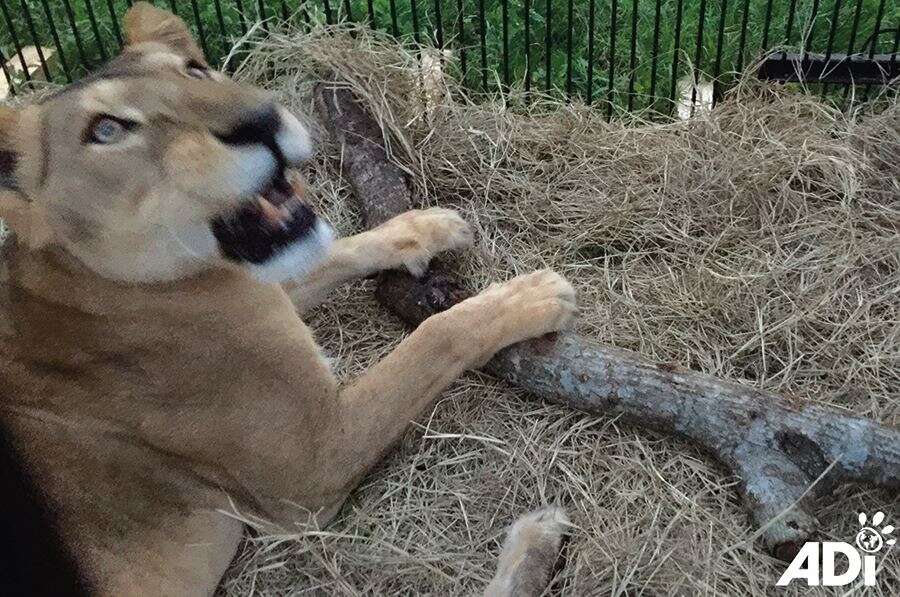 "It was absolutely magical when Nena stepped carefully out of her circus cage and into the ADI unit," Tim Phillips, vice president of ADI, told The Dodo. "She had soft hay beneath her feet and we had put logs inside for the lions to play with. There was a look of wide-eyed awe and excitement on her face and then she began to roll around and play, grabbing the log with her paws and throwing it up into the air."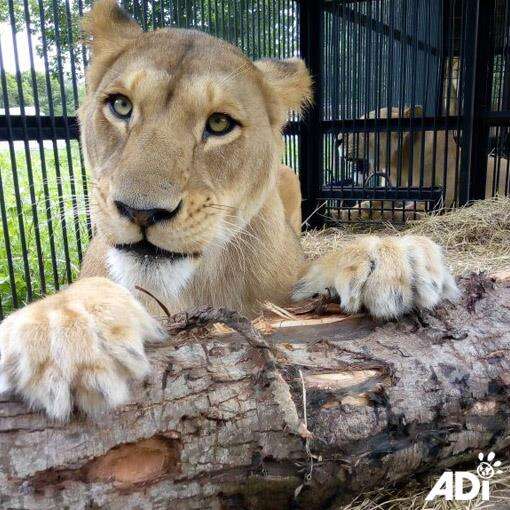 For now, Nena, Sasha and Kimba are living at a temporary rescue center where they have extra-large crates with attached outdoor yards to roam as they please. (They're near each other but are being kept separate, as they all need to be spayed and neutered.) In addition to comfortable hay to lie on, the lions get special treats like meat wrapped in banana leaves.
Most importantly, the three lions will have new homes awaiting them when they arrive at the ADI wildlife sanctuary in South Africa later this year. There, they'll live as close to the wild as possible — and will finally get to be a family.
"The lions will be living in beautiful African savannah-type grassland with a scattering of trees for shade," Phillips said. "We hope Kimba, Nena and Sasha will be sharing a lovely habitat of about 4 acres. They will be able to run at full speed for the first time in their lives. That will be quite a sight."
While the habitat is still being constructed and ADI will need to secure permits to transport the lions, Phillips estimates they could be leaving as soon as August, depending on the status of fundraising efforts. ADI is also working to rescue other former circus animals who are being relocated due to Guatemala's performance ban.
"This really is just phase one," Phillips said. "We need a lot of support now to get them home."
Until then, the lions are clearly already learning just how wonderful freedom feels, and Phillips is excited to show them everything that's still to come.
"When Nena gets fresh hay, she buries her head deep into it and then looks up smiling!" Phillips said. "Kimba and Sasha have been the same. Kimba strode around carrying a log like it was his most prized possession."
While all three lions have never seen life outside the circus, there's no denying just how wild they truly are — and have always deserved to be.
"Their true nature is still there waiting to burst out," Phillips added. "During the journey, when we removed them from the circus, a truckload of horses drove past us and Kimba and Nena were on their feet in a split second. They were tensed, ready to spring and their eyes absolutely focused. There was no doubt these were two of the world's top predators, regardless of how bored they had been for the past years."