Singer Chris Brown Is In Trouble After Buying Monkey As A Christmas Gift
His fans weren't happy — and now he might go to jail 😱
Animal lovers were livid when singer Chris Brown surprised his daughter with a baby monkey as a gift last Christmas.
Now, the risky stunt might land him in jail.
The Los Angeles city attorney's office confirmed today that the 29-year-old singer has been charged with two counts of illegally keeping a primate without a permit, a misdemeanor. Brown will be arraigned in court on Feb. 6, and if charged with the crime, may face up to six months behind bars.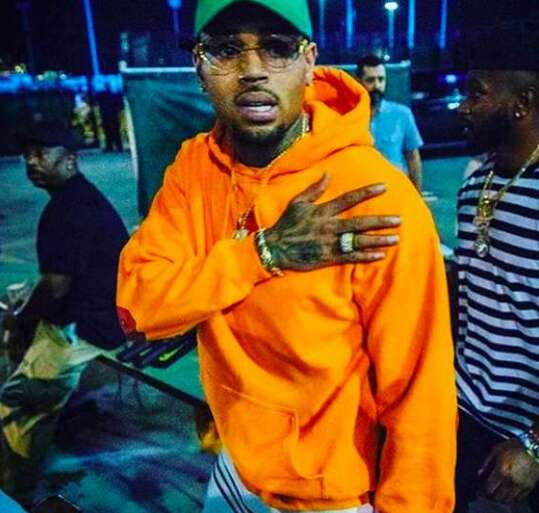 The California Department of Fish and Wildlife was first alerted to the situation last December after Brown shared a video of his daughter holding the infant capuchin monkey, who was wrapped in a blanket and wearing a diaper.
Concerned animal advocates reported the video to authorities, who discovered that Brown did not have a permit to own the monkey, whom he named Fiji.
This news comes just a year after the North American Primate Sanctuary Alliance (NAPSA) contacted Brown in hopes he would surrender Fiji to live at one of its accredited sanctuaries. The group cares for over 800 rescued primates, and regularly works to educate the public about the risks of buying primates as pets.
"We can help you place your monkey at an accredited primate sanctuary where he can enjoy a healthy life with others of his own kind," the group wrote in the letter to Brown last December. "This would be the next best thing to life in the wild. Please use this opportunity to teach your daughter and your fans that respecting animals is more important than owning them."
The group's letter went unanswered, and Fiji was seized by wildlife agents and later given to a sanctuary in southern California. Officials did not release the name of the facility.
While little Fiji was lucky to end up at a sanctuary instead of living his life as a distressed pet in Brown's home, this is hardly the case for countless other innocent primates born into the wildlife trade.
Many monkeys or apes like Fiji spend their early lives dressed in human clothes and diapers, until they begin to grow up and become too aggressive or destructive to be safely cared for by their owners. They will often bite humans or even injure themselves due to stress, as they naturally crave socialization with their own kind.
This isn't the only chilling truth behind "cute" pet monkeys; the neglect begins very young, NAPSA program director Erika Fleury told The Dodo.
"Breeders don't tell customers that infant monkeys sold as pets are ripped from their mothers years before they would naturally separate," Fleury said. "[This] causes them harm throughout the rest of the unnatural and unhealthy lives they lead in human homes. Primates can never be domesticated … I field calls weekly from owners of monkeys who wish to relinquish their poorly considered 'pet.' Keeping a primate in a human home is never a good idea."
As for Brown's crime, this all could've been avoided with proper research, Fleury stressed.