Tigers And Rhinos In Danger After China's Surprising Announcement
"The Chinese government has signed a death warrant for imperiled rhinos and tigers in the wild."
Update: After receiving worldwide condemnation, China reversed the decision that would have allowed the trade of tiger and rhino products. "We enthusiastically applaud the Chinese government for their decision to temporarily reinstate the country's ban on the use of tiger and rhino parts in medicine — a practice that has long been known as a hidden in plain sight thoroughfare for the illegal wildlife trade," John Goodrich, senior director of Panthera's tiger program, said in a statement. "This is a tremendously encouraging step in the right direction and we strongly advocate for China to make the decision to prioritize the survival of the tiger, rhino and other precious wildlife species permanent." 
China just issued an announcement that is causing public outcry across the world.
Even though the buying and selling of tiger and rhino body parts in China has been banned for the past 25 years, suddenly the State Council announced that the domestic trade of these endangered animal parts would be allowed once again, if sourced from the country's captive tigers and rhinos.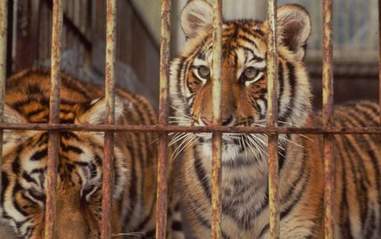 Caged tigers at a farm in China

| Save the Tiger Fund/Panthera
"Powdered forms of rhino horn and bones from dead tigers can only be used in qualified hospitals by qualified doctors recognized by the State Administration of Traditional Chinese Medicine," the announcement read.
But making the domestic trade legal again could actually worsen the impacts of the trade on tigers and rhinos in the wild, according to conservationists.
"The animal and conservation community has been sounding alarms that captive tiger farms and rhino breeding facilities in China are perpetuating the black market for rhino horns and tiger bones," Iris Ho, senior specialist of wildlife programs and policy at Humane Society International (HSI), told The Dodo. "These farms have been betting on the resumption of the trade for decades and their prayers have been answered today at the devastating expense of tigers and rhinos."   
A tiger farm in China

| International Fund for Animal Welfare
In 2010, the World Federation of Chinese Medicine Societies actually came out against using these products. Yet China's announcement seems to fly in defiance of such steps forward.
Last year, it seemed like China was devoted to making progress for endangered species by closing all of its ivory factories and shops, where the tusks of so many endangered elephants slaughtered across Africa were carved and sold.
"At a single stroke, China has shattered its reputation as a growing leader in conservation following its domestic ban on the sale of ivory at the start of the year," Debbie Banks, tiger campaign leader for the Environmental Investigation Agency (EIA), said. "It is instead revealed as a sham, its international image in tatters and its credibility destroyed — and all for the sake of deeply questionable business sectors which serve only to drive consumer demand for the parts and products of endangered species."
Ho believes that, far from regulating the trade, China's decision will only threaten these animals across the world. "The Chinese government has signed a death warrant for imperiled rhinos and tigers in the wild who already face myriad threats to their survival," Ho said. "It sets up what is essentially a laundering scheme for illegal tiger bone and rhino horn to enter the marketplace and further perpetuate the demand for these animal parts."
There are more tigers living in captivity around the world than there are left in the wild: It's estimated there are fewer than 4,000 wild tigers left. 
Wild rhinos continue to be poached at alarming rates, even after South Africa decided to lift the domestic ban on rhino horn trade. An average of three rhinos per day are killed in South Africa alone. 
Wild rhino family in Africa

| Shutterstock
Now people are trying to lend a voice to the animals who could be impacted by this change in policy. "Concerned advocates can contact the Chinese embassies or consular offices in your state and politely express your opposition to the resumption of rhino horn and tiger bone trades in China," Ho said. "Tigers and rhinos should not be bred for commercial gain."