Circus Trainer Kicks Bear After He Refuses To Perform
The audience was shouting for him to stop.
Last week, a bear was being forced through his circus routine at a Chinese zoo — just like he had been every day for the past three or four years. He stood on his back legs, unnaturally stretched out, as his trainer led him over a series of small barriers.
But the young moon bear was tired, and he knocked over one of the small metal fences as he tried to step over it. In response, his trainer kicked him sharply between the legs.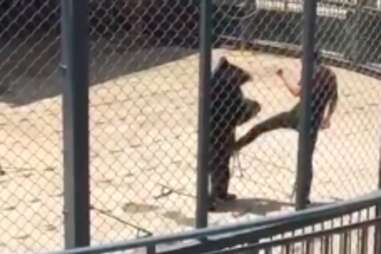 In a video of the incident, an audience member says the bear had been kicked several times already before the camera started recording.
"Audiences kept shouting, 'Don't kick the bear!'" the witness says in the video. "The tamer ignored us."
In another shot, the trainer quietly kicks the bear's legs during a stunt on a set of gymnastic rings.
He also appears to hit the bear in the face with a stick while he balances upright on on a large ball.
The incident took place at Fujian Zoo, a facility that offers circus-like performances in China's Fujian province — and it's just the latest event to spark widespread public outcry over the country's treatment of captive animals.
Last fall, a video emerged of trainers roughly dragging a bear cub across a concrete floor after he refused to perform at a safari park. Shortly after that, a traveling circus was recorded drugging a tiger and tying him down with ropes so children could "ride" him for photos.
In March, another video captured a tiger pulling the whip out of his trainer's hand so forcefully the cat fell off the stage. Despite threats of whipping, the other tigers broke formation and ran to check on their friend, appearing to shield him from the wrath of the trainers.
However, as concern over animal welfare grows in the country, members of the public are becoming more vocal in their opposition to such shows. According to Animals Asia, the video of this latest incident went viral and forced the zoo to respond.
"He kicked because the bear refused to perform, making him impatient," a staff member at Fujian Zoo said about the trainer. He added that the trainer has been suspended.
"We will also gradually change our training ways," the staff member continued. "Traditional ways will hurt animals, more or less."
The problem is hardly unique to China. Animals around the world face similar treatment at circuses and roadside zoos. Just last week, a video emerged showing Tim Stark, the owner of Wildlife in Need, an infamous roadside zoo in Indiana in the U.S., swinging a screaming 14-week-old bear cub around in front of a crowd.
While China technically banned animal performances in 2011, according to Animals Asia, more than 39 percent of zoos and safari parks still featured them last year.
A 2015 undercover investigation of China's zoos and circuses, conducted by PETA, revealed hundreds of lions, tigers dogs and bears across the country were still held captive at these facilities. They spent most of their lives in tiny, filthy cages, often without food or water. Like the moon bear at Fujian Zoo, they were beaten when they didn't perform well enough.
But for people on the ground, the public's reaction to videos like this one bodes well for a future where performing bears and lions are a thing of the past.
"It's becoming increasingly difficult for China's animal circuses to hide the cruel reality of their trade from the public," Dave Neale, animal welfare director of Animals Asia, said in a statement. "The public abhors cruelty and are willing to speak out ... The fact that their voices are finally being heard is worth celebrating."