Baby Chimp Jumps Into Rescuer's Arms As Soon As He Realizes He's Safe
"I already had two other infants, Max and Poppy, on me so it was a bit chaotic at first!"
When Annelise Bui, a Peace Corps volunteer, spotted a baby chimp chained up by his waist and taunted by a crowd in a village in Liberia, Africa, she knew she had to help him.
But it wasn't easy.
"They were discussing whether he should be driven the 10 hours to Monrovia, the capital city, to be sold as a pet or whether it was easier to simply kill and eat him there," Jenny Desmond, who founded Liberia Chimpanzee Rescue (LCR) with her husband, told The Dodo.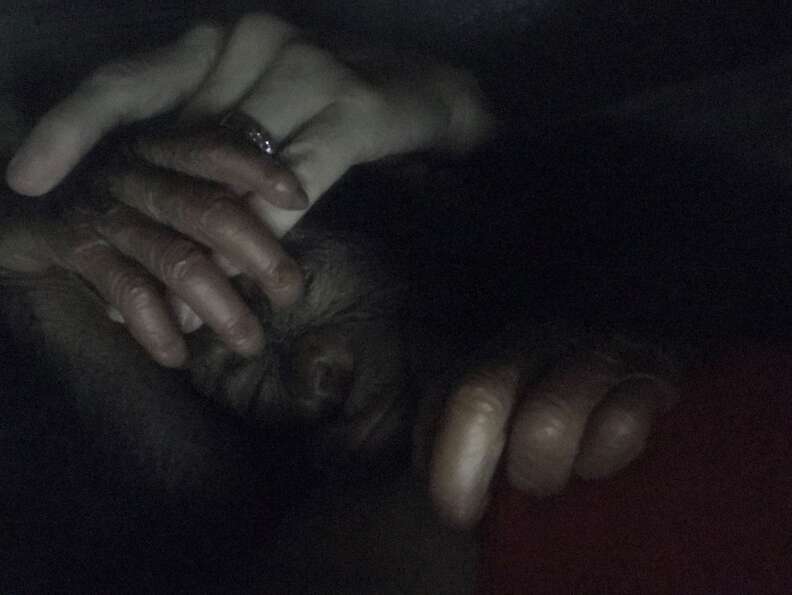 Desperate, Bui offered money to the baby chimp's captor, though rescuers usually try to refrain from doing so. "While it is wonderful Bui was rescued, paying for illegally held chimps (or other wildlife) only contributes to their trade," Desmond cautioned.
Still, the baby chimp, who came to be named Bui after his rescuer, was on his way to a new life.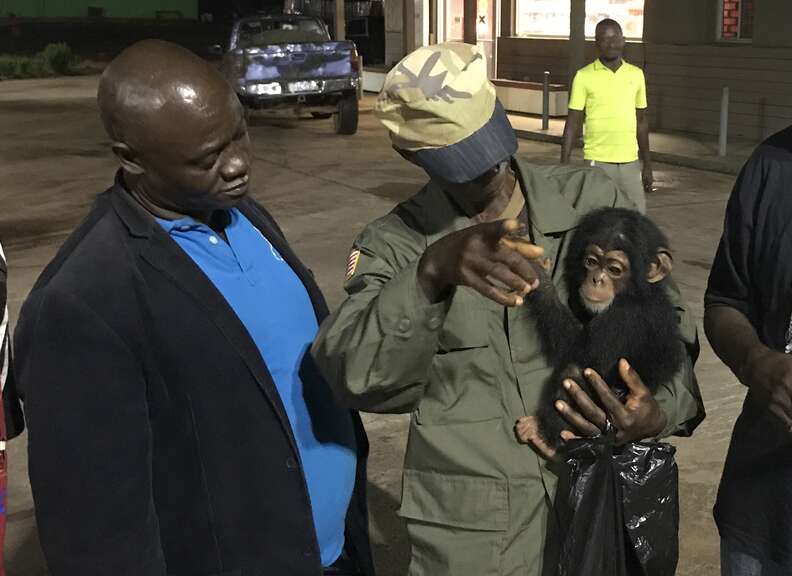 With the help of the Liberian Forestry Authority, little Bui was soon on his way to LCR, where he'll be able to live his whole life in safety.
The journey was long, and by the time Bui arrived he was exhausted. "Jimmy, my husband, met the rangers at a petrol station and carried him back in his lap," Desmond said. "As soon as Bui saw me, he jumped into my arms. I already had two other infants, Max and Poppy, on me so it was a bit chaotic at first!"
The very first night Bui was at the sanctuary, he couldn't get enough contact with others, which suggests just how sad his life had been before. At just over a year old, Bui would normally still be with his mom in the wild.
"His wounds from the chain and on his bottom and knees combined with his fear and his frail body tell me he was in captivity for quite a while," Desmond said.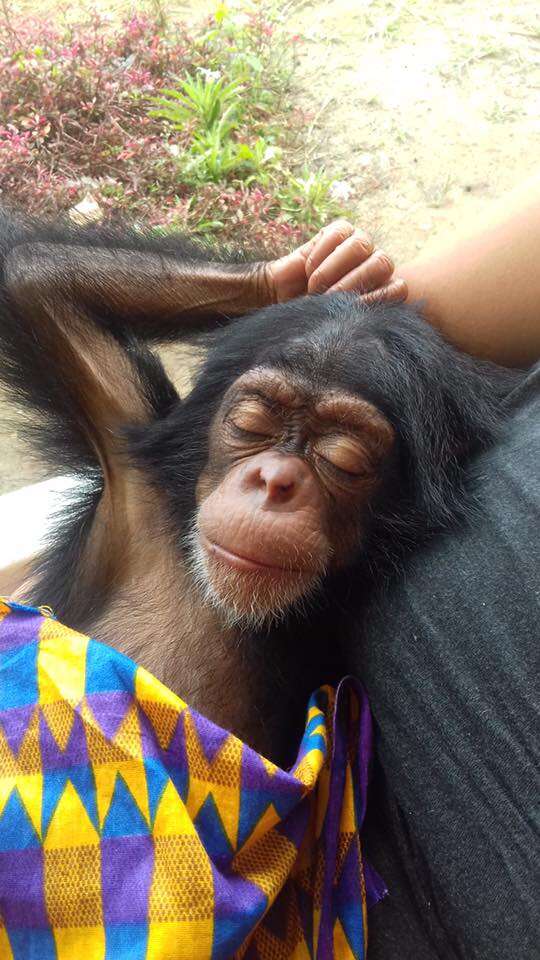 "He had a very restless night," Desmond said, "but he was sure to secure his place right on my neck and actually fought with the others for that prime position. I knew then he was a survivor!"
By the time he woke up, it seemed like it was finally starting to dawn on him — he was safe and his life was totally changed.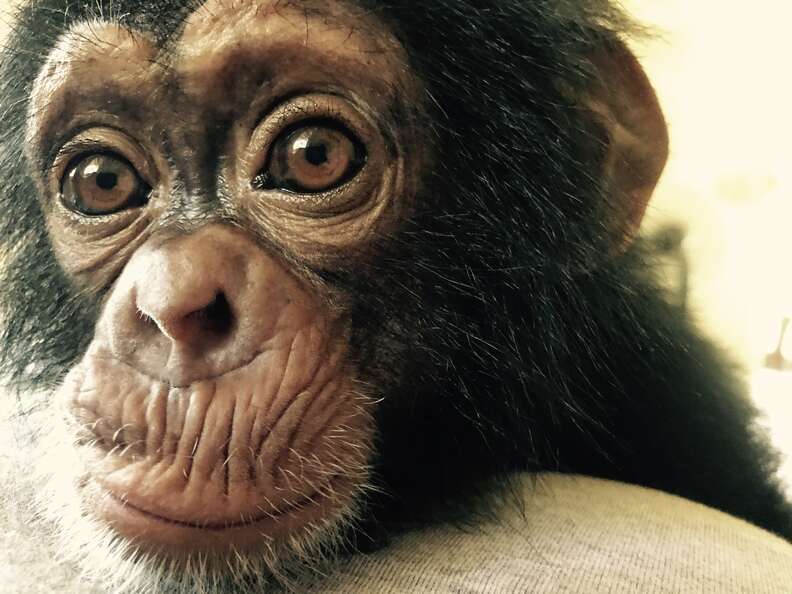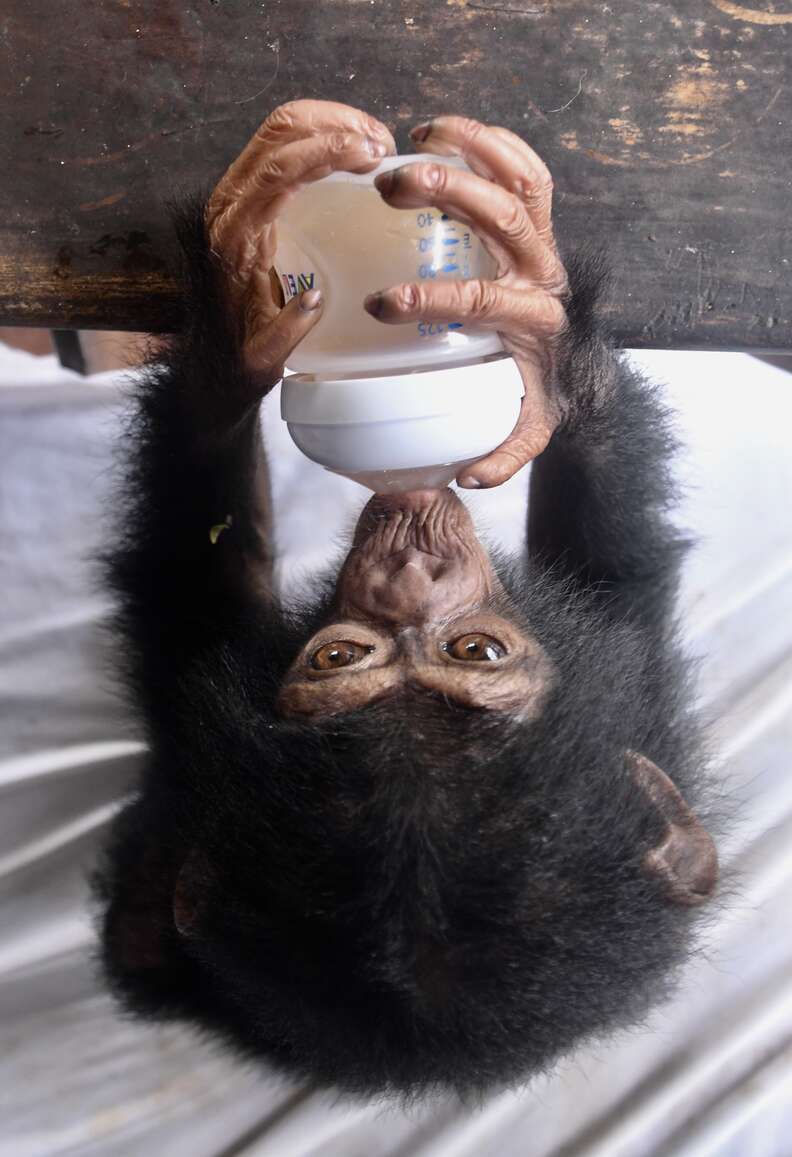 "Chimps are incredibly resilient," Desmond said. "They never cease to amaze me with their ability to recover despite the horrifying trauma of losing their mothers and family members ... and being taken hostage and teased, chained, tied up or caged as playthings. Why they choose to trust us after all that mystifies me."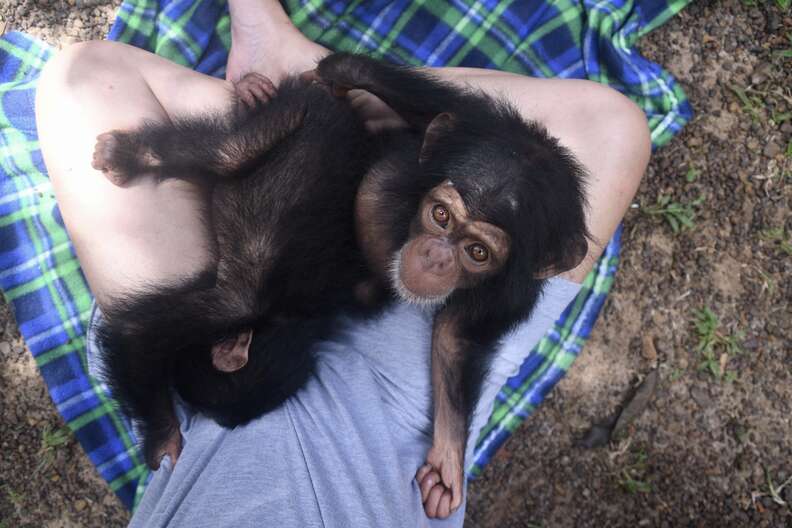 Bui will have a home for life at the sanctuary, where the Desmonds as well as his caretaker, Annie Garpue, are helping him grow up strong. "He'll be able to play outside all day climbing and swinging, eating, sleeping peacefully," Desmond said.
But the Desmonds hope that the day will come when their sanctuary will be closed forever because it won't be needed anymore.
"We will work closely with Liberia's wildlife authorities to crack down on the bushmeat and live pet trades but our real success will be when the numbers of chimpanzees being found, reported, rescued and ultimately killed drops significantly," Desmond said. "It takes time but with commitment and support, we dream of one day being put out of our jobs."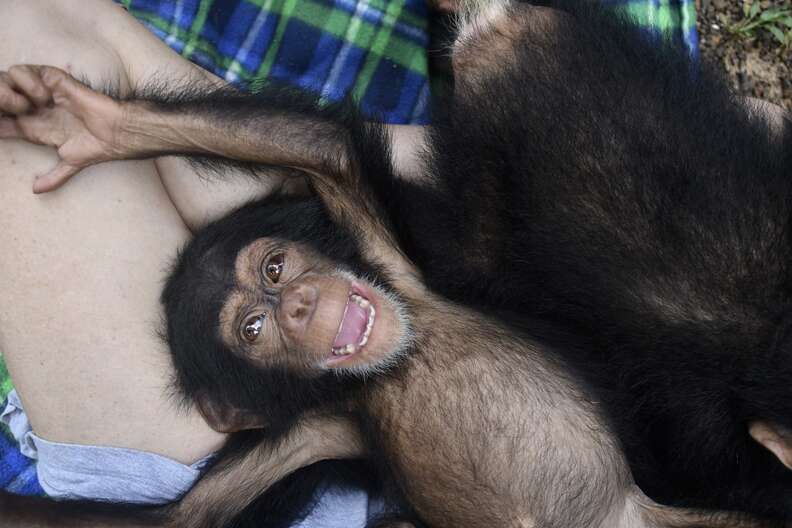 It takes about $4,000 USD per year to care for each of the sanctuary's rescued chimps. To help chip in for Bui's care, you can
make a donation
.