Little Orangutan Chained By His Neck Still Tried To Play
His spirit was unbreakable — and his release into the wild is priceless.
Amin's first memories are cruel ones.
The orangutan was just 2 years old when he was found chained to a tree by his neck on land owned by a mining company in Borneo. A miner, who had no idea it was painful for an orangutan to grow up without his family — not to mention illegal — was keeping Amin as a pet.
IAR
This is something that happens all too often. But when the miner learned he was breaking the law by keeping the critically endangered animal, he did the right thing and handed him over to rescuers.
IAR
The rescue team found scars all over Amin's body. The little orangutan was still trying to swing from the tree and play, despite his chain.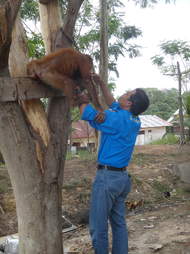 IAR
This was back in 2013. Since then, Amin has been learning how to be a wild orangutan again, thanks to International Animal Rescue (IAR). In 2014, he met someone who would become a very important figure in his life: Shila.
IAR
Shila came to IAR's rescue center after she was found in a similar situation, kept in captivity in a nearby village. She was about 4 years old at the time.
Over the next few years, Amin and Shila helped each other remember their true natures. They watched each other grow.
IAR
"During this time they learned basic survival skills such as climbing, feeding and making a nest to sleep in each night," IAR said in a statement.
The aim was for Amin and Shila to return to the wild — and that day finally came this month.
IAR
Scientists observed Amin and Shila for a while, and gave them medical tests to see if they would be strong enough to make it in the forest on their own.
"The data on the orangutans revealed very positive results. They are adept at climbing, feeding and nesting. They are healthy and displaying no abnormal behavior," Dr. Sulhi Aufa, coordinator of IAR's medical team, said. "This means they are ready to be released and survive in the wild."
IAR
Amin and Shila were loaded into crates and transported by car, boat and foot to Bukit Baka Bukit Raya National Park by a team from IAR in cooperation with the Institute for Natural Resources Conservation (BKSDA) and park officials.
IAR
IAR
The journey took 17 hours, and so the orangutans rested for one night in an enclosure together to destress before their big day. The following day, the rescue team took Amin and Shila to the perfect spot, with high trees for them to climb — and opened their crates.
IAR
IAR
Amin and Shila immediately climbed out and made their way up the trees. They paused and looked down on the rescue team from above, as though with thanks.
IAR
Amin, the orangutan who experienced only cruelty at the hands of human beings for his first couple years of life, ended up experiencing the best gift anyone could give him: a home in the wild, with a friend to keep him company.
IAR
But there are still more than 100 orangutans like Amin and Shila currently recovering at IAR's rescue center, and habitat loss means this number probably won't be decreasing any time soon. IAR is trying to expand its center by buying more land for rescued orangutans.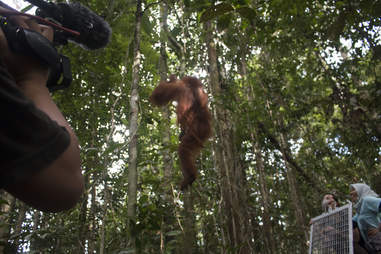 IAR
"We have the opportunity to purchase a piece of forest where we can rehabilitate more orangutans and give them a second chance of freedom back in the forest," Alan Knight OBE, CEO of IAR, said. "What could be better than that?"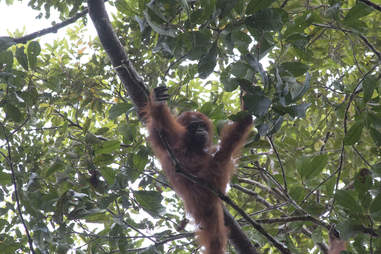 IAR
To help IAR buy this land and save the lives of more orangutans, you can
make a donation
.