This Guy's The Best 'Mom' To Dozens Of Orphaned Chimps
They love him so much ❤
When baby chimps arrive at the rescue center run by Ape Action Africa, they're often scared, sick and traumatized. But one caregiver — a man named Sanda Anaclet — helps them feel a little better.
Anaclet, a local Cameroonian man, has been working to rehabilitate injured and orphaned chimps at Ape Action for the last 12 years — and he's usually one of the first people the rescued animals meet.
"Sanda always introduces himself to the new arrivals calmly, waits until they are ready to approach him and uses food treats to start the bonding process," Tamara De Juana, operations coordinator at Ape Action Africa, told The Dodo. "Building a trustful relationship between caregivers and orphans is fundamental for the well-being of the apes and will then allow and guide the integration process with other chimpanzees."
The chimps have usually lived through unthinkable trauma. Many have watched hunters kill their parents right in front of them before being taken into captivity as "pets." However, chimps should never be kept as pets since they are wild animals who need to live with their own kind, according to Ape Action Africa. Not only that, but chimps kept as pets tend to become too big and strong to handle, and owners end up shoving them into cages or chaining them up.
"When orphans come in, they are usually traumatized and have a fragile emotional state," De Juana said. "Being able to bond and to trust a caregiver is part of their healing process. This bond is necessary for their stability, helps with their feedings and with the administration of any medical treatment that they might need."
While there are many wonderful caregivers at Ape Action Africa, Anaclet seems to have an extra special touch with the animals. He's usually the person the orphans run to when they're scared, unwell or just looking for someone to groom them, De Juana explained. They also love taking naps with Anaclet.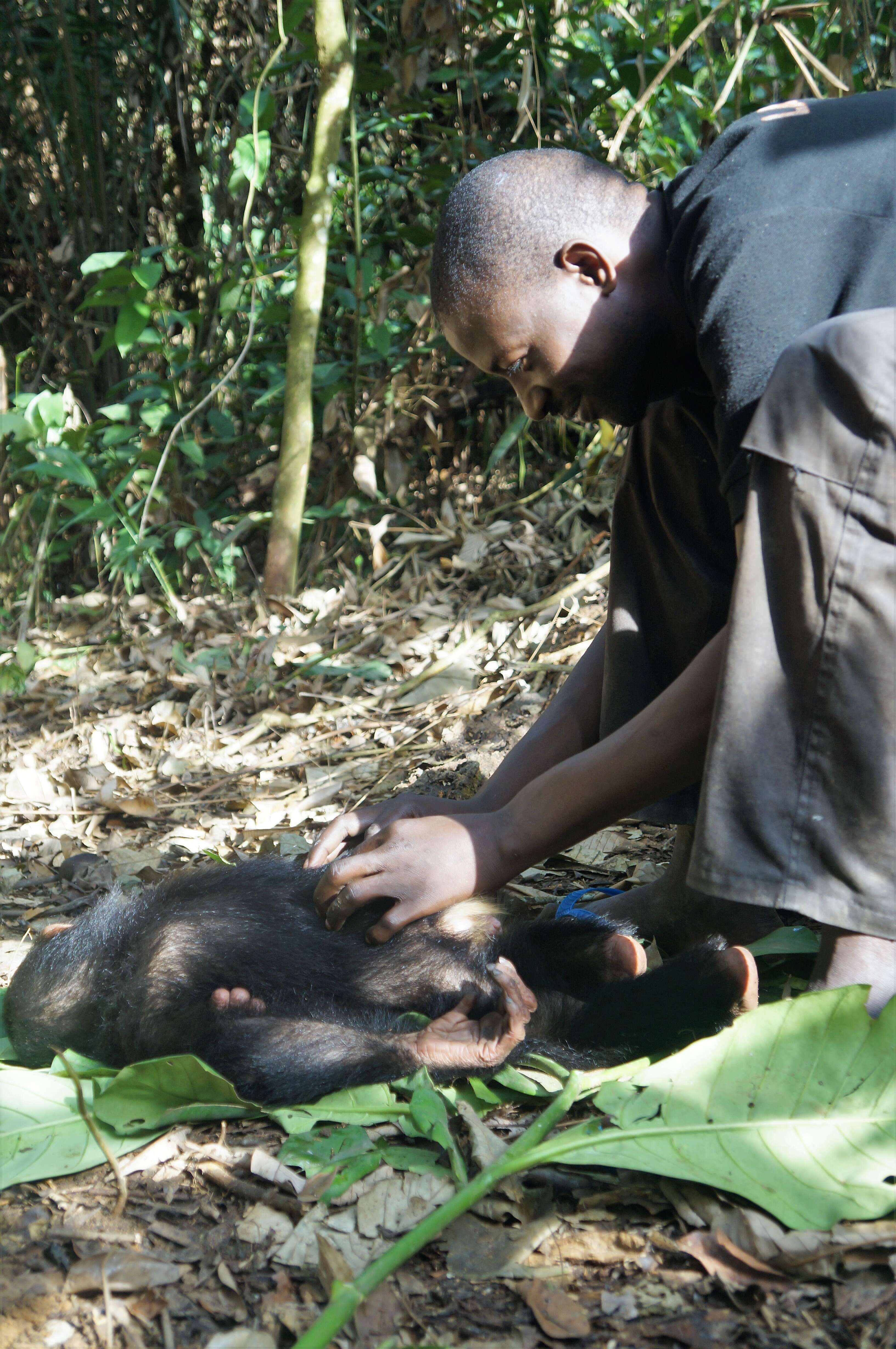 "Usually the youngest babies get tired after exploring the forest or playing with the other babies, so they search for a place to nap. Some of them decide to sleep on the branches or with another baby, but most of them prefer to nap next to Sanda," De Juana said.
"Each relationship with the babies is developed in a different way," Anaclet told The Dodo. "They are like people — they have different personalities and there are not two the same. They are very intelligent animals."
Anaclet has had struggles of his own. In 2016, he contracted two different forms of filariasis, an infectious disease caused by parasitic worms, which put him into a coma. Anaclet eventually recovered, but his illness robbed him of most of his vision. Yet this hasn't stopped Anaclet from doing his work. If anything, it's motivated him to do even more for the rescued animals at Ape Action.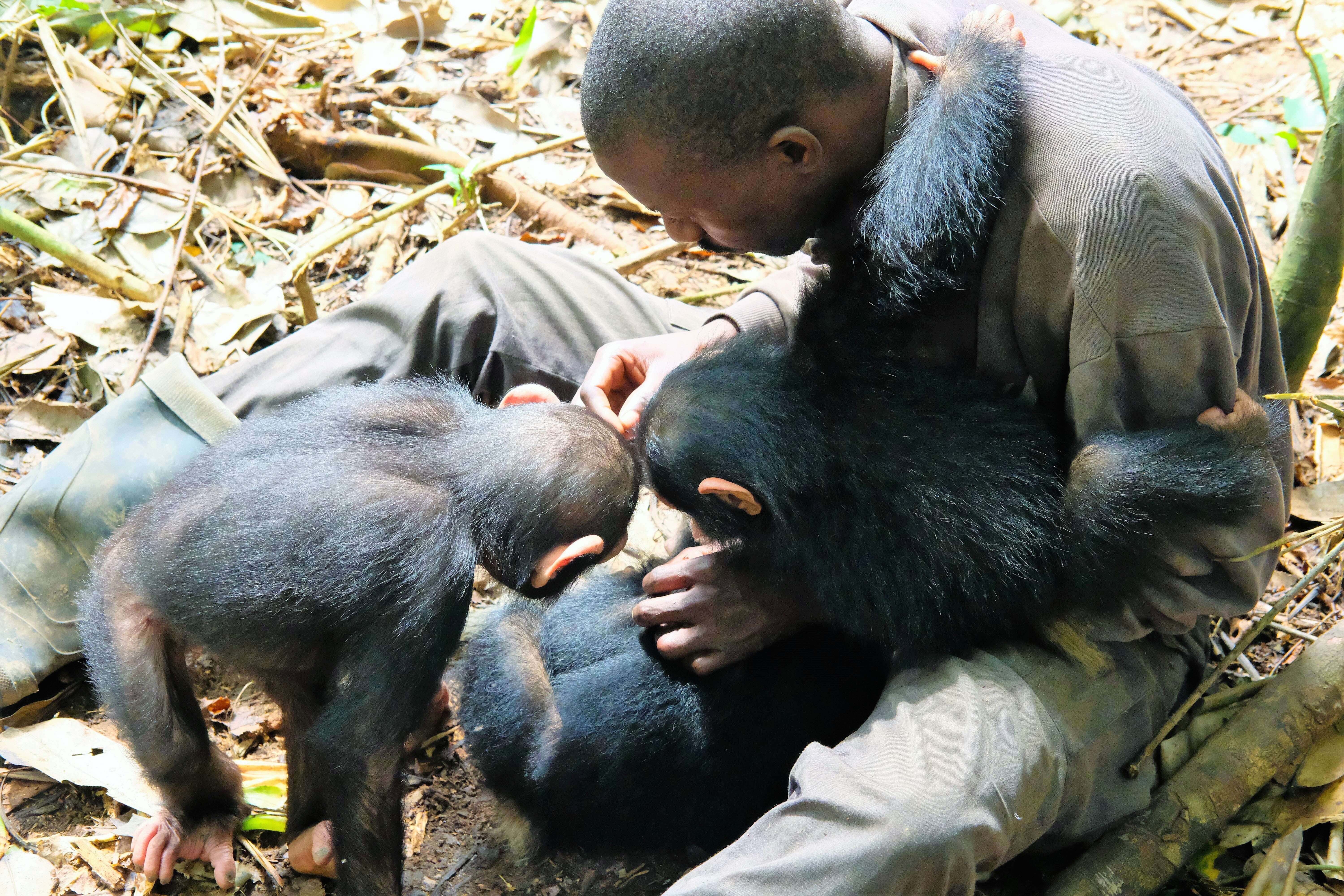 "He has adapted incredibly well," De Juana said. "He doesn't feel limited in his job and he has the full support of everyone at the sanctuary."
While it's important for the chimps to form trusting relationships with their caregivers, the primary goal is for them to bond with other chimps. This gives them the best possible chance of returning to the wild.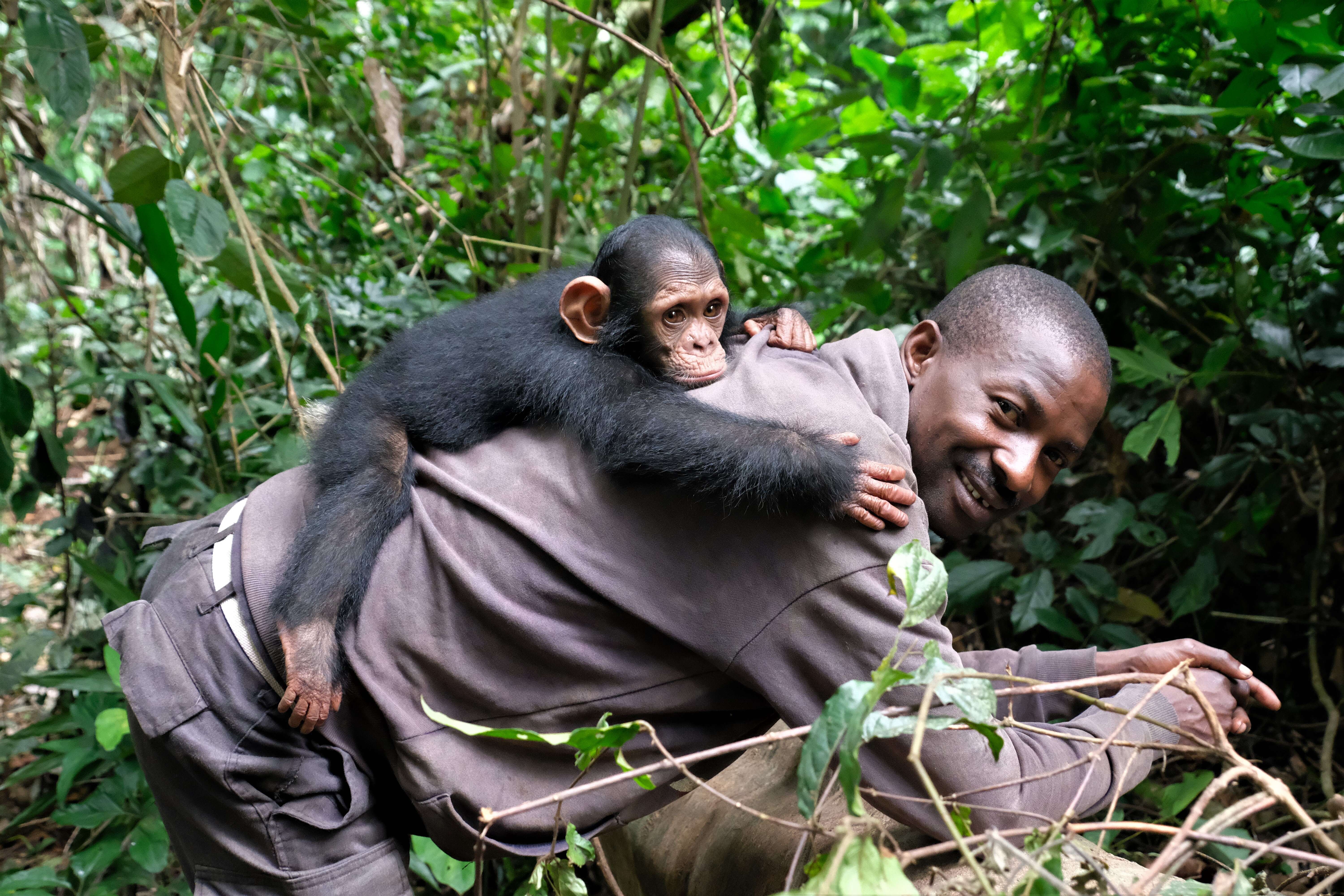 "Chimpanzees are not meant to live with humans as pets, [and] chimpanzees should be with chimpanzees where they belong in the wild," De Juana said. "The hands-on human care we give unfortunately is a necessity in order to keep the infants alive, and we focus on the importance of getting them into family groups and giving them back the life they deserve, which is with others of their own kind, not with humans."
Anaclet is devoted to doing his very best for the rescued chimps, and to help them live the lives they deserve.
"Since I started working with apes, my perception of this animal has changed totally," Anaclet said. "I love chimpanzees and I want to protect them — it is not right to hunt or eat them."