Russia Makes Sad Bear 'Predict' World Cup Results
This isn't the first time this week the country's faced criticism over its treatment of bears.
Another day, another Russian bear promoting the World Cup.
Last Friday, it was a circus bear named Tim blowing a vuvuzela while being driven around Moscow after Russia's World Cup win. And a couple days later, another incident occurred — a Russian breakfast show aired a segment in which brown bear had to place a soccer ball in one of two barrels — one marked with Russia's flag or another with England's flag. The point was for the bear to "predict" which country would win the next game.
The bear, who is wearing a soccer uniform and walking around on his hind legs, places the soccer ball in the barrel marked England.
This clip went viral after Dan Walker, a journalist and TV presenter for the BBC, shared the video on his Twitter account.
"The Russian equivalent of @BBCBreakfast has a massive bear, dressed in a football kit, predicting the results of matches," Walker wrote on Twitter. "I think he might be an #England fan."
Walker's post was met with harsh criticism, with many people demanding that he take it down.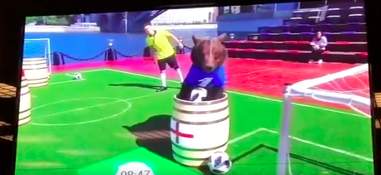 Twitter/Dan Walker
"Don't show this grotesque abuse of an animal like it is entertainment. What's wrong with you @BBCBreakfast @BBCNews!!!" one commenter wrote.
"You've shown a shocking lack of foresight in sharing this," another commenter said. "This is a despicable act of animal cruelty. You say you're not condoning this but making quips and adding cute bear emojis to your tweet somewhat contradicts that idea. Disappointed."
But instead of immediately taking the post down, Walker defended his post.
Twitter/Dan Walker
"Just to be clear ... please stop shouting at me about the bear," he wrote. "I think it's vile. If we only tweeted stuff we agreed with then twitter would be pretty dull. Thankfully the sort of thing you would never see of UK telly these days #SaveTheBear."
Lis Key, PR and communications manager for International Animal Rescue (IAR), an animal welfare group that rescues bears from captivity in Armenia, explained that wild bears should never be used for entertainment purposes.
Twitter/Dan Walker
"In this day and age, it's depressing that there are still those who think it is acceptable to use a captive bear for such mindless entertainment," Key told The Dodo. "It's not hard to imagine the miserable life that bear leads, robbed of its freedom and its dignity and deprived of everything it needs to express natural bear behaviour. Thankfully most people have been appalled by the exploitation of this poor bear and that at least is of some consolation."
This is far from the first time bears have been used for public entertainment in Russia — or even just for the World Cup. In April, Tim (the same bear driven around Moscow with the vuvuzela) was led onto a soccer field to perform tricks in the lead-up to the World Cup.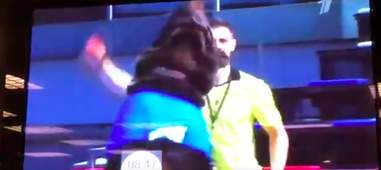 Twitter/Dan Walker
More recently, another bear was performing in a Russian circus when he became frightened and tried to run off-stage. In response, the circus trainers started beating the scared bear with sticks — the bear eventually fought back, attacking one of the trainers in front of a live audience.
"The exploitation of bears in Russia seems never-ending, with this shameful stunt the latest to reduce these magnificent animals to little more than figures of fun," Jan Creamer, president of Animal Defenders International (ADI), told The Dodo. "For the bears forced to perform tricks it is certainly no laughing matter, with individuals enduring a lifetime of suffering and abuse. With all eyes on the World Cup host nation, we hope Russia will listen to the outpouring of anger and take action to end these disgraceful acts that compromise animal welfare and public safety."