Wild Bird Spent 3 Years Locked In This Tiny Crate
He is SO excited to finally learn to fly 🦅
Late last month, a rusty metal cage was dropped off on the doorstep of Wildlife Friends Foundation Thailand (WFFT).
Inside was a 3-year-old brahminy kite, a bird of prey common to Southeast Asia. But the cage wasn't just transportation to him. It was all he knew, because he hadn't been let out of the cage since he was a chick.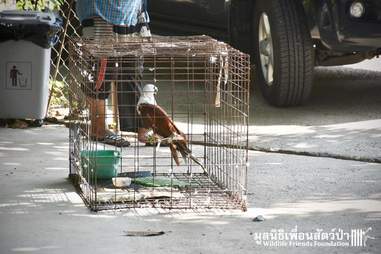 WFFT
"We were informed by the owner that they had found the kite on the ground close to their house when he was a chick and had hand-reared him," WFFT said. "He spent the next two years in a dog carry cage until the owner saw sense and brought him to us."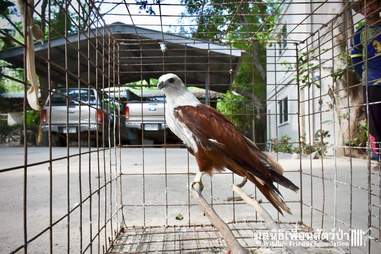 WFFT
The barren cage had a small mat on the bottom that was completely caked with feces, and the bird's plastic water dish was filled with green, murky liquid. The owner said his name was Ma Ruay.
WFFT
Once inside the rescue center, the team released Ma Ruay from the cage for the first time and examined him. Despite living in the tiny cage, the bird had been fed a proper diet of fresh meat, so he wasn't suffering from malnutrition.
WFFT
His wings, however, weren't as lucky. After being locked in the cage for so long, the 3-year-old bird had extremely weak muscles. Healthy brahminy kites can have a wingspan of up to 4 feet — but for years, Ma Ruay couldn't stretch his out.
"This cage didn't give him the space to train and exercise at all," WFFT said. "His wing muscles are in bad shape."
WFFT
Fortunately, the team decided Ma Ruay was healthy enough to move out of the hospital ward into a larger enclosure a few days later.
For the first time since he was a baby, Ma Ruay can now hop around and truly explore his surroundings — and it's clear he's enjoying the newfound space.
Ma Ruay in his new enclosure

| WFFT
"He is able to hop, jump and glide from branch to branch and has explored every corner of his new enclosure," WFFT said.
Despite his weak muscles, Ma Ruay is determined to start flying as soon as possible. While he's still working on his skills, he's now able to stretch and soar short distances across his enclosure.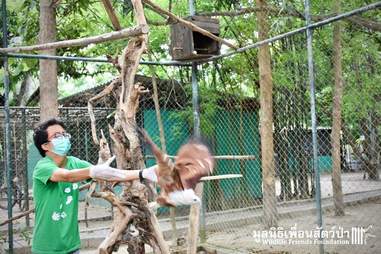 Ma Ruay getting some exercise

| WFFT
With time, he'll be even stronger — and will never have to see the world from behind the bars of a tiny cage again.
WFFT
"Hopefully, his natural avian instincts will return and lead him to fly naturally soon," WFFT said. "For now, he is reaching heights none of us imagined possible."