Little Orangutan Who Lost Hair From Being Hungry Has Best Transformation
He's so beautiful — and happy — now 😍
When Bujing the orangutan was just a tiny baby, his world was shattered into pieces.
Poachers killed his mother right in front of him and took Bujing into captivity, with the intention of selling him into the pet trade. The poachers quickly found buyers — an Indonesian couple, who claimed to "love animals," bought Bujing for 500,000 rupiahs (about $35 USD).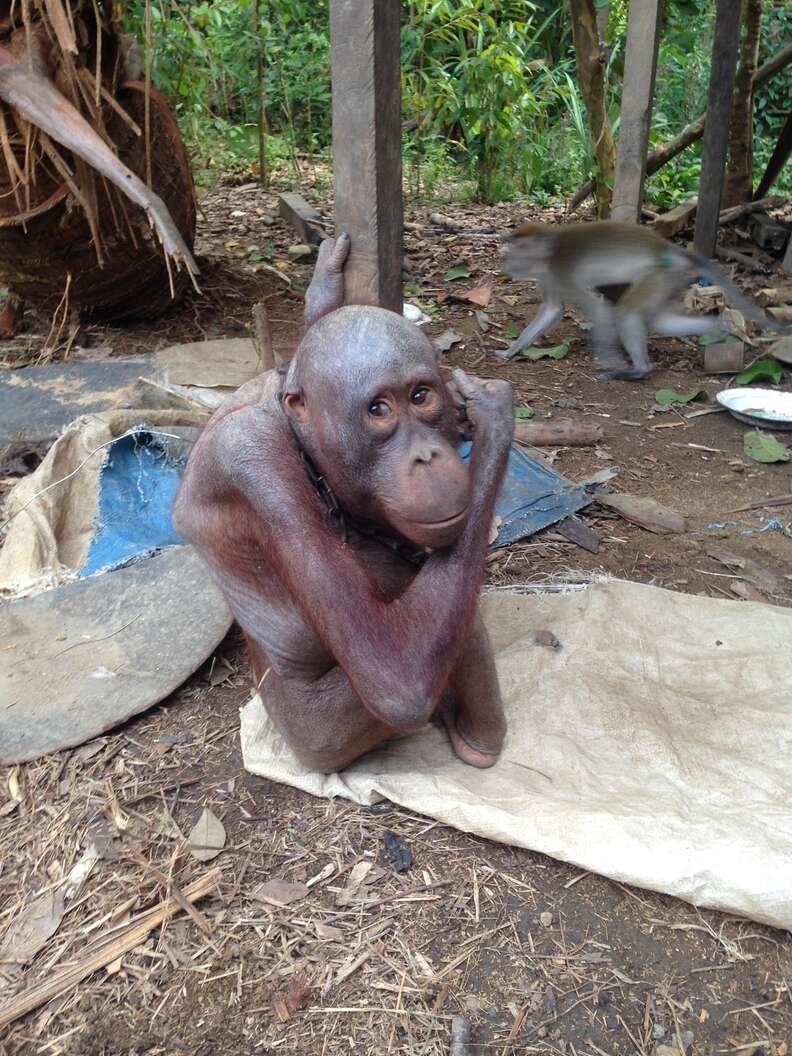 At first, the couple doted on Bujing as if he were a human baby, bathing him and feeding him milk. But when Bujing got bigger, he became unmanageable — and the couple ended up chaining him to the outside of their house.
Once Bujing was outside, his owners no longer gave him regular meals, and Bujing starting escaping to steal food from the neighbors.
After one excursion to the neighbor's house, Bujing returned with two deep wounds on his back, which looked to have been caused by a sharp object.
"At the time Bujing had not eaten for three weeks and the owner had treated his wounds with tobacco as traditional medicine," International Animal Rescue (IAR), the group that helped save Bujing, said in a statement when they first found him. "Though the wounds have now closed, there is still visible inflammation."
In 2014, Bujing's miserable life finally took a turn for the better. Officials from the local forestry department and a team from IAR learned about the 5-year-old male orangutan and rushed to his aid.
They couldn't have gotten there a moment sooner.
"The rescue team was very alarmed at the condition of the orangutan," IAR said in a statement. "Bujing was chained to the side of the house. He looked very thin and had no hair due to malnutrition, which had also impaired his growth."
If help hadn't arrived, Bujing probably wouldn't have lasted much longer.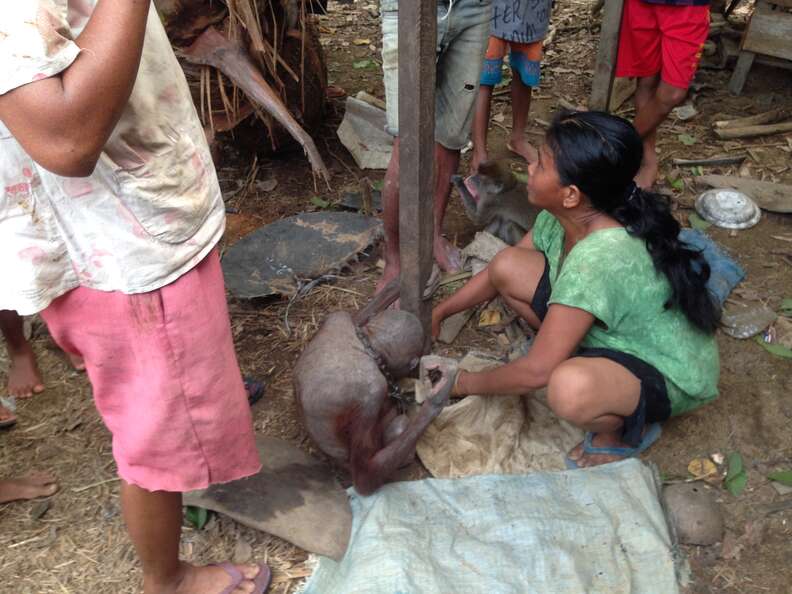 "Bujing was extremely malnourished and emaciated," Lis Key, PR and communications manager for IAR, told The Dodo. "It's hard to imagine that he could have survived for very much longer in that condition."
"While we're relieved to have removed him from his shocking situation, it's upsetting to think of him living like that for so long," Key added.
The rescue team spoke with the owners, explaining the illegality of keeping Bujing as a pet, and the couple willingly surrendered Bujing to them. Then the team transported Bujing to IAR's rehabilitation center.
"As the transport cage was not permitted on the boat, Bujing travelled [outside the cage] as a passenger with our rescue team," IAR said. "He is very accustomed to humans so was very calm and well-behaved, wrapping himself in a blanket to keep warm."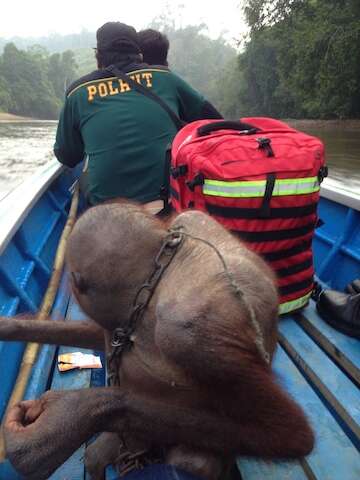 Once he'd safely arrived at the rehab center, the IAR team started helping him get better.
"Bujing was first put in quarantine, which is standard procedure for all new arrivals at our rehabilitation center," Key said. "He was kept there for eight weeks while tests were run to ensure he wasn't suffering from any contagious diseases. During that time he received nutritious food and supplements to improve his very poor physical condition. His feeding regime had to be carefully regulated because he was in such a severe state of malnourishment."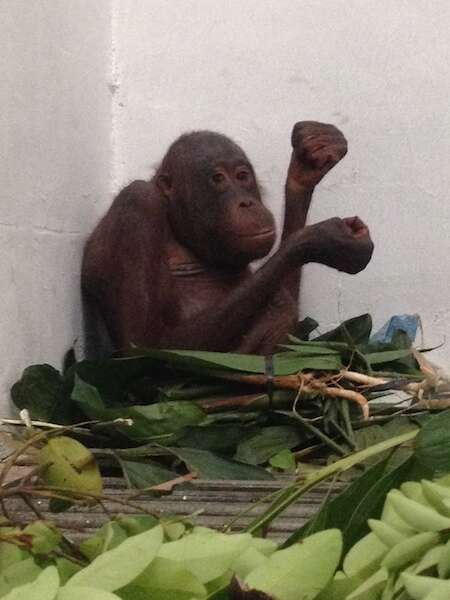 Four years later, Bujing has completely transformed into a confident, healthy orangutan.
"Thanks to the care of our veterinary team and the keepers at our rehabilitation center, Bujing's appearance has changed almost beyond recognition," Key said. "His body is strong, muscular — and hairy!"
The IAR team plans to release Bujing back into the wild as soon as possible, but Bujing still needs to learn a few more things before he's ready for this next step because he lived an unnatural life for so long, Key said.
"He will be ready for release once he is consistently displaying all the natural behaviors he will need to survive in the wild," Key said. "A team is currently monitoring him and gathering data on his behavior, and his progress is under constant assessment to make sure he will be fully equipped mentally and physically for life back in the forest."
When Bujing does go back to the wild, everyone will celebrate.
"Bujing is making excellent progress on his lengthy journey back to his rightful home in the rainforest, and it is really uplifting to see how well he is doing," Key said.