The brown bear lived inside a prison — a cramped, dirty and very dark prison.
Last month, rescuers entered a warehouse in Aparan, Armenia, and found a 3-year-old bear trapped inside of a cage in the corner of the building. The enclosure was so tiny that the bear could hardly turn around inside it.
"The sight of the bear hidden away in a dark corner in such a small cage was particularly heartbreaking," Lis Key, PR and communications manager for International Animal Rescue (IAR), one of the groups involved in the rescue operation, told The Dodo. "His health is certainly likely to have suffered from his years of imprisonment in the dark, unable to exercise his stiff limbs or breathe in fresh air."
The bear was also extremely thin, which made the rescue team suspect that he wasn't fed often.
"Given the shocking neglect the bear was kept in, it's unlikely that any great attention was paid to what he was fed or when he was fed," Key said. "To keep an animal shut away in a dark corner like that indicates a total disregard for its physical and mental welfare, whether through deliberate cruelty or ignorance."
On top of everything else, the state of the cage was shocking — it was old and dilapidated, and covered in filth.
"It's hard to imagine how the cage was ever cleaned with the bear locked inside of it," Key said. "The floor had rusted away in places so probably the feces and urine simply fell through the holes."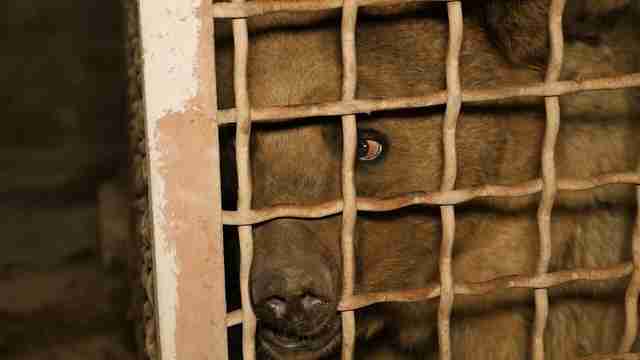 Sadly, this bear isn't the only one kept in these sorts of conditions. It's estimated that about 80 other bears are trapped in similar cages across Armenia — many are displayed at attractions as restaurants, bus depots or tourist hotspots, while others are locked away in buildings.
While it's not clear why this 3-year-old bear (who remains unnamed) was hidden inside of a warehouse, the bear's former owner said that the animal had been taken from the wild, although he didn't reveal anything else.
When rescuers arrived, the bear did seem a bit fearful around all the new people, but he was also curious and inquisitive. "After years shut away in the darkness, it must have been extraordinary when there were sudden signs of life around him to break the mind-numbing monotony," Key said.
It was too dark inside the warehouse to get to work, so the rescue team had to rig up an electric light before they could get started. Once they had a little light, the rescuers carefully sedated the bear and removed him from the rusty cage. Then they transported him to a quarantine facility at Yerevan Zoo, where he will rest and recover until he finds a permanent home.
"He will be well cared for, fed appropriately and given the attention and treatment he needs to recover from his years in captivity," Key said.
Shortly after the team removed the bear from the warehouse, they got a call about two other bears in similar straits — a female bear with badly damaged teeth being displayed at a restaurant at Yerevan, and another female from a restaurant in Gyumri. They managed to rescue both bears and move them to the quarantine center as well.
"It's a huge relief to see three more bears rescued from lives of misery and neglect and safely in our care," Alan Knight, CEO of IAR, said in a statement. "The support we've received from around the world for the Great Bear Rescue campaign has been absolutely heartwarming. It has enabled us to work with FPWC to end the suffering of these bears behind bars. At long last we can give them the attention and the care they deserve. And with the help of the public we're determined to rescue the dozens more that are still waiting for an end to their torment."
At the moment, it's not clear if any of the bears will be able to be released back into the wild after their long years in captivity. "They are showing such significant signs of mental and physical damage that it may be that some, even many of them, will need some kind of care for the rest of their lives," Key explained.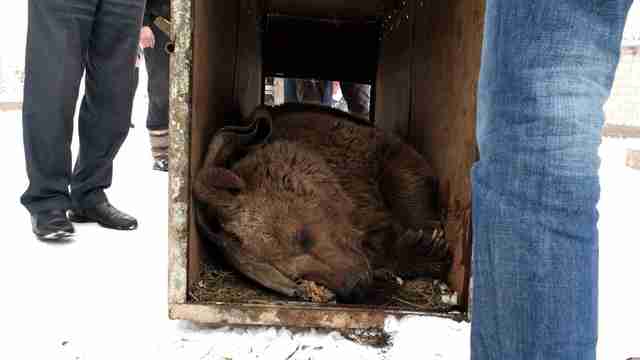 But she is certain that, whatever the outcome, the bears have happier and healthier lives ahead of them now. "I have no doubt though that, when the bears come out of quarantine and are released into a larger enclosure for the next stage of their rehabilitation, they will begin to enjoy a new lease of life, showing interest in their surroundings and developing the natural behavior of wild bears," she said.