For two long years, a brown bear named Balu was trapped inside a small, dirty cage. She was miserable.
"The enclosure was no bigger than 4 or 5 square meters [43 to 53 square feet]," Lis Key, PR and communications manager for International Animal Rescue (IAR), the group that helped save Balu, told The Dodo. "There was no shelter from the elements. The enclosure was filthy. It's unlikely that anyone ever cleaned it out, so poor Balu was living on mud, urine and feces. It must have smelt terrible."
Balu, who is a little over 2 years old, was owned by a man living in a property in Artashat, Armenia. While it's not clear why the man was keeping Balu, Key suspects he viewed Balu as a kind of "trophy" or "status symbol."
Whatever the reason for keeping her, the owner wasn't taking good care of Balu. Besides being locked up in a cage, Balu had a heavy chain attached to a collar around her neck, and she wasn't getting regular food or water. The one time the owner did give Balu a meal in front of the rescue team, it consisted of soft drinks and candy, according to IAR.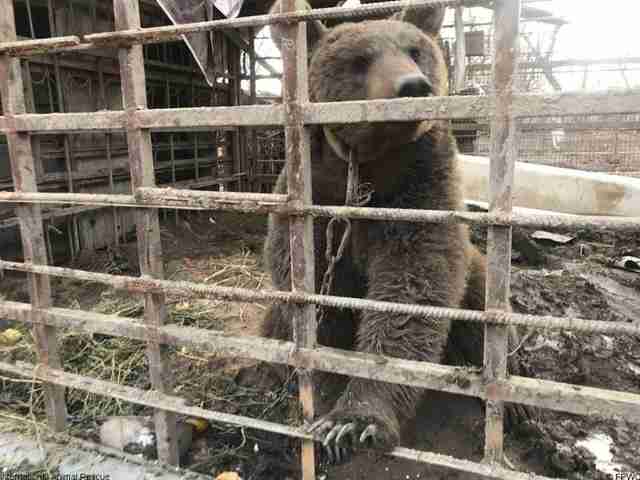 Last Friday, it was Balu's turn to be rescued. Team members from IAR, FPWC and the local police department traveled to Artashat to take Balu into their care. A local Armenian TV crew turned up, too, and onlookers gathered to watch. But Balu's owner refused to surrender her.
"The 'owner' was keeping her in shocking conditions of squalor and neglect — and yet he clearly thought those conditions were acceptable and saw no reason why the bear shouldn't stay there," Key said. "I imagine, too, that perhaps it was a matter of pride to him not to be forced to surrender his bear when so many people were watching."
After some arguing, the owner finally agreed to release Balu, and the rescue team immediately got to work — they sedated Balu, and once she was asleep, the team entered to remove her from her cage.
"The most emotional aspect of the rescue was the removal of the cruel collar and chain around Balu's neck," Key said. "That moment symbolized the end of her nightmare past and her first step towards the new life she deserves, free from cruelty and neglect and full of kindness and compassion."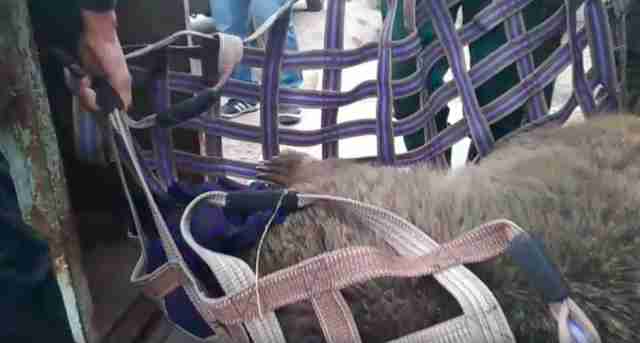 "We have not yet received a veterinary report on Balu, but I think, sadly, it's fair to assume that her physical health will have been compromised by her time in captivity and her poor diet — not to mention her mental health which certainly has been affected by two years living in such shocking confinement," Key said. "On the plus side, she is still a young bear and we hope will recover from the terrible treatment she has suffered."
The team will continue rescuing bears like Balu across Armenia.
"Thanks to the efforts on the ground of our partners FPWC ... and the support of the Armenian police, Balu the bear's misery is now at an end," Alan Knight, CEO of IAR, said in a statement. "When we launched The Great Bear Rescue in October last year, we pledged to end the suffering of all the caged bears in Armenia — and today I'm pleased to say that the fulfillment of that pledge has moved one step closer."