Bear Used As 'Bait' For Hunting Dogs Finally Sees Her First Flowers
She looked so amazed when she stepped onto grass for the first time.
A bear who has known nothing but fear and confinement for the past eight years just tasted freedom for the first time, thanks to people who never gave up on rescuing her.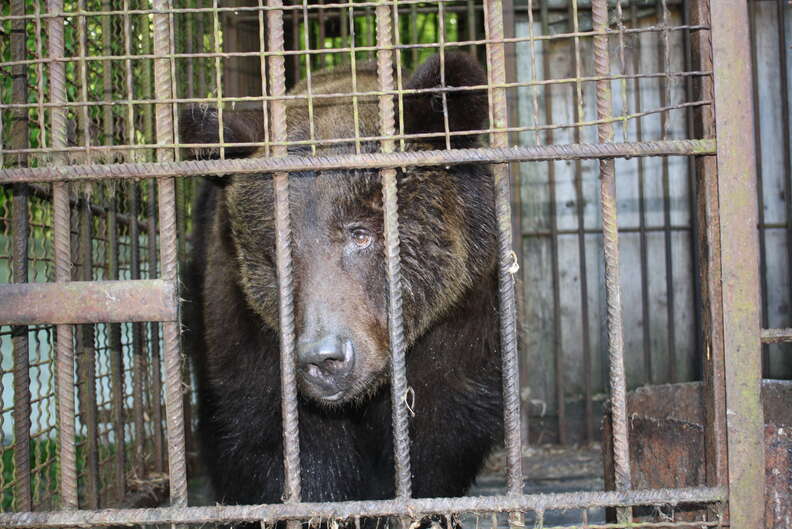 The only times Kvitka was ever allowed out of her cage at the "hunting station" in Terebovlya, Ukraine, where she lived was when she was used for an illegal practice called "bear baiting."
Four Paws International, which negotiated for months with the owner of Kvitka to free her, obtained some footage of what this cruel practice looks like: Bears, weak from malnourishment, are chained to a post while hunting dogs circle them and "practice" on them. The bears have often had their claws painfully removed so the dogs can attack them without risk.
"They can hardly fight back," Carsten Hertwig, bear expert at Four Paws and part of the rescue team, said in statement. "For years we have been fighting for a [stricter] ban of this cruel practice."
Even Kvitka's teeth show the signs of her years of suffering: They are severely worn down from gnawing on the bars of her cage. But finally, on June 27, Kvitka left her cage forever.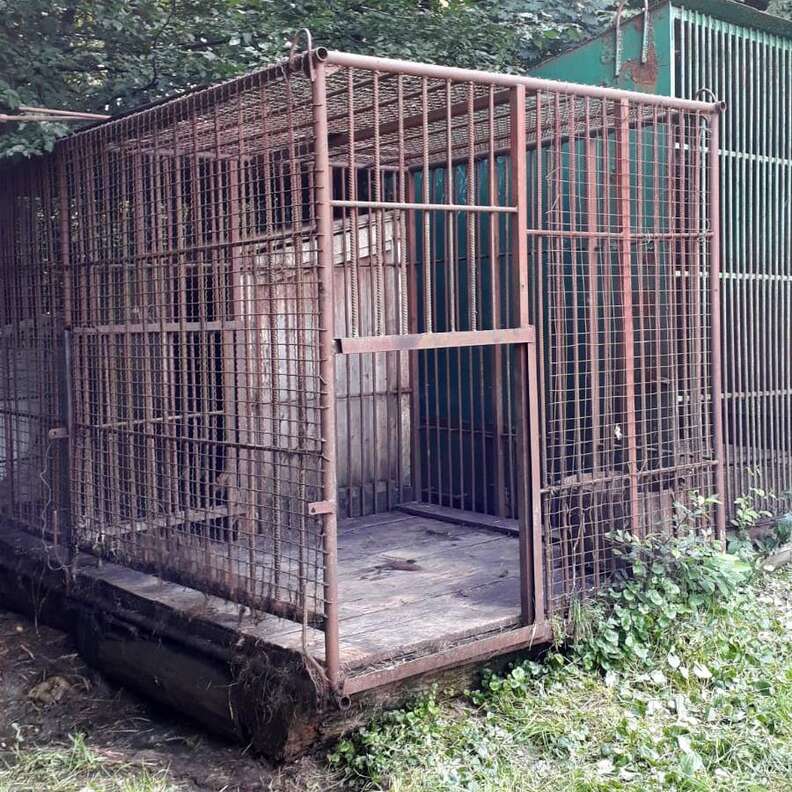 Having reached an agreement with Kvitka's owner, rescuers from Four Paws arrived at the hunting station to bring the exhausted bear to Bear Sanctuary Domazhyr, a rescue center run by Four Paws where seven other rescued bears already live.
Rescuers sedated Kvitka for the over 100-mile journey to the sanctuary and then they carried her out of her cage. Finally, that narrow space between those cold metal bars was truly empty. Rescuers carried Kvitka away as she slept.
But Kvitka couldn't enjoy her new life just yet.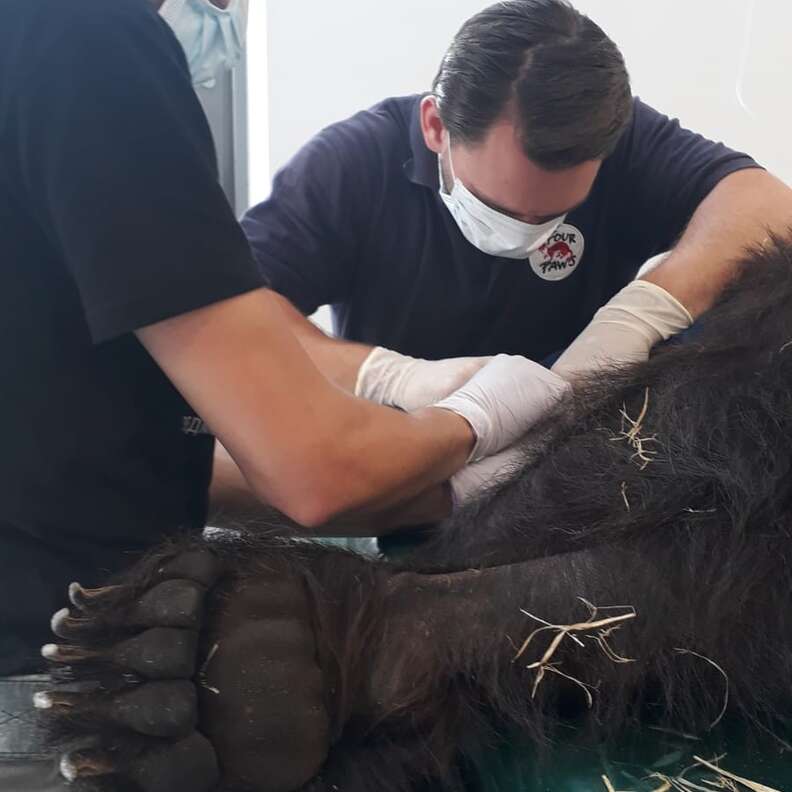 As soon as Kvitka arrived at the sanctuary, she needed to have surgery.
"She also had a complicated fracture on one of her teeth, which was festering and had to be treated at once," Marc Gölkel, a veterinarian from the Leibniz Institute for Zoo and Wildlife Research (IZW) in Berlin, said in a statement. "This is why we operated immediately after the rescue."
Remarkably, Kvitka was in good health aside from her teeth, and so rescuers knew that she would require only a few days of rest before she would be able to explore her new home.
As Kvitka took her first few steps onto the earth, she seemed almost incredulous. She was surrounded by fresh grass, trees and wildflowers.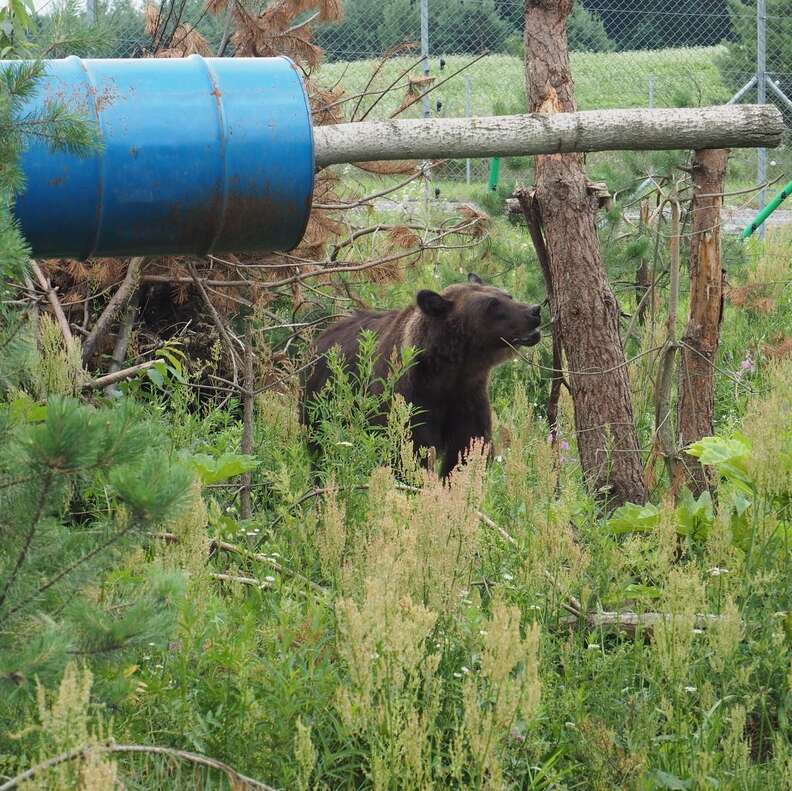 "The release went smoothly and Kvitka carefully explored her entire enclosure," Four Paws wrote. "She's showing no fear of her neighbors Tyson, Manya and Kristina. We are overjoyed about this development and wish Kvitka a wonderful start into her new life."
Even though bear baiting has been banned since 2015 in Ukraine, it still happens because owning bears is still legal. But Four Paws is trying to work with the government to change that. Hopefully, there will be more happy endings like Kvitka's in the near future.
"Kvitka's ordeal has finally come to an end," Hertwig added. "She will lead a peaceful life."