People Just Discovered This Incredible Shark Likes To Eat Plants
More than half their meals are seagrass 😱
It's a well-known fact across the world that sharks are carnivores. Movies and legends have been created based on this universal fact — but now, scientists from the University of California, Irvine, have discovered a type of shark that actually prefers plants over meat.
When the scientists first began to study the bonnethead shark, they noticed that the sharks consumed an unusual amount of seagrass, but assumed it was probably by accident. The scientists figured the seagrass got in the way while the sharks were searching for their prey, and was not an intentional part of their diet. The more they observed the sharks, though, the more they realized their seagrass intake was most likely not an accident at all.
"Sharks, uniformly accepted as carnivores, have guts that are presumed to be well suited for a high-protein diet," the scientists wrote in the introduction to their study, published in the journal Proceedings of the Royal Society B. "However, the bonnethead shark, which is abundant in critical seagrass habitats, has been previously shown to consume copious amounts of seagrass, although it is unknown if they can digest and assimilate seagrass nutrients."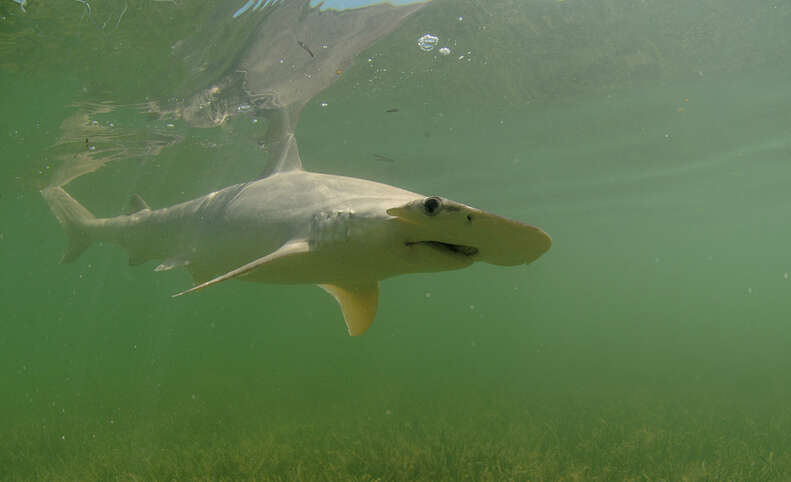 In order to see if the bonnethead sharks were in fact eating the seagrass on purpose, and if they were able to digest the seagrass in a beneficial way, the scientists fed a group of them a diet of 90 percent seagrass and 10 percent squid over the course of three weeks. After observing the sharks and analyzing the way they digested the seagrass, the scientists discovered that they were in fact able to digest the seagrass in a healthy way, similar to the way sea turtles do.
The scientists were shocked by these conclusions. They have no idea when bonnethead sharks began eating seagrass, as all evidence suggests their ancestors were strict carnivores. Everyone is now left wondering if there are other plant-eating sharks roaming around the ocean somewhere — and according to the scientists' findings, there most definitely could be.
The discovery poses a lot of new questions and opens the doors for new research surrounding the bonnethead sharks, their omnivorous diets and the way these diets affect the habitats they live in.