Woman Accidentally Picks Up A Rare Hitchhiker On Thanksgiving Day
"I was, like 'Dad, you want to go help me get a bobcat out of a car grille?'"
Commuting on Thanksgiving can be a pain not only for humans, but animals, too.
On November 23, a driver on her way to work in Richmond, Virginia, picked up a hitchhiker — she just didn't know it. When she pulled into the parking lot at Virginia Commonwealth University an hour later, she couldn't believe what she found.
Lodged in the grille of her Prius was a beautiful adult bobcat, and the bobcat was none too pleased about her predicament. Knowing the animal needed help, the woman quickly contacted Richmond Animal Care and Control (RACC).
At about 8 a.m. on Thanksgiving day, animal control officer Barbara Jones, who was on-call, phoned RACC Director Christie Peters.
"I just finished making a chocolate pie, got the call, and was, like 'Dad, you want to go help me get a bobcat out of a car grille?'" Peters wrote on Facebook. In the spirit of the holiday, saving a life quickly became a family affair.
After arriving at the scene and tranquilizing the hissing bobcat, Peters saw just how precarious and uncomfortable a situation the cat was in. The creature had been suspended above the highway by just a wire and a piece of plastic stuck below her rib cage. Thankfully, her injuries seemed minor, considering the long journey she had made.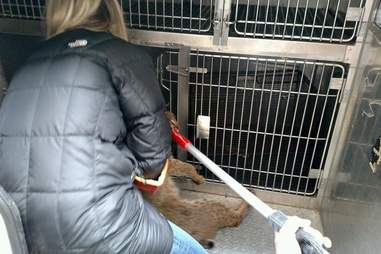 Richmond Animal Care and Control
Peters and her father brought the drowsy bobcat to the Wildlife Center of Virginia for treatment, but upon arrival the cat was awake again. "The bobcat was bright, alert and growling at Dr. Alexa," The Wildlife Center of Virginia said in a statement, "though the cat's head movements indicated the presence of head trauma and possible vision loss."
Richmond Animal Care and Control
The bobcat was examined by the on-call veterinary intern and, besides a deep cut on her back and some bruising, she was otherwise healthy.
"The following morning, Dr. Alexa was happy to find that the bobcat was extremely feisty," the release stated. "The bobcat was moved to the Center's outdoor Bear Pen enclosure so that the staff could continue to safely monitor the bobcat. Throughout the weekend, the bobcat remained bright and alert."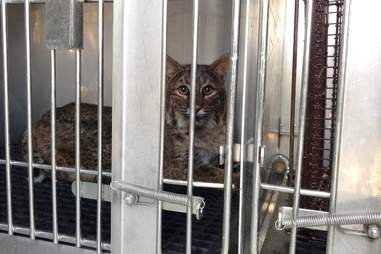 Wildlife Center of Virginia
During her stay, the bobcat has proved to be a picky eater — her caretakers assume that she prefers to catch her own food rather than be fed. Luckily, she has only a few weeks left in captivity. The wildlife center predicts she will make a full recovery and be ready for release in a month.
U.S. Fish and Wildlife Service Southeast Region/Wikimedia Commons
While this Thanksgiving story has a happy ending, it is also a cautionary tale for all motorists. If you think you hit something or see an injured animal by the roadside, stop the car — even if it means being late to work.
To donate to the Wildlife Center of Virginia and for more animal updates, check out the
center's website here
.