Anyone who gets to see an enormous black rhino in the wild is surely stricken with a sense of sheer awe — but when people in South Africa spotted a wild rhino this week, what struck them was not his power and strength but his vulnerability.
The rhino, who came to be called Spartacus, was limping and obviously in pain.
"He was shot in the upper right front limb, in an attempt to poach his horns," Saving the Survivors, an organization that fights to save wild animals who have been victims of poaching attempts, wrote on Facebook. "In the process [he] sustained a fracture of the humerus."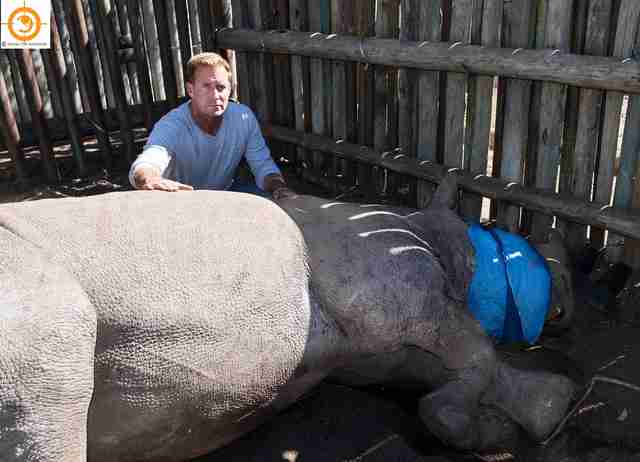 A team of veterinarians rushed to help Spartacus. They put him under anesthesia and treated his wounds, giving him painkillers and an antibiotic, and comforting him as he slowly woke up. They will continue to monitor his recovery.
Last year, in South Africa alone, 1,028 rhinos were hunted down and killed so poachers could hack off their horns — so every rhino life counts in the fight to save the species from extinction.
Rhinos are under such imminent threat because rhino horn is valued as a cure-all in Asia, even though the substance is just keratin — the same substance as our fingernails.
In 1970, there were an estimated 65,000 black rhinos like Spartacus living across regions of Africa. Today, there are just about 2,500 left in the wild.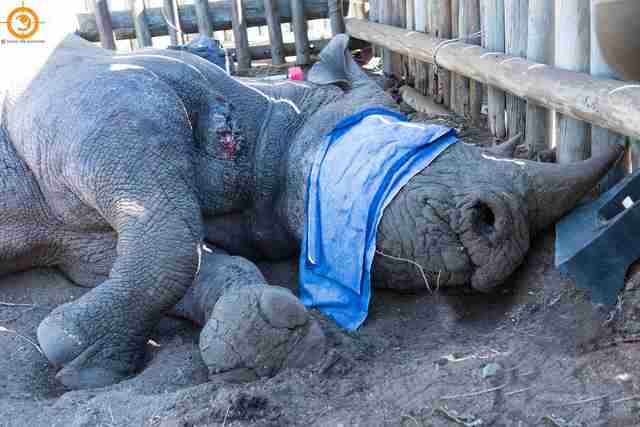 Until the demand for rhino horn in the Far East is decreased, no rhinos are truly safe. Thankfully, there are people who are willing to go above and beyond to save these animals.
"Donated," one commenter wrote on Facebook when she saw Spartacus' story on the Saving the Survivors page. "Come on, you handsome boy; we are all praying for you."