The moon bears were going crazy inside their tiny, rusted cages. They paced back and forth and rocked their bodies neurotically. They even pushed their paws against the bars of their metal prisons, gazing at the outside world. But they couldn't get out — and they'd been stuck in these cages for the last 21 years.
On Monday, team members from Education for Nature - Vietnam (ENT), an animal protection group, contacted Animals Asia to ask for help in rescuing five captive moon bears from a bile farm in the Tien Giang province of Vietnam. The bile farmer was eager to surrender the bears, especially since bile farming has been technically illegal in Vietnam since 1992, and the Animals Asia team agreed to take on the responsibility.
At bile farms, moon bears are put through unthinkable things — farmers insert tubes into each bear's abdomen, creating a permanent open wound that allows them to extract bile, a digestive juice produced in a bear's liver and stored in the gallbladder. Then the farmers sell the bile, which is a prized ingredient in traditional Chinese medicine. It's believed that bear bile cures ailments like acne, colds, sore throats, hemorrhoids, conjunctivitis and even cancer, although this hasn't been scientifically proven, and there are also synthetic versions readily available.
Not surprisingly, bile extraction is extremely painful to moon bears, and it can create long-term physical and psychological issues for the bears. The bears at this farm were also extremely stressed out from being locked up in their tiny cages for so long.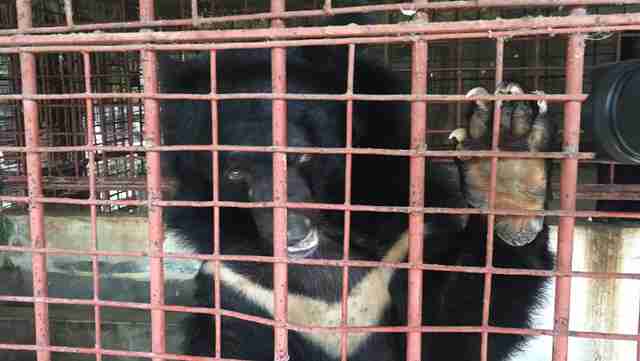 "For 21 years, all they could do was eat and sleep," Tuan Bendixsen, Vietnam director for Animals Asia, told The Dodo. "They just received basic feeding to keep them alive."
Somehow, the bears managed to stay alive in these horrid conditions.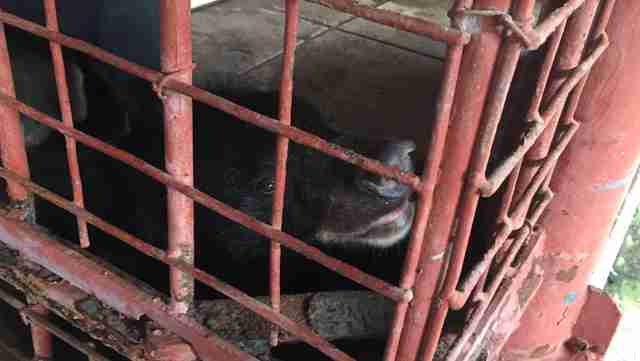 "Bears are incredibly stoic, and they can withstand long suffering," Bendixsen said. "It's one of the reasons why bears can be kept on farms for so long."
When the Animals Asia team arrived at the farm, they cut open the bears' rusty cages and transferred the bears into crates so they could be moved to Animals Asia's sanctuary in Tam Dao National Park.
"We are providing them with plenty of fresh fruits and vegetables," Bendixsen said. "We've put three of the bears on medication to make them more comfortable, as they're suffering from fractured canine teeth and were having problems chewing their food properly. They are doing much better now."
The bears also received names for the first time: LeBON, Kim, Mai, Star and Mekong.
On Friday, the bears arrived at the sanctuary after a four-day journey. They'll have to stay in quarantine for about 45 days. But once that's over, they'll be released into the spacious sanctuary grounds.
"Soon they will enjoy the freedom of a large enclosure of 3,000 square meters, about 300 times bigger than what they had been living in [for] the last 21 years or so," Bendixsen said. "They will be able to feel the grass under their feet and sun on their back most likely for the first time in their lives."
"They will never suffer behind bars again," Jill Robinson, founder and CEO of Animals Asia, said in a statement. "This is an important step in our work to remove all of the bears who remain on farms in Vietnam from their cages, and bring them to sanctuary. It is a new day for these innocent bears who will now finally enjoy some of the freedoms they were denied so long ago."