Friendly Beluga Returns Dropped GoPro To Owner
"He fully knew what it was and just wanted to play around with it!"
When Joachim Larssen reached the town of Hammerfest, Norway, the kayaker never expected to get such a warm welcome — especially from a whale.
As he made his way under the pier to avoid a ferry, a friendly beluga suddenly appeared by his side, eager for attention. "I see a large white shadow under my kayak," Larssen wrote on his blog, ShibbyTraveler. "It is Hvaldimir and he loves me and my kayak."
Hvaldimir has become a celebrity since showing up in the arctic waters of northern Norway earlier this spring. The whale was originally found wearing a harness reading "Equipment St. Petersburg," with an attachment to hold a GoPro camera.
The once-captive whale's origins still remain a mystery, though it is believed he escaped from a Russian military operation.
Larssen took his GoPro camera off his head and submerged it in the water, hoping for a better view of the playful beluga. Then something unexpected happened — Hvaldimir stole the camera. "When I am filming him, he suddenly snaps the camera out of my hands and let[s] it fall down to the ocean floor," Larssen wrote.
Larssen was considering diving in after his camera when suddenly the whale appeared again — with something in his mouth.
Hvaldimir returned the GoPro to its grateful owner and continued to pose for the camera. Larssen had no qualms about reaching his hand in the water to retrieve the camera: "I have a good connection with animals and I felt safe when he returned it," Larssen told The Dodo.
You can watch their incredible interaction here:
This isn't the first time that the whale has shown his kinder side. In May, he returned an iPhone that was accidentally dropped in the water.
However, Larssen believes the beluga recognized the GoPro and intentionally went after it — perhaps revealing something else about Hvaldimir's mysterious past.
"When he came to Hammerfest he had a GoPro harness on," Larssen said. "So I believe he fully knew what it was and just wanted to play around with it."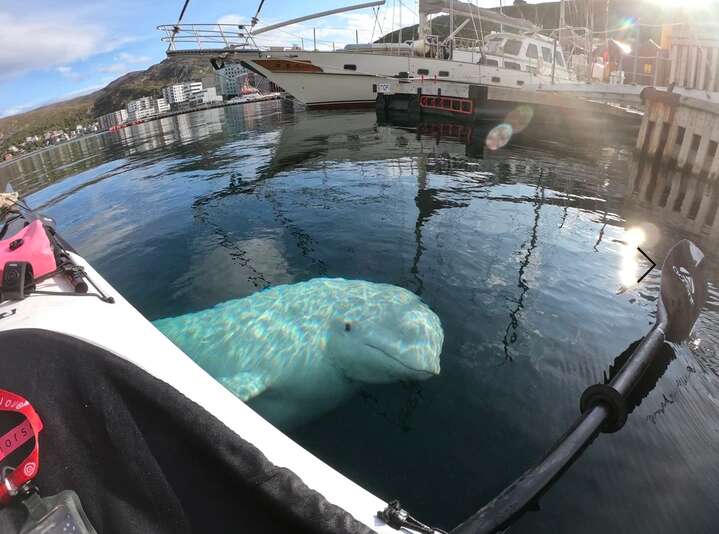 While the Norwegian government advises against interactions with the whale, Larssen couldn't resist giving the good boy some gentle pats after his camera was back where it belonged.
"[I] hesitated to touch him, but he is so eager to get petted so I make an exception due to that he is a lonely whale that needs some love!" Larssen wrote.
The whale continued to hang out with Larssen, posing for the camera and playing with Larssen's paddle until he eventually swam away. All in all, it was a pretty good day for both Larssen and Hvaldimir.