Hunter Lures Lion Dad Out Of Protected Park So He Can Kill Him
He paid more than $75,000 for the right to kill his "trophy."
The lion's name was Skye, and he was the leader of a pride living in Kruger National Park (KNP) in South Africa, and also the father to young cubs. Yet Skye has been missing since Friday, which is the same day a hunter killed a male lion to keep his body as a "trophy."
The situation is similar to that of Cecil, a male pride leader who was killed by an American dentist who paid $55,000 to hunt him.
In this case, it's still not certain whether the hunter killed Skye or another male lion, but that isn't the main concern of conservationists and animal advocates — what they're more concerned about is how a trophy hunter killed a lion from Kruger at all.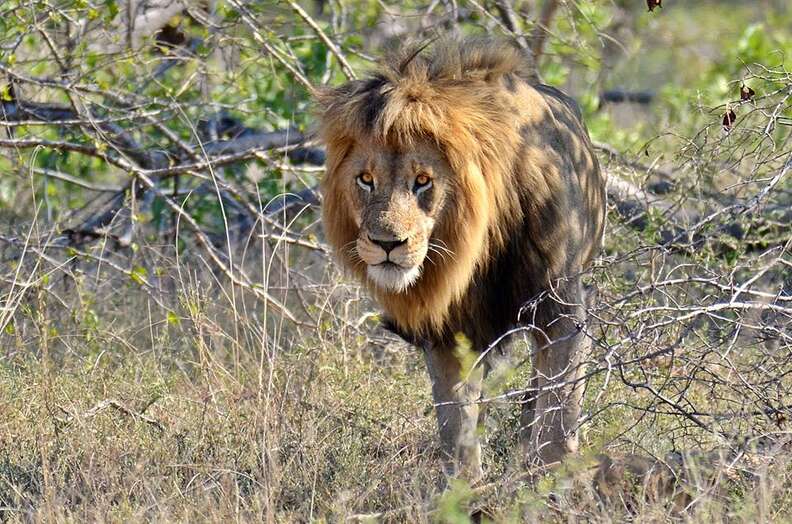 The animals who live in Kruger are fully protected, and no hunting is allowed anywhere in the park. But on the smaller reserves adjacent to Kruger, hunting licenses can be obtained.
The lion in question was killed in the Umbabat Private Nature Reserve, which is on the boundary of Kruger. Fences had recently been taken down between Kruger and Umbabat, and the hunter is said to have baited and lured the lion out of Kruger in order to kill him.
"Killing wild lions around supposedly protected areas around the Kruger National Park is completely unethical," Paul Oxton, founder of the Wild Heart Wildlife Foundation, told The Dodo. "Taking fences down between KNP and the bordering private reserves was designed so that wildlife can make their way unhindered over a greater area of land, it also relieves environmental stresses by allowing animals to travel to better grazing areas."
The hunter was able to get a license from the Mpumalanga Tourism and Parks Agency (MTPA), a governmental agency responsible for maintaining wilderness areas and reserves. But what Oxton can't understand is how MTPA was able to issue a license to kill a lion living in a protected area like KNP.
"A hunting permit to kill a lion was issued by MTPA on February 22, 2018 for a lion that lives in the Kruger National Park, to then be shot when it crossed into the private reserve Umbabat," Oxton said. "This was a premeditated killing of an animal that was under the so-called protection of a South African national park."
The trophy hunter is said to have paid 1,000,000 South African rand (over $75,500 USD) to kill the lion, according to a news report.
"It is against all traditional conservation values to allow professional hunting outfits and some of the private reserves to exploit these designated expanded conservation areas by selling big game hunts to foreign trophy hunters so they can kill lions, elephants and other big game that move freely from the protection of the Kruger National Park," Oxton added.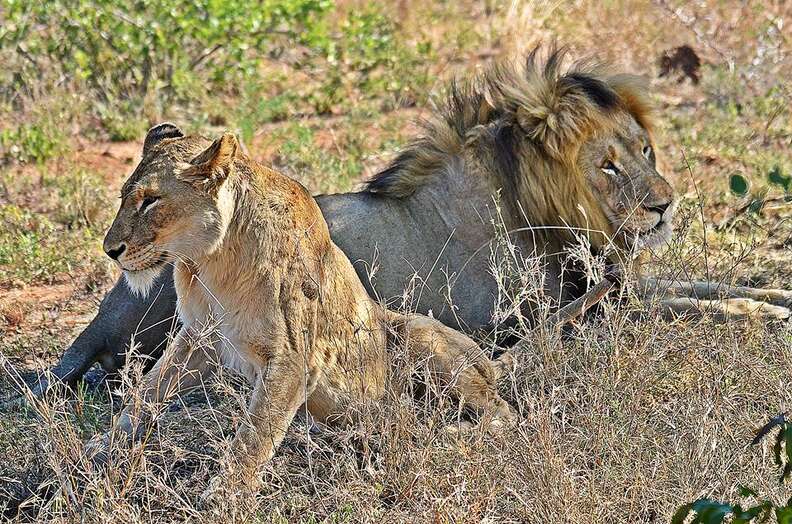 Mpumalanga Tourism and Parks Agency did not immediately respond to The Dodo's request for comment.
If anyone plans to visit Kruger or the surrounding reserves to go on a wildlife safari, Oxton suggests doing your research.
"People must do their research before staying at any reserve bordering KNP to make sure they [the reserves] don't conduct trophy hunting," Oxton said. "Also spread the word via social media and any other means possible that wildlife within KNP are being killed by trophy hunters while crossing into private reserves. Also, writing to [the] media inquiries [department] at KNP is very helpful, because direct public outrage has helped in the past."