"I think the workers at the bus depot fed them," Key added. "There were huge sacks of apples stacked by the cage, but I don't think much cleaning took place, judging by the mounds of feces in the cage."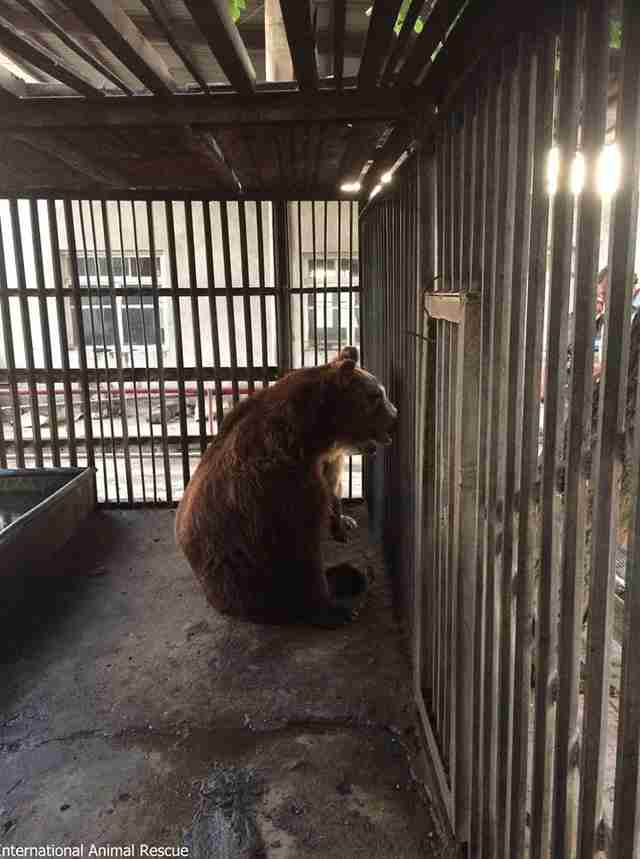 In Armenia, it's sadly common for bears to be kept on public display as "entertainment," although they're often grossly neglected. In an effort to help these bears, IAR and FPWC launched the Great Bear Rescue last October, and the team has already freed over 30 bears across Armenia.
"There has been a custom in the past in Armenia to keep caged bears, sometimes as tourist attractions at restaurants and other public venues, or as part of private collections of exotic wild animals," Key said. "Happily these traditions are changing and dying out, with a little help from IAR and FPWC."
When the team initially tried to rescue the bears from the bus depot, they were met with fierce opposition — the owner had no desire to relinquish the animals.
Things changed the following year. New government officials who support the Great Bear Rescue put pressure on the owner, and he finally surrendered the bears last week.
However, there were more hurdles to cross. The male bear, now named Max, weighed over 1,100 pounds, and he was too big to fit inside a normal transport crate, so the team had to get a horse trailer to move him. Thankfully, the female bear, Minnie, was able to be transported in a standard crate.
Besides this hiccup, the rescue operation went smoothly. Both bears were safely sedated and moved to their new home at a local sanctuary. They'll first have to spend several weeks in quarantine, but the team is making sure they're comfortable and warm in their enclosure.
"We have a camera in the bears' quarantine quarters, and we watched them last night sleeping curled up together," Key said. "It confirms that they are settling in beautifully. It's lovely that they are both now back together and have a warm bed of straw to sleep on. The male bear was lying on his back with his paws in the air, just like a comfy dog."
"For my part, it was absolutely thrilling to be present at the rescue of these two bears, and witness the dedication and determination of everyone involved to set them free at last," Key added.