Bear Who Lost Her Paws For 'Wine' Is Finally Safe — And So Are 2 Of Her New Friends
"Coming from a lifetime of torture, it was amazing to see them brighten up so quickly. They realized now they were safe."
A black bear who lived in a cage for 10 years on a bile farm — and even had her paws amputated for "bear paw wine" — is finally free.
So are two others who lived for years as pets, thanks to a rescue mission by animal welfare organization Four Paws.
Hai Chan was kept on a bear bile operation inside a warehouse in Vietnam, while the other two, named Thai Van and Thai Giang, lived in the backyard of a steel production company there.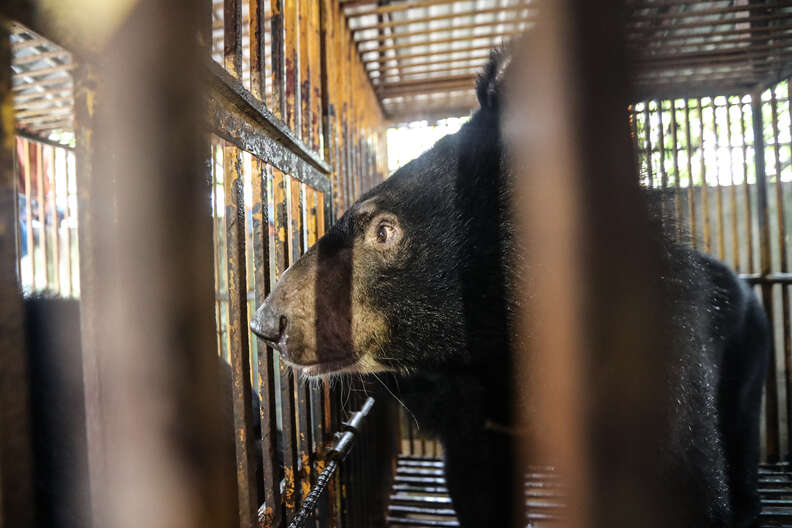 Four Paws has been closely working with the Vietnamese government for the past five years to save bears kept in captive environments — so much that they've built a sanctuary in northeast Vietnam to give them a place to go.
On November 7, the group officially welcomed its first three residents into the sanctuary after the bears had spent combined decades living in tiny cages.
As a bile bear, Hai Chan is believed to have had a needle inserted into her abdomen on a daily basis to harvest bile from her gallbladder. Bear bile is used in traditional Chinese medicine, and despite a federal ban on the practice in Vietnam in 1992, high demand has created an unregulated black market. Four Paws estimates that nearly 1,300 bears are still held captive across 400 farms in Vietnam.

"When the Vietnamese government launched a campaign in 2005 to phase out bear farming, captive bears were registered and microchipped, and farmers were required to sign a declaration saying they wouldn't extract bile anymore," Robert Ware, U.S. executive director of Four Paws, told The Dodo. "However, people can still make money on it, so unless demand is gone, bears will continue being kept like this."
Believed to have been held captive for at least a decade, Hai Chan was in the worst shape of the three bears. Her front paws, Ware said, were completely gone. ("Bear paw wine" is a traditional Chinese antidote popular for its supposed healthful qualities.)
Kept in a small metal cage with no straw to pad the slotted floor, it was very hard for Hai Chan to even stand since she didn't have a way to grasp onto the bars and hoist herself to her feet. She was also kept away from any other bears. Thai Van and Thai Giang, the male-female pair kept at another location as pets, had the same type of enclosure, but were kept in cages right next to one another. Ware said the two bears' dependence on one another was palpable after bringing them to the sanctuary.
"We brought them in separately and the male was very, very stressed," Ware said. "He was growling and making a typical clicking noise that bears make if they're anxious. As soon as we brought his friend in, he almost immediately chimed down. They definitely formed a strong bond over all those years in neighboring cages."

For the next three weeks, the bears will be in quarantine in order to be monitored by the sanctuary's team of veterinarians. They'll also be transitioning into a species-specific diet — a simple luxury they lacked for so many years.
"We're pretty sure that Hai Chan has never even had fruit before," Ware noted. "She was fed a basic mix of rice and bone powder mixed with water, so she'll slowly go through an adjustment period of getting used to solid foods."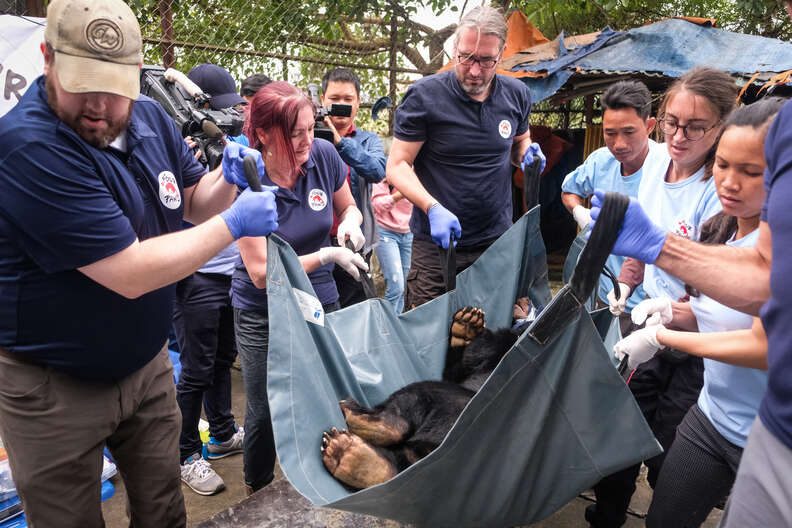 When the bears are ready, they'll be released into their brand-new habitats with plenty of room to run across 10 acres of land. They'll have grass to lie in, tall trees to climb and lots of food scattered about to teach them natural foraging skills.
"They were all very hesitant, untrusting and shy when we first brought them here," Ware said. "After being with us for just a day, they started showing just how outgoing, curious and interested in people they are. Coming from a lifetime of torture, it was amazing to see them brighten up so quickly. They realized now they were safe."

To help Four Paws and the Vietnamese government expedite the end of bear farming, you can
sign this petition
. To help save more bears being kept in captivity, you can
make a donation
to Four Paws.